Spotlight on Innovation in Pediatrics: Engagement and Access to Special Education (EASE) Clinic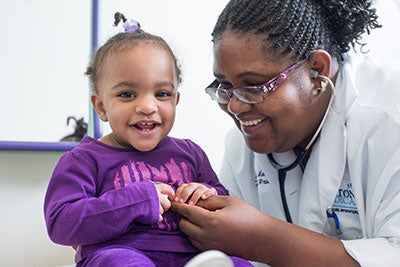 Since 2017, the Engagement and Access to Special Education (EASE) clinic, housed in Boston Medical Center pediatrics primary care, has helped more than 100 families support their children's learning needs. Pediatrician Soukaina Adolphe, MD, and Attorney Ivys Fernández-Pastrana, JD, launched the EASE clinic in an effort to confirm all children with special learning needs have adequate support to thrive in school. By partnering with families and schools, the clinic ensures children without a current Individualized Education Plan (IEP) receive appropriate testing to establish their learning needs and children with an existing IEP have a high-quality plan holistically meeting their needs.
Bostonian Margie Mikulskis is a parent of four children, one of whom is a child with special needs. In addition to being a mother of four, Margie serves on the board of directors for the Special Needs Advocacy Network (SPaN), an organization that provides professional development and support for special education advocates and professionals across Massachusetts. She has been trained by the Federation for Children with Special Needs, and has a master's in elementary education. At the EASE clinic, Margie serves as a volunteer special education advocate, where she supports families like her own. We interviewed Margie to get her overall thoughts and insights on BMC's EASE clinic and how advocates like her can be leveraged to provide excellent care to patients in the clinic.
Interviewer: Can you please introduce yourself and your relation to the EASE clinic?
Margie: I am a parent of a child with special needs and on the board of SPaN. When Ivys gave a talk to [SPaN], I was impressed and really liked what she had to say about the clinic as a parent. I was already working as a special education advocate and was trained at Federation for Children with Special Needs. I reached out to Ivys about volunteering at the [EASE] clinic, and started in the spring. I love working with Ivys and Dr. Adolphe. They are generous with information about their work and are collaborative. As a volunteer, I listen in and participate with patient intake, and offer my insight as a parent, as well as local resources.
Interviewer: What do you think the impact of the EASE Clinic is on patients and families? 
Margie: The cases at the clinic are very interesting and you can learn a lot from them. [Working at the clinic] feels like you're really helping people that otherwise would not have access to help. For these families, it is very unusual that they can get this type of professional help, and they can't afford a special education advocate. Ivys and Dr. Adolphe are at the front line of helping these families and make a huge difference for the parents of children with special needs by lending a compassionate and professional ear.
Interviewer: What do you think the role and value are of having more advocates in the EASE clinic?
Margie: [Having advocates] is great [for families] because there is a big need for advice. Many parents who come in don't have a lot of education, and even for those who do, this process [gaining Individualized Education Plans] is very complicated. Advocates can give parents understanding of their child's basic rights for special education, have them evaluated and have their needs better met. This can make a huge difference in a child's life early on. More services means a child can be more independent as an adult and better contribute to society.
Ivys and [Dr. Adolphe] provide the perfect combination of the two most effective professionals parents could ask for in special education advocacy—a lawyer and a doctor. Much of Ivys' advocacy work can be delegated to advocates, and the advocates then have Ivys available to them to check on legal questions and strategy, and Dr. Adolphe for medical and clinical questions, as they work collaboratively to support Dr. Adolphe and Ivys. This would be a very powerful and effective advocacy team, helping a larger number of special education children and their families, most of whom lack the knowledge and resources to obtain any other help
Special education advocates have a wealth of knowledge and can expand outreach for families for support. They are compassionate professionals for people with children with special needs. It would be cost effective if [the clinic] had other people assisting to reach out to more families to and to communicate between [families], the community and the school districts.
Interviewer: Is there anything else you'd like to add about the EASE clinic?
Margie: It's refreshing to see the compassionate care and desire to help these children and caregivers by Dr. Adolphe and Ivys. I enjoy being a part of that when I come to volunteer in the clinic, and seeing advocacy on the front lines from both medical and legal perspectives.
It can be scary [to navigate special education] but [Ivys and Dr. Adolphe] can help in a professional and compassionate way.