ArtsLab Brings Creativity into Daily Hospital Life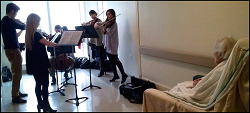 As staff members go about their daily lives caring for patients and keeping the hospital running, it can be difficult for many to imagine how art fits into the hospital environment. However, for the past five years, Arts | Lab @ Med Campus, a collaboration between the College of Fine Arts, Boston University, and Boston Medical Center, has been bringing art to patients and staff at Boston Medical Center. Their work helps promote wellbeing for staff and patients through creativity. 
"If art has a role in society, then it has a role in the hospital, which is a microcosm of society," says Moisès Fernández Via, the director of Arts | Lab on the medical campus. "Creativity pops up all over – you hear people singing as they work, telling stories, taking pictures on their cell phones. It's unstoppable. Our goal is to give a clear outlet to nurture what's already happening in reality."
BMC is the primary site for Arts | Lab; a small amount of programming happens at Rosie's Place, a women's shelter in Boston. All projects, according to Via, are the result of suggestions from staff members or issues that have been brought to Arts | Lab's attention by groups such as Patient Experience. The goal is to provide creative solutions to stated needs, and therefore all of the programs have specific, wellbeing-related goals for patients and staff. 
There is a significant body of research that shows that the arts can help wellbeing. For example, music therapy has been shown to decrease anxiety in patients, while creating visual art can help people process difficult experiences or trauma. Arts | Lab is also carrying out its own research on the impact of its programs, particularly on how they can help create welcoming spaces within the medical campus. Their research, which is carried out by BU faculty and students, will help Arts | Lab better understand how to be a productive partner to BMC and to help ensure patients have positive experiences at the hospital. 
There's a power in inviting people back to their senses," says Via. "Art allows people to feel what they're feeling, which awakens dignity. Patients are participants in our work, not just our audience. We're careful not to interfere with clinical care, but the ability to soothe a patient or a situation is not minor."
Arts | Lab has a wide variety of projects currently running, all facilitated by music, theatre, and visual arts students from BU College of Fine Arts. Many projects are musical, such as a series of lunchtime concerts in hospital lobbies and Lullaby, in which student musicians work with teenage mothers to co-create and record a lullaby, with the goal of strengthening the bond between mother and child. Arts | Lab is also in the fourth year of a collaboration with Neurology called "When the Patients Heal You," in which patients work with musicians and perform a concert for physicians.
Other programs are centered on visual arts, such as an art cart that provides children in the pediatric emergency department with materials to use to create art. An artist-in-residence is on hand one or two times and week to help. Arts | Lab also piloted a program called Present in three areas last year. In this program, Arts | Lab has set up an on-call pool of artists whom staff can request for a patient using an online form. The artist will use a first visit to get to know the patient, then return within 48 hours with an artistic present, such as musical piece, a painting, or a poem. According to Via, this program came out of requests from social workers looking to boost morale among patients. 
Expanding Present into more units is Arts | Lab's focus for the near future, as is finding more ways to regularly engage staff in the arts, such as a choir or paint bar.
"We want to provide a space for people to come and connect with each other, to create a community," says Via. "In addition, keeping creativity part of daily experience can provide an outlet to help staff combat burnout. Art can help add freshness to life."
For more information on Arts | Lab, visit their website.
The ABCs of ACOs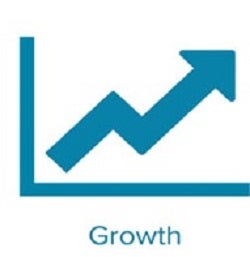 Health care is changing, and one major change under the Affordable Care Act is the emergence of accountable care organizations, a delivery model designed to improve care coordination and reduce costs. BMC's health system is part of this trend. Since the beginning of 2016, BMC has participated in the Medicare Shared Services Program (MSSP), through its accountable care organization (ACO). BMC's first year in this program was successful – medical expenses were below the benchmark and BMC successfully reported all quality measures. Only 21 percent of groups in the first year of the program received surplus payments, and BMC was one of them. Now, in response to coming changes in MassHealth which will change the way BMC is paid to care for Medicaid patients, BMC's ACO is expanding. 
Currently, BMC receives 50 percent of its funding from MassHealth, which will soon be changing its payment method from fee-for-service to a model in which it provides a lump-sum payment to provider-led ACOs for all of a patient's care. Under this new model, BMC would be eligible to keep any surpluses, but must absorb any deficits. The goal of the state's payment reform is to keep patients healthier by ensuring they receive only necessary care while slowing the pace of medical cost growth. The reforms are expected to take effect in October 2017, although BMC is preparing to participate in a pilot program that would begin in December 2016.
"Part of our strategic plan is to lead in integrated care, and this work tracks exactly with MassHealth's payment reform," says Kate Walsh, President and CEO. "We're already doing this work, but now the financial incentives will be aligned. Our goal is to keep our patients healthy and stable. We do it because it's the right thing to do, but now it will also be good business. It's an exciting time, and while payment reforms will require a lot of change on our part, including changing some ways we measure ourselves, it will help us take better care of patients."
While these changes may be exciting, the terms that come with them can be confusing, even for those who work in health care. The BMC Brief is here to help make sense of some of the terms and acronyms you might have heard in reference to ACOs.
Accountable care organization (ACO): An accountable care organization is a group of health care providers who join together to provide coordinated, high-quality, efficient care to their Medicare and Medicaid patients. Payments are linked to meeting quality measures and reducing costs, to help eliminate unnecessary care and improve outcomes. ACOs can choose one of several payment models, all of which require the organization to take on risk, but allow the organization to keep the surpluses when costs are kept down and quality measures are met. Providers therefore keep more of the lump sum payment they receive upfront if they keep their patients healthy and out of the hospital.
BACO: BACO is BMC's accountable care organization, which consists of the hospital and BMC-affiliated community health centers. BMC will draw on this system, including the BMC HealthNet Plan, as well as other potential partnerships, to negotiate, coordinate, and pay for care for the hospital's patients who use MassHealth.
Fee-for-service: Under a fee-for-service model, which is the traditional payment model in health care, health care providers are paid for each episode of patient care, as well as for any tests or procedures. 
Medicare/Medicaid/MassHealth: Medicare and Medicaid are both health insurance programs run by the federal government. Medicare provides insurance for Americans aged 65 or older who have worked and paid into the Medicare system, as well as people with disabilities, end stage renal disease, and ALS. Medicaid provides health insurance for families and individuals with low income (up to 133 percent of the poverty line). MassHealth is a state program that provides Medicaid insurance to eligible Massachusetts residents.
Medicare Shared Savings Program (MSSP): BMC has been participating in an ACO under the Medicare Shared Savings Program, a type of ACO in which BMC receives money up front for each Medicare patient they care for. BMC uses this money to pay for all the care a patient receives. If there is money left over at the end of the year, BMC gets to keep some of it, if the hospital also meets certain quality measures. If it costs more than this set amount of money to treat the patient, BMC is responsible for paying some of the difference. 
Pay-for-performance: Under a pay-for-performance model, health care providers are given financial incentives to improve their quality, efficiency, and value of care. In the most common pay-for-performance model, health care providers are given a bonus if they meet or exceed certain performance measures or if their performance improves over time.
Quality measures: Quality measures are tools used by the Centers for Medicare and Medicaid to quantify health processes, outcomes, patient perceptions, and organizational structures and help determine whether an organization is providing high-quality, efficient care. While there are many quality measures, they relate to at least one of the goals of effective, safe, efficient, patient-centered, equitable, and timely care. CMS uses quality measures in its quality improvement, public reporting, and pay-for-reporting programs for specific healthcare providers.
"BMC has a strong legacy of caring for the whole patient, and the ACO will allow us to address the barriers to providing the best integrated care in a more systemic way," says Thea James, MD, Vice President of Mission, an emergency room physician, and Associate Chief Medical Officer. "Moving from a traditional fee-for-service model will allow us to expand and reinforce the programs we already have, such as the Preventive Food Pantry, that keep people healthy and address social determinants of health, rather than just treating patients when they need episodic care."
Insurance for the Whole Person

Most people in Boston know Boston Medical Center as a hospital system caring for patients. But just as important is the Boston Medical Center HealthNet Plan, a health plan that provides critical health insurance coverage to low-income populations in Massachusetts and New Hampshire and is part of the broader BMC system.
The BMC HealthNet Plan (BMCHP) is a nonprofit managed care organization that focuses on providing health insurance which promotes integrated care, including preventive and other services, to the whole person in order to try to reduce health care costs and improve quality for its members. BMCHP achieves this through care coordination and other programs in partnership BMC, the Boston HealthNet community health centers, community organizations and other providers statewide that provide services to members. 
BMCHP was established in 1997 by BMC to support the mission of the hospital, making it one of the state's original managed care organizations. At the time, Massachusetts was considering other ways to offer coverage to low income families and individuals, and BMC saw an opportunity to help serve its patients who utilize MassHealth, the state's Medicaid program, by creating its own managed care organization. Under the MassHealth program, people get a choice of plans for insurance coverage – BMCHP is one of those choices. 
BMCHP has been a very successful MassHealth plan. The plan's MassHealth product was recently named one of the highest rated Medicaid health plans in the nation, receiving a rating of 4.5 out of 5 in the National Committee for Quality Assurance (NCQA) 2016-2017 Health Insurance Plan Ratings and a 4 out of 5 rating for its New Hampshire Medicaid product.
In the coming year, BMCHP and BMC will expand their work together, as BMCHP supports the hospital and the entire BMC system as it transitions to an accountable care organization (ACO) under the MassHealth program. Under this type of payment model, BMC will be paid for each patient upfront and then use that money to coordinate patient care. BMCHP will be a key part of the Boston Accountable Care Organization (BACO), BMC's new ACO, and provide an array of clinical support and operational and analytic services to help the new organization thrive. 
"We are excited to be part of delivery system reform and the introduction of accountable care that provides a comprehensive and integrated model," says BMCHP President Susan Coakley.
BMCHP is one of the largest managed care organizations in Massachusetts. It serves almost 300,000 members in Massachusetts and New Hampshire, including approximately 190,000 MassHealth members and 72,000 low-income members in New Hampshire (where it's known as the WellSense Health Plan). BMCHP also serves approximately 37,000 members through a commercial health plan available on Massachusetts' Health Connector. BMCHP has members in nearly every county in both Massachusetts and New Hampshire. 
In January 2016, BMCHP also began participating in the Massachusetts Senior Care Options (SCO) program. Through this program, they provide comprehensive, integrated care for seniors who are 65 and older, are eligible for MassHealth Standard and who may also be enrolled in Medicare. BMCHP offers a model of care that coordinates and promotes coverage of specialized geriatric services that helps BMCHP to better meet the specific needs of seniors, including through social support services, while reducing the cost of care. Currently, BMCHP only serves members in Suffolk County under this program, but is hoping to expand to other counties in the state and is partnering with Massachusetts to increase awareness of the program.
"There is a significant program-eligible population visiting BMC for its services, so there is a great opportunity for BMCHP to provide health insurance coverage and to, expand the suite of products we have been providing for the almost 20 years since we were founded by the hospital," says Coakley. "We look forward to working with BMC's renowned geriatrics and other clinical and support programs."
Engineering the Future of Medicine at the Center for Regenerative Medicine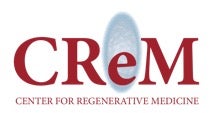 Regenerative medicine – in which damaged or diseased body parts can be engineered, replaced, or regenerated to restore normal function – might sound like science fiction, or at least a far off way of treating diseases. But at the Center for Regenerative Medicine (CReM), a collaboration between Boston University and Boston Medical Center, the future is here. The 47 researchers at the Center spend their days figuring out how to better model diseases, grow organs, and edit genes to eliminate diseases.
CReM's work is centered around pluripotent stem cells, a type of cell that comes from adults and has the ability to turn into any specific type of cell. The process that causes these cells to differentiate into particular type of cells is complex, and CReM is working to understand the tightly controlled mechanisms by which this happens. For example, one team is studying lung cells to try to understand the first signals that induce a stem cell to become a lung cell. They plan to use this knowledge to grow a lung in vitro (outside of a person), which can then be used to study lung disease. Another way the team is working on this problem is through collaboration with researchers at the Boston University Charles River campus to design algorithms to predict which genes will induce stem cells to turn into specific cells.
Using pluripotent stem cells to create better disease models is another major area of focus at CReM. Traditionally, scientists use animal or cell models to study diseases, but these have limitations for human diseases, particularly diseases that affect multiple organs or systems. Pluripotent stem cells can be used for a more lifelike disease model to study the genetic underpinnings of a disease, how it progresses, and potential treatments. CReM is creating models for several diseases, focusing on ones such as sickle cell disease that particularly affect BMC's patient population. In addition, researchers at CReM are collaborating with researchers at BU's National Emerging Infectious Diseases Laboratories (NEIDL) to build models of infectious diseases such as Ebola.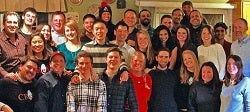 A notable success in disease modeling by CReM has been for amyloidosis, a rare disease in which abnormal proteins build up in organs. BMC's Amyloidosis Center is a pioneer in the treatment of the disease, and CReM has been an integral part of modeling how patients with a particular genetic mutation are affected. 
"Because pluripotent cells come from adults, using them opens a lot of opportunities for personalized medicine," says Gustavo Mostoslavsky, MD, PhD, a co-director of the Center for Regenerative Medicine and director of the Induced Pluripotent Stem Cell Core of the Center. "The stem cells we take from an adult will match their genetic makeup, so we can, for example, use gene editing methods to create cells that are identical except for the disease-causing mutation. This allows us to study the disease in a more lifelike way and also to help determine the best course of treatment for a patient's particular disease. In the future, we will be able to use this technology to correct mutations in a patient's stem cells, use those cells to grow a disease-free organ, and transplant that organ back into the patient, which eliminates the need for lifelong anti-rejection medication. We need to be careful and rigorous with this technology, but the research is moving fast."
While CReM is on the forefront of regenerative medicine, the most unique thing about the Center is how they carry out that cutting-edge research. CReM was founded not just to tackle problems of regenerative medicine, but specifically to do so in an open and collaborative way.
"We are committed to championing open source biology, which is not the common way of working in the sciences," says Mostoslavsky. "CReM was founded out of our love of science and a desire to help humanity, so it's part of our mission to share ideas, protocols, and results that can help the scientific community move forward."
What do you do, Barbara McCall?
Name: Barbara McCall
Title: Office manager and payer specialist, Care Management
Time at BMC: 46 years
What do you do here?
I get all the clinical requests to payers to make sure everything gets paid on time. We also end up getting a lot of phone calls from patients looking for different services, so I do whatever I can to help them connect to the right place.
What brought you to BMC?
I wanted to go to school, so I was looking for a job to help pay for it. At first I was just looking for a job, but I really enjoyed it and was able to grow through it. I was hired as a clerk/typist in Medical Records, and then I've worked in Human Resources, Admitting, and now Care Management.
You're being recognized for 45 years of service at BMC. What are some of the biggest changes you've seen during that time?
The merger was the biggest change. Two separate places trying to combine was difficult, but we made it through.
The new buildings are also a big improvement over what we had when I first started.
What advice do you have for others looking for a long career here?
It's not always easy, but just come in, do your job, and do it to the best of your ability. And be kind to your fellow workers and the people that you serve. If something goes wrong with someone, let them know how you feel, but after you cool down. I've learned that everyone should think before they speak, whether they're talking to patients or coworkers.
What do you like most about working at BMC?
The thing I like most about my job is helping people. I hear from a lot of frustrated people, and they're grateful when you get them to the right place or the answers they need. I want to be able to continue to grow and help people here.
What do you do for fun outside of work?
I have a book group and read a lot of books. I also enjoy shopping, and seeing my friends, and going out to dinner. 
Awards and Accolades
Kate Walsh Named Top 10 Woman in Health Care
Kate Walsh, President and CEO, has been named as a top 10 woman in health care by Becker's Hospital Review. The list honors female hospital and health system CEOs who have positively impacted their hospitals and health systems, and the greater healthcare industry.
Eric J. Roseen Honored With a Ruth L. Kirschstein National Research Service Award 
Eric J. Roseen, DC, a research fellow in the Family Medicine department, has received a Ruth L. Kirschstein National Research Service Award from the National Institutes of Health's National Center for Complementary and Integrative Health. This three-year award will allow Dr. Roseen to explore the management of back pain in primary care settings.  Roseen will work with a mentorship team, including his primary sponsor, Robert Saper MD MPH, to develop and validate a clinical prediction rule that may identify subgroups of low back pain patients more likely to respond favorably to yoga. 
Thomas T. Perls Awarded the Joseph T. Freeman Award
Thomas T. Perls, MD, MPH, FACP, an attending physician in geriatrics at Boston Medical Center and professor of medicine at Boston University School of Medicine, has been awarded the Joseph T. Freeman Award from the Gerontological Society of America, the nation's largest interdisciplinary organization devoted to the field of aging. The award is a lectureship in geriatrics, and is given annually to a prominent physician in the field of aging – both in research and practice.
Perls was honored for his work as a physician, as well as for founding and directing the New England Centenarian Study, the longest-running and largest study of centenarians, their siblings, and offspring in the world. In addition, he is the principal investigator of the Boston study center of the National Institute on Aging-funded, multi-center Long Life Family Study.