Quinoa Bowl with Roasted Chickpea & Vegetables
EntréeSalads, Middle Eastern
Contributed by,
BMC's Teaching Kitchen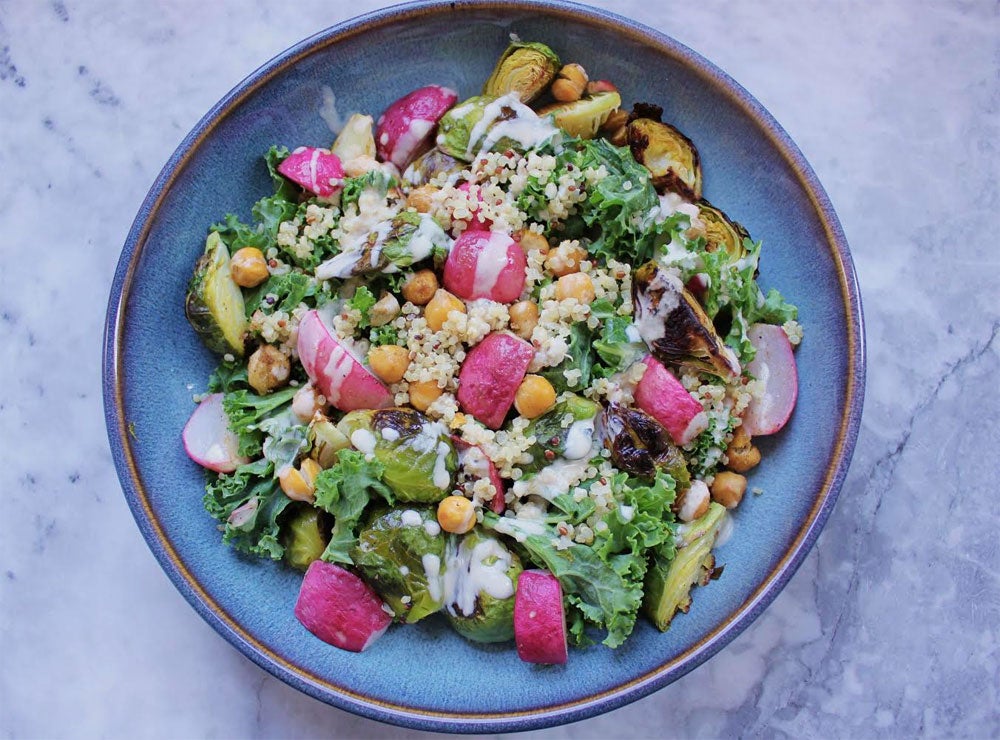 Ingredients
Roasted
Vegetables >>>
Chickpeas
- 1 (15.5oz) can
Radishes
- ½ lb
Brussel
Sprouts
Olive
oil - 1 tablespoon
Cumin
- 1 teaspoon
Salt
- 1 pinch
Pepper
- 1 pinch
Quinoa
>>>
Quinoa
- ½ cup
Water
- 1 cup
Mustard
Dressing and Kale >>>
Olive
oil - ¼ cup
Apple
cider vinegar - 2 tablespoons
Spicy
mustard - 1 tablespoon
Garlic
- 1 clove
Kale
- 8-10oz
Instructions
Step 1
Preheat the oven to 400 degrees F.
Step 2
Rinse the chickpeas using a colander and add them to a sheet pan.
Step 3
Chop the brussel sprouts and radishes and put onto a sheet pan. Drizzle with olive oil and season with cumin. Roast with the chickpeas on a sheet pan for 30 minutes. Once cooked, sprinkle salt and pepper over the entire sheet pan.
Step 4
While the vegetables and chickpeas are baking, pour 1/2 cup quinoa and 1 cup water into a saucepan. Turn the heat to medium-high and bring to a boil. Once boiling, turn the heat to low, stir, and cover with a lid. Cook for 15 minutes .
Step 5
Make the mustard dressing by pouring olive oil, apple cider vinegar, and spicy mustard into a jar. Mince the garlic and add to the jar. Put on the lid and shake to mix.
Step 6
Place the kale into a large mixing bowl. Pour the mustard dressing over the kale and massage.
Step 7
Add the quinoa to the bowl of kale. Once the vegetables and chickpeas are cooked, add them to the bowl and mix until combined.
Notes
Nutrition Information
Dietary Restrictions
Vegan