Autumn Turkey, Butternut Squash, and Apple Casserole
Entrée,
Contributed by,
BMC Nutrition Resource Center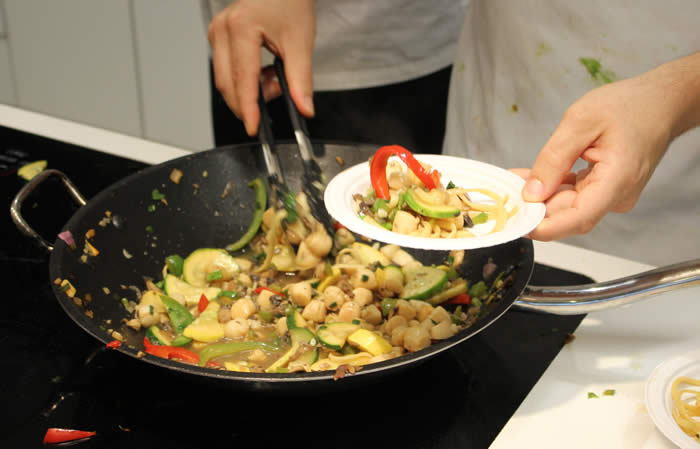 Ingredients
1
teaspoon olive oil
1
pound ground turkey (93% lean)
2
cloves garlic, minced (2 teaspoons)
1/2
cup minced onion or 2 large shallots, minced
1/2
cup low-sodium chicken broth or dry sherry
1
medium butternut squash (about 1 ½ pounds), peeled, seeds removed, and cut into ½ inch dice (about 4 cups)
2
large apples, peeled, cored, and cut into ½ inch dice (about 2 cups)
¼
teaspoon ground pepper
¼
teaspoon salt
1
tablespoon chopped fresh sage, plus leaves for garnish
¼
cup crumbled gorgonzola or blue cheese
Instructions
Step 1
Preheat oven to 450 degrees. Spray a 2-quart baking dish with vegetable oil spray.
Step 2
Heat oil in a 12-inch skillet over medium-high heat. Add ground turkey and brown evenly, about 5 minutes. Add onion and garlic and sauté another 2 minutes.
Step 3
Add chicken stock or sherry to deglaze the pan.
Step 4
Add diced squash, apples, pepper, salt and sage. Cover with a lid and simmer 10-15 minutes, stirring occasionally, until squash is fork-tender.
Step 5
Place turkey mixture in baking dish. Sprinkle with cheese. Bake uncovered for 10 minutes, until cheese has melted and is lightly browned.
Step 6
Garnish with sage leaves.
Notes
Nutrition Information