We are a multidisciplinary team including a Pulmonologist, Respiratory Therapist, and Exercise Physiologist. Our services also provide time with a Dietitian, a Pharmacist, a Social Worker, Physical & Occupational Therapists, a Psychiatrist and a Speech-Language Pathologist.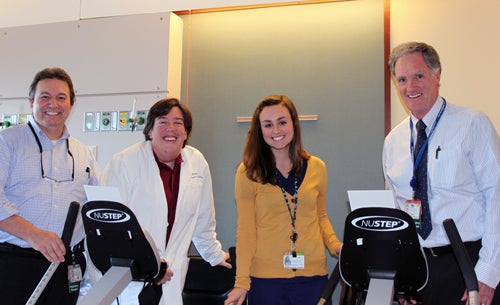 Dr. Klings came to Boston Medical Center/Boston City Hospital after graduating from New York University School of Medicine. She completed her residency in Internal Medicine and fellowship training in Pulmonary/Critical Care at Boston Medical Center/Boston University School of Medicine. She joined the faculty at Boston University School of Medicine in 2000 and is currently an Assistant Professor of Medicine in the Section of Pulmonary and Critical Care Medicine. Dr. Klings' primary clinical and research interest is in the care and treatment of patients with pulmonary hypertension, particularly those with underlying sickle cell disease.
Alan Silva, RRT, RPFT
Respiratory Therapist
Alan is a graduate of Newbury College, registered by the National Board of Respiratory Care as a Registered Respiratory Therapist, Registered Pulmonary Function Technologist and Licensed by the State of Massachusetts. He has been at Boston Medical Center as a Respiratory Therapist since 1985 and has worked in all aspects of Respiratory Care including Home Care, Spinal Cord Rehabilitation, Research Coordinating, Acute Care and Critical Care. He helped to establish the Pulmonary Rehabilitation program in 2007 and is presently the Lead Respiratory Therapist for the Pulmonary Function labs and Bronchoscopy suites at BMC.
Kara Ciesielczyk, BS
Exercise Physiologist
Kara attended Central Michigan University where she spent her time as a personal trainer, fitness specialist, and was a board member for Eta Alpha Epsilon, the Health Fitness Academic Fraternity. Upon completing a 600 hour internship at Boston Medical Center in Preventive Cardiology and Cardiac Stress Testing, she graduated with a Bachelors of Science in Health Fitness in Rehabilitative and Preventative Programs. Kara now works as an Exercise Physiologist in the Pulmonary Rehabilitation Program and Pulmonary Function Labs at Boston Medical Center.