Patients may schedule appointments for dental care through the Boston University Henry M. Goldman School of Dental Medicine. Emphasizing both preventive and restorative dentistry, our experienced dentists, hygienists, and students provide a wide range of services for patients, including:
General dentistry
Oral diagnosis and radiology
Porcelain veneers
Tooth-colored fillings
Implant dentistry
Orthodontics
Crowns, bridges, and removable dentures
For more information or to book an appointment, click here.
If your child often complain of pain in their joints, muscles, or bones, they could be suffering from a rheumatologic condition. These symptoms can be puzzling, but a pediatric rheumatologist can help. When seeing patients, their goal is to evaluate the problem and then provide care as needed. From infancy to adolescence, they treat those suffering from a variety of rheumatologic and inflammatory conditions.
Conditions We Treat
Arm or leg pain
Fibromyalgia
Juvenile dermatomyositis
Juvenile idiopathic arthritis
Lupus
Lyme arthritis
Painful or swollen joints
Scleroderma
Unexplained or periodic fevers
Vasculitis
Treatments
Ultrasound-guided steroid injections for painful or swollen joints
Medications and infusions to treat arthritis, lupus and other autoimmune conditions
Holistic care and complementary therapies to improve function and a child's sense of well-being
As part of the Department of Pediatrics at Boston Medical Center, CATCH provides support and care to children, adolescents, and young adults who identify as transgender, gender non-conforming, or are gender exploring and looking for additional support. However you choose to identify, our dedicated clinical team is here to support you every step of the way.
Offered services include:
Education around gender identify and development
Individual and family therapeutic support
Access to hormone blockers, including injection and implant available onsite
Gender-affirming medication therapy, including hormones (estrogen and testosterone)
Transition to adult care and other services through the Center for Transgender Medication and Surgery
*factoring in where the patient is in terms of medication and process, pubertal status, and age.
First time patients can expect their initial visit to last between 60-90 minutes. During this visit, medical history, gender history, and patient and family goals will be reviewed, followed by a discussion around gender affirming care options offered at the clinic. Individual treatment plans are created based on individual patient and family goals. Additionally, all first time patients will undergo a complete psychological assessment.
CATCH aims to see new patients within 4-6 weeks. To schedule an appointment, please call 617.414.4841.
A thriving workplace requires healthy employees. However, employees do experience work-related injuries, with 70-80 percent of them being musculoskeletal in origin. When injuries do occur, the Occupational Medicine team at BMC offers a rapid, often same-day, evaluation of employees. This evaluation consists of a diagnosis, evaluation and treatment plan, and weekly follow-up care coordination. Having a well-formulated, easy-to-follow process helps get employees back to work in a timely manner and reduces your Workers' Compensation and other health-related costs.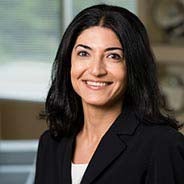 Manijeh Berenji, MD, MPH
Director, Occupational Medicine
Dr. Berenji is BMC's board-certified occupational medicine physician. She serves as the focal point in care access and delivery, treating acute injuries and connecting employees with the appropriate specialists in orthopedics and beyond (ophthalmology, neurology, dermatology, and any other specialty at BMC).
The clinic is located in BMC's orthopedic surgery department where physicians with special expertise in the management of bone-related injuries and diseases care for their patients.

The Department of Ophthalmology at BMC offers a wide range of diagnostic evaluations and treatments for the full range of pediatric eye diseases and for adults with strabismus or misalignment of the eyes. Our multidisciplinary team specializes in the assessment of vision issues and eye alignment, eye muscle surgery, pediatric cataract evaluation and surgery, and a variety of other services. In addition to three fellowship-trained pediatric ophthalmologists, our team includes a pediatric optometrist and an orthoptist.
We offer routine visits at our clinic by appointment and are also available 24/7 for emergency eye care.
Commonly treated conditions include:
Amblyopia (poor vision)
Eyelid and orbit abnormalities
Genetic inherited and metabolic disorders
Pediatric cataracts
Pediatric glaucoma
Pediatric neuro-ophthalmology
Refractive error
Strabismus (misalignment of the eyes)
Tearing problems
Program Overview
The Cardiac Catheterization Laboratory provides experienced and coordinated care to patients with a variety of cardiac problems. A five-bed holding room admits patients who are in need of urgent or emergency procedures without delay. A dedicated cardiac interventional unit is staffed by attending physicians, physician assistants and nurses familiar with the specific needs of patients undergoing catheterization. This setting fosters optimal patient education before and after the procedure. Patients learn about their specific disease, risk factors, treatment and prevention strategies, and necessary lifestyle changes.
Known for providing excellent care, the Cardiac Catheterization Laboratory uses the latest technology and meticulous techniques to diagnose and treat cardiac disease. Our patients and their families appreciate our immediate service, ongoing communication with the primary care physician and cardiologist, and our focus on patient education.
Coronary Artery Disease (Heart Disease)
Coronary Artery Disease, or Heart Disease, occurs when a buildup of hard deposits or plaque clogs the arteries that supply blood to the face and front part of the brain. As a result, the arteries thicken and harden, slowing blood flow and increasing a patient's risk for stroke. Approximately one-third of the more than 600,000 strokes in the United States are the result of blockages in the carotid arteries.
Boston Medical Center has been a leader in the performance of primary angioplasty, the procedure to open blocked arteries in patients suffering from a heart attack. It has been shown that the faster the artery is opened and blood flow is restored to the heart muscle, the better the chance of recovery. The CVC's Cardiac Catheterization Laboratory staff provides primary angioplasty 24 hours a day, 7 days a week, 365 days per year to improve outcomes in heart attack victims, with a 90-minute "door to balloon" time.
Treatments
Several approaches are used to diagnose and treat heart disease prior to referring a patient to the CVC. An exercise stress test or echocardiogram may confirm the diagnosis of a specific disorder. Patients who have no symptoms, or very mild and stable symptoms, may be treated with medications only. However, patients are referred to the CVC for cardiac catheterization and coronary angiogram to assess the extent of the problem if their symptoms worsen or if they are severe. In patients with significant blockages in the coronary arteries, coronary angioplasty may be recommended. Alternatively, in patients with multiple blockages, coronary artery bypass surgery may be the procedure of choice.
Treatment Procedures
For patients who are candidates for coronary angioplasty, the CVC offers multiple types of procedures using the latest technology. The specific procedure recommended is determined by the type and location of each coronary artery blockage.
Balloon angioplasty
In balloon angioplasty, a catheter with a small balloon on its tip is inserted into the blockage site. Once there, the balloon is inflated in the artery to flatten or compress the plaque against the artery wall.
Stent placement
A stent is a small, mesh tube that is placed inside the blockage site via a catheter. The stent's purpose is to hold the artery open and keep it from closing again. It becomes a permanent part of your artery.
Patients who experience re-narrowing within a previously placed stent may be required to undergo intravascular brachytherapy, which requires application of radiation to the affected part of the artery after the angioplasty or stent insertion.
Contact Us
Call (617) 638-8702 for more information or to schedule an appointment.
Overview
An arrhythmia is condition in which the heart beats with an irregular or abnormal rhythm. This is sometimes felt as a "fluttering" in the chest or described the heart "skipping a beat". A heartbeat is coordinated by electrical impulses. In some cases, the electrical impulses don't work properly, causing the heart to beat too fast, too slow, or irregularly.
The Arrhythmia Center at Boston Medical Center has specially trained electrophysiologists on staff equipped to diagnose and treat all types heart arrhythmias, specializing in the following:
Evaluation of syncope (fainting) and palpitations
Cardiomyopathy is a disease of the heart muscle, which causes it to become weakened and unable to pump blood effectively. Cardiomyopathy is a major cause of heart failure and one of the most common conditions leading to heart transplantation.
There are three types of cardiomyopathy:
In dilated cardiomyopathy, the left ventricle becomes enlarged and does not pump as efficiently.
In hypertrophic cardiomyopathy the heart muscle is abnormally thick, affecting the heart's ability to pump blood.
In restrictive cardiomyopathy the heart becomes rigid and can't properly fill with blood between heartbeats.
The Cardiovascular Center at BMC offers expertise in medical and interventional treatment for cardiomyopathy/heart failure. Our specialized team coordinates the evaluation and care for patients with this condition. Working with primary care physicians and community-based cardiologists, the team offers a wide range of options, including new pharmacologic and surgical treatments. Through comprehensive, long-term management, the goal is to minimize the frequency and impact of complications to maximize each patient's productivity and quality of life.
Diagnosis and Evaluation
The diagnosis and evaluation of suspected cardiomyopathy typically starts with a consultation with a heart failure specialist, and includes a detailed history and physical examination, as well as an electrocardiogram, chest X-ray and blood tests. In most cases the next step involves a non-invasive assessment of heart size and function, typically by echocardiography, and in some cases by nuclear magnetic resonance (NMR) imaging. Additional studies that may provide important information include an exercise stress test and/or nuclear scans of the heart. In some cases further invasive studies may be helpful including cardiac catheterization and electrophysiologic evaluation.
Treatment
Once the cause of heart failure in a patient is determined, a customized medical treatment program is designed based on guideline-validated therapies. If correctable causes are identified, there may be specific treatment to treat hypertension or address coronary artery or valvular disease. Typical medical therapy includes a diuretic (medication to control fluid accumulation and a beta-blocker (a medication to reduce blood pressure). In some cases additional drugs may be indicated or preferred.
Investigational Therapies
The CVC program is involved in the discovery and development of new therapies for cardiomyopathy and heart failure. Boston University School of Medicine played a key role in the development of current day standard therapies including beta-blockers, angiotensin converting enzyme inhibitors and aldosterone antagonists. BMC has access to novel investigational therapies, often years before they are available on the market, and are able to use these agents in selected patients who meet the criteria for their use.
Implantable Cardiac Defibrillators (ICDs) and Cardiac Resynchronization Therapy (CRT)
The Cardiomyopathy Team works closely with the Electrophysiology Team to determine the need for devices that can decrease the risk abnormal cardiac rhythms (ICDs) and/or to improve the synchronization of the walls of the heart (CRTs). These devices can be life-saving and lead to improved outcomes in many patients with cardiomyopathy.
Pages