The Nutrition and Weight Management Program is an integral part of the Center for Endocrinology, Diabetes, Nutrition and Weight Management. The Center offers state-of-the-art diagnostic and treatment services for nutritional disorders and weight management for people age 18 and older. The Nutrition and Weight Management team includes physicians, a nurse practitioner specializing in nutrition, and clinical dieticians including bariatric diabetes educators. Every patient receives individualized attention and a nutrition and/or weight loss plan that seeks to minimize risk and maximize results.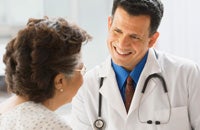 The Division of Transplant Surgery provides comprehensive kidney transplant services and dialysis access surgery.
Expertise
Kidney transplantation
Dialysis access surgery
For information about Boston University School of Medicine (BUSM) Surgery Residency Program, our faculty members or educational resources, please visit our BU School of Medicine Department of Surgery website.
Contact
Fax: 617.638.8427
Audiologists at Boston Medical Center provide services to a wide variety of patients, ranging from newborn babies to elderly adults. The team performs a number of diagnostic tests in our state-of-the-art clinic. Testing ranges from basic hearing tests that require the patient to raise their hand in response to sounds to more advanced testing which uses computer generated signals to elicit responses in the brainstem (ABR). We also provide testing for those who are suspected of having auditory processing disorders. Audiologists are also principal providers of diagnostic testing for patients with dizziness and balance problems. Outside of the clinic, you may find audiologists in the operating room performing ABR on those children who are difficult to test or assisting surgeons during intricate surgeries by monitoring the cranial nerves.
In addition to diagnostic testing, providing information and helping patients with strategies for coping with hearing loss, audiologists also fit patients with hearing aids. We offer the latest in digital hearing aid technology and offer a variety of sizes and options. We also fit special earplugs for musicians, dentists or workers who need sound reduction or protection from noise exposure. Water resistant earmolds are also made at our clinic for those who have tubes in their ears or who are prone to swimmer's ear. Finally, we offer consultation on the use of assistive listening devices.
Thoracic Oncology sees patients with the following types of cancer:
Overview
Many teenagers and young adults struggle with addiction to drugs, alcohol, or both. At Boston Medical Center, the CATALYST program helps teens and young adults who are struggling with addiction. Our clinic provides access to a wide range of services including primary care, behavioral health, and support resources for patients up to age 25 and their families.
Team Approach
We are a multidisciplinary team consisting of physician's (two of which are board certified in addiction medicine) a social worker, nurse, patient navigator and outreach worker, all overseen by a program manager and medical director. Specially trained and adept to working with young patients struggling with substance use, together we strive to provide the best care for patients and their families paving a clear path to recovery.
Services
Assessment and diagnosis of substance use disorders (SUDs)
Counseling support
Treatment of SUDs with medications (such as buprenorphine and naltrexone)
Monitoring with urine drug testing
HIV, HCV screening and treatment options
Overdose education and naloxone access
Visits for families both of patients who are in treatment and not in treatment
Access to primary care
Pregnancy prevention
Outreach support through patient navigation
In order for our team to provide substance use care, patients must receive primary care Boston Medical Center. The CATALYST Clinic team can help patients schedule and establish primary care at BMC in addition to their substance use care/services.
The Emergency Department (ED) at Boston Medical Center is a state-of-the-art facility with 24-hour coverage by highly skilled physicians who provide comprehensive emergency medical care. Located in the heart of Boston's historic South End, we offer a full complement of surgical and subspecialty consult services.
Boston Medical Center is the largest and busiest provider of trauma and emergency services in New England. Our Emergency Department serves more than 130,000 patients each year and is a national model of excellence in emergency medicine.
Our team consists of experienced emergency medicine attending physicians, emergency nurses, mental health specialists, social workers and emergency medicine residents.
We offer an Emergency Medicine Residency Program. As an independent academic department at Boston University School of Medicine, our EM program has become a respected leader among clinical departments.
The Department of Pediatric Otolaryngology (otherwise known as Ear, Nose, and Throat, or ENT) provides care for patients with problems involving the ears, sinuses, oral cavity, airway, nose, throat, and neck including sinus conditions, neck masses, allergy, and snoring. The department also specializes in swallowing disorders, voice problems, dizziness and balance disorders, hearing loss, and breathing problems.
Our pediatric otolaryngologists work closely with pediatric pulmonologists and gastroenterologists to provide a multidisciplinary team approach to evaluating and treating each patient. They also work closely with audiologists (hearing experts) and speech/swallow pathologists.
Conditions treated include:
Obstructive Sleep Apnea
Aerodigestive Disorders
Congenital Neck Masses
Chronic Ear Issues
Hoarseness
Sinus Disease
Tongue-tie (ankyloglossia)
For more information about ear, nose and throat disorders and conditions and their treatment, we encourage you to visit the website of the American Academy of Otolargyngology – Head and Neck Surgery.
Common procedures:
Frenulectomy (tongue tie clipping)
Nasal endoscopy (passing a scope into the nose)
Laryngoscopy (passing a scope into the throat/voice box)
Removal of nasal or ear foreign bodies
Tonsillectomy
Adenoidectomy
Ear Tubes
Biopsy or excision of neck masses
Excision of facial masses or cysts
Airway evaluations
Sinus surgery
Control of nasal hemorrhage (nose bleeds)
Surgery on thyroid or parotid gland
Welcome to our clinic!
The Pediatric Dentistry Center at BMC provides a wide range of dental care to children from newborns to age 18. Our clinic is part of the Boston University School of Dental Medicine. We provide high quality care for a child's developing teeth, including preventative care, restorative care, and orthodontics. Additionally, our Pediatric Dental and Oral Surgery Residents are on-call 24/7 for walk-in patients requiring emergency care.
Most treatments are performed in the dental clinic. If a child is especially anxious, we can provide nitrous oxide/O2 sedation (also known as laughing gas sedation). Children with special needs that cannot tolerate the dental chair, or very young children are able to be seen in the operating room, where all of their dental needs can be treated in one session while the child sleeps under general anesthesia.
Our clinic staff has the ability to communicate with patients and their families in a variety of languages including Spanish, Portuguese, Farsi and Ethiopian. For other languages, we're happy to schedule an interpreter through interpreter services.
Our clinic is accredited by the Commission of Dental Accreditation of the American Dental Association. Our services follow the guidelines and recommendations set forth by the American Academy of Pediatric Dentistry, which are updated annually to make sure that your child receives the most updated and appropriate care.
Children need to be seen at the dentist's office by their first birthday. If you have not yet scheduled an appointment, we will be happy to assist. Please contact us.
Dr. Athanasios Zavras
Professor & Chair of Pediatric Dentistry
Outpatient Clinics
Pediatric Dental Clinic (by appointment only)
Yawkey Ambulatory Care Center, 6th Floor
850 Harrison Avenue, Boston, MA 02118
Phone: 617.414.4837
BPOHC (by appointment only)
Boston University Goldman School of Dental Medicine, 1st Floor
100 East Newton Street, Boston, MA 02118
Phone: 617.638.4683; Fax: 617.638.5033
Pediatric Orthodontics Clinic (by appointment only)
Boston University Goldman School of Dental Medicine, 2nd Floor
100 East Newton Street, Boston, MA 02118
Phone: 617.638.4683; Fax: 617.638.5033
Overview
What is Lupus?
Lupus is a complex autoimmune disorder where the body's cells are attacked by one's own immune system. This leads to inflammation and damage to various body tissues. Lupus can affect many parts of the body including the joints, kidneys, skin, heart, lungs, blood vessels, and brain. The organs that are affected are different for every person.
There are several types of lupus:
Systemic Lupus Erythematosus (SLE): lupus that affects multiple tissues and organs
Cutaneous (skin) lupus including Discoid Lupus Erythematosus (DLE) and subacute cutaneous lupus
Lupus kidney disease also known as Lupus Nephritis
At present, there is no cure for lupus. However, it can be effectively managed and most people with lupus can lead an active and healthy life.
The Lupus Clinic at Boston Medical Center
The Lupus Clinic at Boston Medical Center is a partnership between the Departments of Rheumatology, Dermatology, Nephrology, and Obstetrics/Gynecology. Our specialists in these departments have experience caring for hundreds of patients with chronic autoimmune diseases, including lupus. In the Lupus Clinic, patients can be seen by multiple physicians on the same day for convenient and comprehensive care. In addition, many of our physicians conduct research to better understand the development and treatment of lupus. This includes clinical trials and an autoimmune disease patient registry.
We have a monthly lupus meeting where researchers, physicians, and patient care providers meet to discuss research breakthroughs, new therapies, and how to improve the patient experience.
BMC's lupus patient population is diverse. We strive to provide exceptional care to all patients - without exception.
Referring Providers
Please contact the patient navigator, Supraja Narasimhan at 617.638.1831 to refer a patient.
Referrals can also be faxed to 617.638.7454. On the cover letter, please specify "Lupus Clinic at BMC" and "Attention: Supraja Narasimhan."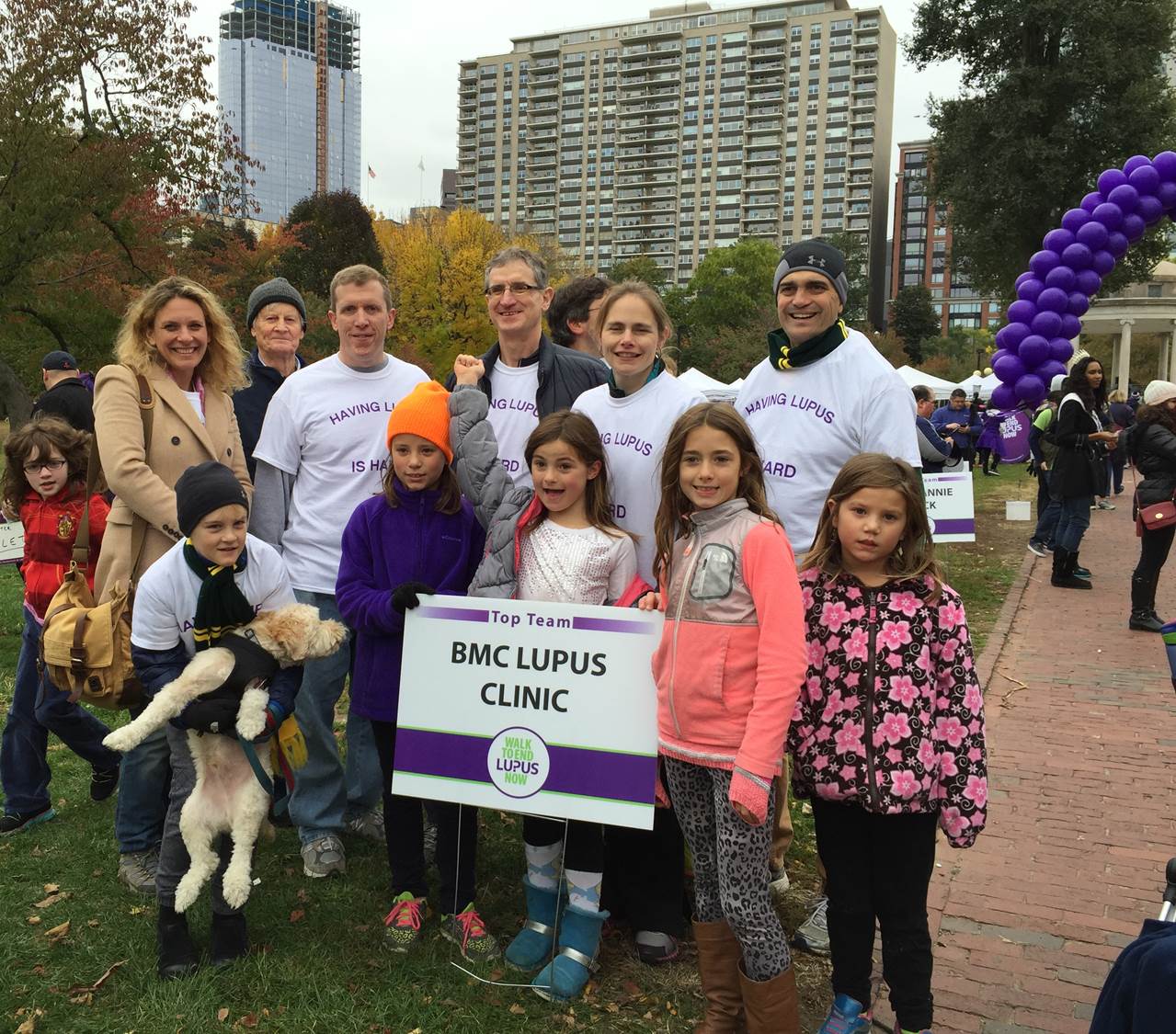 Pages