We are pleased to announce that we have recently expanded our care team and remodeled our office space! We are now offering video based telemedicine appointments as well as traditional on-site office appointments.
We now have an expanded care team of 5 Physicians and 4 Nurse Practitioners. In addition, we offer specialists in Dermatology, Cardiology and Diabetic Education, plus an MDVIP affiliated Physician offering personalized preventive care.
The newly remodeled office is conveniently located on the Boston University campus only steps away from the MBTA Pleasant Street Station (Green Line). The office is on the ground floor for easy access and drop off. We also provide on-site validated free parking.
Each of the accomplished providers is affiliated with Boston Medical Center, so you'll get the same expertise and quality of care you expect. Patients will also have access to the full-range of services available at Boston Medical Center.
Primary Care
Family Medicine
Internal Medicine
Osteopathic Medicine
Women's Health & Contraceptive Management (IUD)
Specialty Health Services
Cardiovascular Disease Center
Dermatology
Diabetic Education
Exercise Stress Tests
Hypertension and Nephrology
On Site Lab
Preventive Care
Travel Clinic
Additional services such as Radiology, Sports Medicine and Orthopedics are available through our affiliate, The Ryan Center for Sports Medicine, just across Commonwealth Avenue.
Effective November 23, 2020, The Copley Square Medical Practice office at 575 Boylston St, Boston MA has merged with The Charles River Medical Practice and relocated to 930 Commonwealth Ave, Boston MA 02215. The Copley Square Medical Practice patients can expect the same high-quality care from Boston Medical Center providers in our newly remodeled office. Learn more about Charles River Medical Practice.
The Women's Health Group at Boston Medical Center is located in the Shapiro Center. Established in 1985, it was one of the first in the nation to focus exclusively on the unique healthcare needs of women, with women caring for women, and actively seeking a doctor-patient relationship based on respect, trust, and understanding.
In 1997, the US Department of Health and Human Services recognized the practice as a national Center of Excellence in Women's Health, a model for best practices in caring for women. BMC's practice is one of only 21 in the nation, and among the first to be so recognized.
Approach
The Women's Health Group uses a multidisciplinary team approach emphasizing preventive care and emotional wellbeing. While the Group serves women of all ethnic and socioeconomic backgrounds, it is focused especially on the needs of women in Boston's underserved communities.
Each patient selects a primary care provider from the internists and nurse practitioners on site. These primary care providers all have demonstrated training beyond their traditional field of expertise, ensuring the incorporation of ambulatory, gynecologic care, mental health screening, and assessment for interpersonal violence, for example, into routine healthcare.
Each primary care provider is supported by specialists in other relevant clinical fields. Mental health needs are addressed by two licensed clinical psychologists who practice in the same locale and provide consultation and promote ready coordination of mental and medical healthcare services. Similarly, gynecology consultation is available on a same day basis from members of the department of obstetrics and gynecology, either from within the Women's Health Group practice site or from the Gynecology department of BMC.
Bone Health
Osteoporosis is a major concern for women before and after they reach menopause. In addition to the primary care offered in the clinic, Boston Medical Center has the most advanced technology for measuring bone strength along with a group of specialists to provide or recommend additional services.
Breast Health
Physicians work with the comprehensive Breast Health Center, which offers evaluation and care in one setting. Patients can see an appropriate specialist including medical and surgical oncologists, radiologists and surgeons during one visit.
Comprehensive Gynecology
Physicians provide routine gynecological care, including family planning and Pap test screening. If further treatment, surgery or pregnancy care is needed, patients are referred to physicians at Boston Medical Center who specialize in all aspects of obstetrics and gynecology (Ob/Gyn).
Inpatient Care
If a patient needs to be hospitalized, the medical team will oversee care while the patient is in the hospital.
Menopause
Women often have questions and concerns as they approach menopause including whether or not to begin hormone or other therapies. The team is experienced in addressing these issues and will offer advice and care that is tailored to the patient's needs.
Mental Health
Focusing on overall health may involve coping with stress and other threats to mental health. Psychologists are available to address a number of mental health problems commonly affecting women, including stress, anxiety, eating disorders and depression.
Preventive Medicine
The practice offers a variety of strategies to help promote good health, including cholesterol screening, smoking cessation programs, vaccinations, mammography, nutrition counseling, exercise recommendations and health education programs.
Specialty Care
Boston Medical Center offers a full spectrum of medical and surgical specialty services, including cardiology, pulmonary medicine, orthopedics and gynecology. When needed, a patient's primary care doctor will refer the patient for specialty care and help coordinate that care.
Violence Against Women
Being a victim of violence now or in the past can affect a woman's emotional and physical health, and the team has expertise in helping women cope with these issues.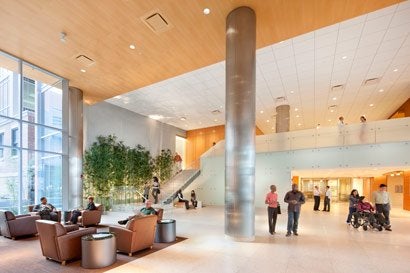 Address
725 Albany Street
Boston, MA 02118
Shapiro Center
5th Floor, Suite 5A
Hours
Monday, Wednesday 8:00 AM - 8:00 PM
Tuesday, Thursday Friday - 8:00 AM - 5:00 PM