Did you know you can get the high-quality care of Boston Medical Center in another convenient location — on the Boston University campus? We offer the convenience of free parking in our onsite parking garage and are only steps away from the MBTA Pleasant Street Station (Green Line).
Each of the accomplished providers at our new primary care facility is affiliated with Boston Medical Center, so you'll get the same expertise and quality of care you expect from BMC. You'll also find a dermatologist, cardiologist, otolaryngologist (ear, nose, and throat), podiatrist, blood lab and urgent care. Plus, our affiliation with the Ryan Center for Sports Medicine across the street gives you access to radiology and a host of other medical services. And of course, you have access to the full-range of services available at Boston Medical Center.
Boston University Charles River Medical Practice offers the following services:
Primary Care
Internal Medicine
Osteopathic Medicine
Women's Health & Contraceptive Management (IUD)
Family Medicine
Travel Clinic
Specialties
Cardiovascular
Dermatology
Otolaryngology (Ear, Nose, and Throat)
Allergy testing & treatment
Plastic & Reconstructive Surgery – Cosmetic Surgery
Podiatry
Reproductive Endocrinology and Infertility
Services
On Site Lab
Exercise Stress Tests
Additional services such as Radiology and Sports Medicine are available through our affiliate, Ryan Center for Sports Medicine, just across Commonwealth Avenue.
For more information on our practice and our team, please visit our official website. To make an appointment or if you have questions, please call 617.414.6800. To request an appointment online, please fill out the form.
Location & Appointments
Boston University Affiliated Physicians in Copley Square is located in the heart of Boston's Back Bay, overlooking beautiful and historic Copley Square.
Boston University Affiliated Physicians in Copley Square
575 Boylston Street, 6th Floor
Boston, MA 02216
Call: 617.414.9600
Fax: 617.262.7015
Office Hours: Monday – Friday 8:00 AM - 5:00 PM
Twenty-four hour, on-call service is available by calling 617.414.6800.
Book Online
New and existing patients can also book an appointment online via ZocDoc, 24 hours a day, 7 days a week. Please note, not all providers are available for online booking. If you don't see your provider, please call to make an appointment.
All physicians are accepting new patients. Patients who want to initiate care with the practice should schedule an introductory office visit to establish a plan for follow-up. We can typically see established patients with urgent medical problems the same day, but always within 24 hours. We encourage periodic preventive health exams for all patients. Care for emergency health issues outside of office hours is available 24 hours a day, 7 days a week.
Directions & Parking
Public Transportation
Take the MBTA's Green Line to the Copley Square station.
Parking
Discounted parking with validation is available at the Dartmouth Street Garage and Marriott Copley Garage.
About the Copley Practice
Boston University Affiliated Physicians of Copley Square is a comprehensive primary care practice providing ready access to excellent acute, chronic and preventive medical care delivered in a compassionate and supportive environment. Our goal is to practice today's medicine with a personal and caring style.
In addition to providing primary care, our highly accomplished, board-certified internal medicine doctors and nurse practitioners have expertise in hypertension and cholesterol management, preventive cardiology, travel medicine and women's health.
Our patient-centered practice focuses on providing the highest-quality care. Boston Medical Center is our primary hospital and referral center.
Services
Adult internal medicine
Adult primary care
Cholesterol management
Management of high blood pressure
Immunizations for travel overseas
Women´s health and routine gynecological care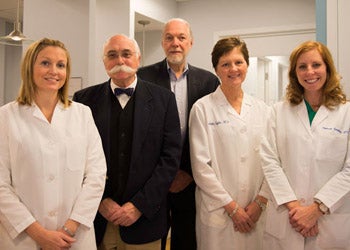 Our providers are, left to right: Michelle Bonnette, NP; Charles Tifft, MD; Michael Miller, MD; Judith Lytle, MD & Stephanie Quintiliani, NP.
The Section of Geriatrics at Boston University and Boston Medical Center is an interdisciplinary group of healthcare professionals whose mission is to address the special needs of the diverse geriatric populations of the metro-Boston area. We are committed to delivering high-quality, comprehensive and cutting-edge care to the older adult in a variety of settings, and to providing innovative leadership in geriatric education, scholarship, patient advocacy and community outreach.
As people age, their medical care can become more and more complex. At Boston Medical Center, the Geriatrics Program is devoted to the unique healthcare needs of those 70 and older whether they are mobile, homebound, or in a nursing home. Care is provided in a coordinated, team approach aimed at helping preserve the greatest degree of independence possible. The program's doctors, nurses, case managers, nurse practitioners and social workers have geriatrics skills and experience to meet a patient's primary care needs, even if transition from one setting to another becomes necessary.
Family Medicine is primary care for individuals and families across all ages, genders, and diseases. Family Medicine providers care for all members of a family during all phases of life - infancy, adolescence, adulthood, and senior years.
Patients who receive care from Boston Medical Center's Department of Family Medicine select a primary care provider from a group of physicians and nurse practitioners who are trained to meet their health care needs, whether in the office, hospital, at home, or in a nursing home. This provider partners with a team dedicated to coordinating the patient's care which includes staying healthy, arranging tests to manage chronic conditions, referrals to integrated behavioral health providers and medical specialists, streamlining hospital admissions, and more.
Some of Family Medicine's most common services include:
Family-centered primary care
Well-baby and well-child checkups
Women's health care, including prenatal care and delivering babies
Immunizations
Adolescent medical exams and sports physicals
Adult physical exams
Cancer screening exams
Behavioral health services
Family Medicine also offers open access scheduling, which means patients can make appointments convenient to their schedules, including same day and same week appointments for routine and sick care services.
To make an appointment with a Family Medicine provider, call (617) 414-2080.
We are delighted that you have chosen to allow us to help you keep your children healthy. Our team will work with you to provide the best possible care for your child. We provide comprehensive medical care for children. This includes routine check-ups and childhood immunizations, as well as care when your child is sick or has a chronic medical problem.
BMC pediatric primary care goes the extra mile to help families raising children in Boston. Here are a few of our programs and features of our practice which we are extremely proud of:
Thanks to the Reach Out and Read Program, every child gets a book at every check-up from ages 6 months to 6 years old. We often have volunteers in our waiting room to read to your children.
Our Health Leads Family Help Desk volunteers help families find out what's available in their neighborhoods, including after school programs, child care and youth recreation.
Through Medical-Legal Partnership | Boston, lawyers are available for families with more complicated problems (including problems with school or housing).
Staff and interpreters are available who speak your language – no matter what it is.
Pain-free pediatrics and child life specialists help take the sting and the fear out of visiting the doctor's office.
We have expanded hours, including evenings and Saturdays to meet our patients' needs.
Finally, in conjunction with primary care services, The Department of Pediatrics offers a full range of pediatric specialty care clinics and timely referrals to keep children healthy.
We intend to provide your family with the best, most innovative primary care anywhere. Raising children is both a lot of work and a joy; all of us here at BMC primary care pediatrics love helping children and families through the hard work – and sharing the joy!
Eileen Costello, MD
Chief, Ambulatory Pediatrics
Key Principles and Values
Family-Centered Care: We are partners with children's families to raise healthy, well-adjusted children with good habits for lifelong health.
Quality medical services emphasizing prevention: we are committed to bringing our patients and families the very best medical care available anywhere.
We celebrate cultural diversity: We have a multi-lingual and multi-cultural staff, and easy access to BMC Interpreter Services to enable families to participate in the care of their children delivered within the program.
Support Services
Located on the 6th floor of the Yawkey building, Primary Care includes the services and support of:
The Family Help Desk - a program of Health Leads, trains undergraduate volunteers to provide families resources on housing, food, child care, fuel assistance, education, jobs and many other needs.
Reach Out and Read - every child gets a book at each routine visit from 6 months to 6 years.
Emphasis on child development (modeled after Bright Futures)
Our new Pediatrics Family Resource Center
Other Resources
The Women's Health Group at Boston Medical Center is located in the Shapiro Center. Established in 1985, it was one of the first in the nation to focus exclusively on the unique health care needs of women, with women caring for women, and actively seeking a doctor-patient relationship based on respect, trust, and understanding.
In 1997, the US Department of Health and Human Services recognized the practice as a national Center of Excellence in Women's Health, a model for best practices in caring for women. BMC's practice is one of only 21 in the nation, and among the first to be so recognized.
Approach
The Women's Health Group uses a multidisciplinary team approach emphasizing preventive care and emotional wellbeing. While the Group serves women of all ethnic and socioeconomic backgrounds, it is focused especially on the needs of women in Boston's underserved communities.
Each patient selects a primary care provider from the internists and nurse practitioners on site. These primary care providers all have demonstrated training beyond their traditional field of expertise, ensuring the incorporation of ambulatory, gynecologic care, mental health screening, and assessment for interpersonal violence, for example, into routine health care.
Each primary care provider is supported by specialists in other relevant clinical fields. Mental health needs are addressed by two licensed clinical psychologists who practice in the same locale and provide consultation and promote ready coordination of mental and medical health care services. Similarly, gynecology consultation is available on a same day basis from members of the department of obstetrics and gynecology, either from within the Women's Health Group practice site or from the Gynecology department of BMC.
Bone Health
Osteoporosis is a major concern for women before and after they reach menopause. In addition to the primary care offered in the clinic, Boston Medical Center has the most advanced technology for measuring bone strength along with a group of specialists to provide or recommend additional services.
Breast Health
Physicians work with the comprehensive Breast Health Center, which offers evaluation and care in one setting. Patients can see an appropriate specialist including medical and surgical oncologists, radiologists and surgeons during one visit.
Comprehensive Gynecology
Physicians provide routine gynecological care, including family planning and Pap test screening. If further treatment, surgery or pregnancy care is needed, patients are referred to physicians at Boston Medical Center who specialize in all aspects of obstetrics and gynecology (Ob/Gyn).
Inpatient Care
If a patient needs to be hospitalized, the medical team will oversee care while the patient is in the hospital.
Menopause
Women often have questions and concerns as they approach menopause including whether or not to begin hormone or other therapies. The team is experienced in addressing these issues and will offer advice and care that is tailored to the patient's needs.
Mental Health
Focusing on overall health may involve coping with stress and other threats to mental health. Psychologists are available to address a number of mental health problems commonly affecting women, including stress, anxiety, eating disorders and depression.
Preventive Medicine
The practice offers a variety of strategies to help promote good health, including cholesterol screening, smoking cessation programs, vaccinations, mammography, nutrition counseling, exercise recommendations and health education programs.
Specialty Care
Boston Medical Center offers a full spectrum of medical and surgical specialty services, including cardiology, pulmonary medicine, orthopedics and gynecology. When needed, a patient's primary care doctor will refer the patient for specialty care and help coordinate that care.
Violence Against Women
Being a victim of violence now or in the past can affect a woman's emotional and physical health, and the team has expertise in helping women cope with these issues.
Adult patients in BMC's General Internal Medicine department have a Medical Home where they become part of a primary care team which provides a new, expanded type of care. In a Medical Home environment, BMC coordinates all of a patient's health care needs, from helping them stay healthy by reminding patients of preventive checkups and tests, to working with individuals to manage chronic conditions, visits to specialists, hospital admissions and more.
There are six General Internal Medicine clinics at BMC with more than 50 providers, offering patients not only primary care they need, but also specialized clinics in women's health and opioid addiction, and a clinic for those who speak only Spanish.
BMC's diverse staff speak many languages and multilingual interpreter services are available to make your experience as easy and comfortable as possible.
New patient appointments are available. To make an appointment, call 617.414.5951.
Care in General Internal Medicine Includes:
Wellness Care - Routine physical exams and immunizations, regular screening and health counseling for HIV, cholesterol, high blood pressure, heart disease, sexually transmitted diseases, addiction, diabetes and cancer.
Urgent Care – If a patient is sick, he or she should call the office for an appointment. If the patient's regular provider is not available, they will be scheduled with someone else. A doctor is always on call when the office is closed and can be reached calling the main office.
Chronic Care - Ongoing evaluation and treatment of any chronic conditions such as asthma, high blood pressure, diabetes, heart disease, and many other conditions and illnesses.
Specialty Care - Primary care services are complemented by a full spectrum of specialty services at Boston Medical Center. For example, if a patient needs surgery, the General Internal Medicine department works in coordination with the patient's surgeon.
Women's Heath Group - Established in 1985, this was one of the first groups in the nation to focus exclusively on the unique health care needs of women. Visit the Women's Health Group to learn more.
Inpatient Care – If a patient needs to be hospitalized, their care will be provided by a specialized in-patient hospital team. However, the patient's primary care doctor continues to coordinate care.
Medications - BMC has two pharmacy locations allowing patients to have quick, convenient access to their prescription medications, as well as the option to have medicines delivered directly to a patient's home through mail order.
Behavioral Medicine Programs - Located within General Internal Medicine and jointly sponsored by the hospital's Medicine and Psychiatry Departments, these programs advance health promotion and disease prevention. The programs are:
The Behavioral Management of Chronic Pain Clinic
The Behavioral Management of Hypertension Clinic
Stress Reduction and Relaxation Training Center
These clinics are "multi-component" interventions combining education about the particular disease and its treatment, cognitive behavioral therapy aimed at reducing anxiety and depression, operant conditioning focusing on changing lifestyle habits such as diet and exercise, relaxation training to reduce stress and anger and social support from family and friends to help maintain these new behaviors.
Audio Meditation - Dr. Sokolove:
For more information on these programs contact Dr. Robert Sokolove, director of Behavioral Medicine, at 617.414.5098.
Social Work Services – BMC offers a wide range of social services to help with transportation to and from BMC, job and housing searches, and access to health insurance, government financial assistance programs, and counseling services.