Do you know an exceptional nurse at BMC? Nominate him/her today!
During National Nurses Week (May 6 - 12) and throughout the year, BMC celebrates the role our nurses play in delivering the highest level of quality care to their patients. We are passionate about recognizing our nurses for the heroic work they do each day for patients and their families.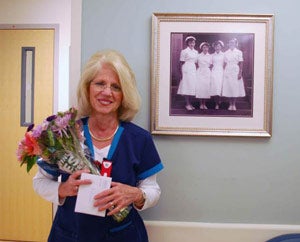 In 2015, the "Nominate a Nurse" contest was created to ensure that our nurses know they are respected and valued for their compassionate care, clinical experience, and patient advocacy. This year, the contest is back by popular demand! Please let us know about the BMC nurse who has touched your life. We'll make sure they know how important they are to you, and to the countless patients and families whose lives they've touched.
For any questions or concerns, please contact Cassie Villa at Cassie.Villa@bmc.org or 617.414.5532.
Here's how it works:
Choose your favorite BMC nurse.
Fill out the form below by Thursday, April 27.
We'll do the rest! 
Every nurse that is nominated will receive a handwritten thank-you card! One nurse will be chosen as the overall winner and will receive:
A surprise bouquet of flowers
Intranet feature article
BMC.org homepage promotion
Spotlight on BMC's Facebook, Twitter and Instagram!