The BMC Brief Volume 6, Issue 8
December 31, 1969
Welcome to the Second Annual International Issue!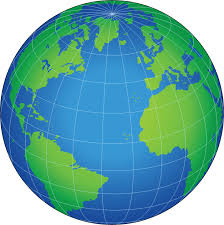 Boston Medical Center is known for the many programs and services it provides to people who have immigrated to the United States. But the hospital's diverse patient population inspires more than programs here – it has inspired many staff members to pursue work around the world. From Zambia to South America to Haiti, from surgery to neurology, these are a few of the stories of employees who have created connections and cared for patients internationally.
In Country with Few Neurologists, BMC Provides Education and Resources
After a 7.0 magnitude earthquake rocked Haiti in 2010, BMC employees kept hearing from patients with ties to the country about the gravity of the situation. The American Association of Neurology had begun sending neurologists to Haiti post-earthquake to help, but these doctors were only in private practices, not in hospitals. Employees in the Department of Neurology at BMC were inspired by their patients' stories and felt like they could do more to help – especially because the entire country of Haiti had only two neurologists.
Beginning four years ago, they partnered with the AAN to send BMC neurologists, nurses, and residents to Port-au-Prince, the capital of Haiti. The goal of the visits is not only to provide clinical care but to teach Haitian providers how to manage neurology cases, such as seizures and strokes.
"Doctors and nurses were trying to perform intensive care unit-level care, but there was no ICU," says Anna Hohler, MD, who went on that first trip as an attending physician. "They didn't always have basic equipment and supplies like blood pressure machines or IV fluids and medications. But year after year, things got a little better."
"The first year, it was hard for people to trust us," says Marie Auguste, RN, a nurse who also went on the trip. "They thought we would only come once, but we gained their trust when we kept coming back. Every year, we see that the doctors in Haiti are able to do more for the patients and the parents learning to do more for their children."
For the last four years, a group from BMC has spent a week in Haiti at a pediatric hospital and an adult hospital in Port-au-Prince. They provide care to patients in both hospitals, and also educational courses to doctors and nurses. Most of their work in the pediatric hospital focuses on seizure disorders, while work at the adult hospital is largely with patients who have had strokes. Two years ago, they also began working at a rehabilitation hospital to help expand services for stroke victims and set up a pediatric and adult outpatient clinics to allow for better continuity of care.
"Our goal is to help ensure that patients in Haiti get the same level of care as patients get here," says Hohler. "There are limited resources, but we can provide a lot of education on how providers who are not neurologists can best care for patients with neurological issues. Everyone is very eager to learn."
Two years ago the neurology group partnered with the BMC physical therapists to expand the care that they provide in Haiti. Eventually, the group hopes to be able to go to Haiti more than once a year, so they can provide even more education at nursing and medical schools. They also would like to bring additional therapists and other specialists. Last year, a neurologist from Haiti came to BMC for a month, and they hope to bring more doctors from Haiti to BMC to learn. Auguste and Hohler say there is great interest among the doctors they work with in Haiti, but little money for them to make the trip.
The trips to Haiti are educational not just for the doctors there, but also for BMC providers.
"These trips are informative for all of us," says Hohler. It gives us a better perspective about the health care systems. We practice more efficiently and effectively now, because we have a greater awareness of how to practice with limited resources."
"It's good for the residents to see how other places do things differently," adds Auguste. "It also teaches them how to recognize and get out of a situation where something has been done wrong. For example, when we first went to Haiti, we saw patients with seizures who were being given muscle relaxers. We knew that wasn't what the patients needed, and residents could help wean them off the medicines and get them on the correct seizure medications."
The trips also expand BMC beyond Boston. For example, one patient the team treated in Haiti had previously been treated for a stroke by a BMC resident in Boston. In Haiti, he was able to recognize the former resident who had treated him in Boston. That resident is now a faculty physician at Stanford who brings some of her own residents to work in Haiti, expanding BMC's mission and values across the country and world.
The Department of Neurology's trips to Haiti are funded by donations. For more information and to donate, visit the Neurology Global Health Initiative website.
Residents Practice Global Health at Home and Abroad
It can be hard to get a good cancer diagnosis in many parts of Guatemala. The tests to diagnose cancer most effectively and efficiently are expensive and there aren't enough trained pathologists to interpret the tests. People can go a long time without receiving a proper diagnosis.
Edward Briercheck, MD, PhD, hopes to help solve this problem by working with a team at the INCAN Cancer Hospital in Guatemala City to develop a cheaper, easier-to-use genetic test that can sequence tumors and help diagnosis different types of cancer.
But Briercheck is not a full-time cancer researcher, nor does he live in Guatemala. Rather, he is a third year resident in the Internal Medicine global health pathway who is using his experience in the program and his PhD to help solve medical problems across the globe. When he finishes his residency next year, he will be headed back to Guatemala to continue his work on this crucial problem.
Briercheck is one of many residents over the last five years who have gone through the pathway and learned to incorporate a global perspective into the care they provide.
"Global health fits with BMC's mission to improve health equity," says James Hudspeth, the director of the global health pathway. "There is a lot of inequity within our society and even more across societies. Equity-minded people are more likely to want to tackle inequity abroad as well. A global health focus allows us to work on all angles of health inequity and create small shifts that have big impacts."
Any internal medicine resident can apply for the pathway during their intern (first) year as a resident; two to four residents are selected every year. The first part of the pathway is a three-week immersion course in India, where residents observe a variety of health care sites as a springboard for a larger discussion of different health care systems and an examination of the components of global health. This discussion serves as a framework for the entire two-year pathway. Throughout the next two years of their residencies, the residents in the global health pathway have monthly discussion groups, help run a blog on global health, and conduct an academic project in global health.
The required academic project sends residents all over the global for research, education, or clinical work. They have gone to places as varied as Mexico, Botswana, Guatemala, India, and Liberia. One resident even worked on Native American reservations with the Indian Health Service, an example of practicing global health in the United States.
Over half of BMC's patient population was born in other countries, and many patients come to the United States specifically for care at BMC. Therefore, practicing global health for our residents can mean practicing here in Boston. Most global health residents also work at the refugee clinic in primary care at the hospital as a way of making global health local.
"The pathway gives you more insight into where patients are coming from," says Briercheck. "You definitely have more awareness of diseases that you don't see as much in the United States, which helps you diagnose patients who have recently arrived from other countries. You also think more about what patients might be going back to if they go back to their home country. They won't always continue to get good care, so you need to think about tailoring treatment to that. You're constantly reminded of the barriers people face, but it's energizing."
Another goal of the global health pathway is to help bring together different groups working on global health in the BMC and Boston University communities. One way they're achieving this is with global health grand rounds, which will begin in September and be held every four to six weeks. The grand rounds are a collaboration between the global health pathway, BU Schools of Public Health, Medicine, and Dental Medicine.
"There was a desire to provide opportunities for faculty and residents to show others their ongoing projects and find collaborators," says Hudspeth. "The different schools and hospital have historically been separated, and our global health grand rounds are a way to bridge that gap."
Ideally, says Hudspeth, collaboration in Boston will lead to multidisciplinary international sites where BMC and BUSM can send different groups to provide education and clinical care. While this is still far in the future, it would be a natural outgrowth of the vibrant global health community at BMC.
You can learn more about the global health pathway on the program's blog.
A Valuable Lesson in Learning to Work with Less
For many people, thinking about surgery conjures up visions of clean white walls and doctors calling out for another shiny instrument. But in many places across the world, surgery is much more difficult. Having fewer resources for surgery means that patients often have to travel further, wait longer, and may not have exactly what they need for optimal recovery. While surgeons in these locations learn to work with less, hospitals in Honduras and Zambia are also getting assistance from BMC's Department of Surgery.
"The opportunity to spend time abroad in settings with fewer resources is enriching and educational," says Thurston Drake, MD, an attending surgeon. "We get used to having it all here, and seeing how surgeons in other countries can work with a lot less is a great experience. It inspires motivation and teamwork. It's awe-inspiring to see some of the things patients go through and how they recover."
Drake and other colleagues in the Department of Surgery have partnered with the Boston University Center for Global Health and Development to set up trauma surgery training in two provinces in Zambia. The program they're developing builds on BMC's existing partnerships in maternal child health and infectious disease in Zambia and will ultimately give both residents and attending surgeons opportunities to go abroad.
The group is currently applying for a grant to start the program in Zambia; if all goes well, they plan to start performing surgery and training local surgeons in early 2018. While they plan to start with surgeons, the ultimate goal is to be able to bring nurses, anesthesiologists, physical therapists, and anyone else who makes surgeries and recovery happen.
While Drake and others are working to set up a trauma training program in Zambia, some of their colleagues are already working abroad.
Sabrina Sanchez, MD, spent a week in May in Honduras, performing surgery with a nonprofit that has a relationship with a local hospital. The group spends several weeks a year performing general, OB/GYN, and orthopedic surgery at a regional surgery center in Comayagua, working with hospital staff and volunteer interpreters from a local high school.
While this was Sanchez's first trip to Honduras as a surgeon, she has already signed up for next year's trip. This time, she plans to take residents and medical students with her, so that they can have an international experience while the Zambia program is being set up.
"We've seen that residents and medical students are interested in finding ways to give back," says Sanchez, an attending surgeon. "With these programs, we're able to create an opportunity for them to do so."
Drake and Sanchez see working abroad as a natural extension of the work being done at BMC.
"People come to work at BMC because they're interested in serving the underserved and addressing inequalities," says Sanchez. "Working abroad allows us to do that work on a larger scale, in countries with even greater inequity and fewer resources to serve medical needs."
According to Drake and Sanchez, international surgery experiences go beyond giving surgeons from the United States new experiences. True partnerships with hospitals in other countries would also involve bringing surgeons from those countries to the United States to learn.
"The more we can create bidirectional exchange the better," says Drake. "It's harder in surgery because it's hands-on, and obtaining the necessary credentialing for foreign trainees to participate in operations here in the U.S. is an extremely high hurdle, but creative solutions are necessary for long-lasting relationships. Everyone can benefit from seeing how medicine is practiced in a different culture."
What do you do, Kaissa Oulhadj?
Kaissa Oulhadj can speak with patients in six languages. Kaissa is a medical assistant or practice assistant in the Endocrinology Department. She works with many types of patients, from those with diabetes to patients struggling with weight management or thyroid conditions.
"It's always very exciting because there's always something different to do," she says.
Kaissa's job varies depending on the day, but most of the time she assists the doctors and ensures the utmost comfort for her patients.
"It gets really, really busy and some patients can't sit for that long, so we make sure they're comfortable, whether that means sitting and talking or getting them water or a magazine," says Kaissa.
Kaissa first came to BMC as a patient and immediately fell in love.
"When I first came to the United States from Algeria four years ago, I came to the Shapiro Building to see a doctor," says Kaissa. "The customer service was amazing. I loved how they treated me personally. The doctor was really nice, and so was the staff. They were very interested and very caring. I just thought that I would love to work in an environment like that. When I came out of the doctor's office I told my sister I would be working here soon."
Kaissa's sister doubted her at first, as she didn't speak a word of English, but she quickly added English to the long list of languages that she speaks, which includes Berber, Arabic, French, Spanish, and Farsi. She has now been working at BMC for almost a year.
"When I first moved here I wanted to learn the language so badly, I went out and talked to people that I didn't even know, just with the few words that I knew I tried to make conversation," says Kaissa.
She has found that knowing many languages has been very helpful in her role at BMC, as it makes patients feel much more comfortable and often relieved.
"The look on a patient's face when I speak their language says it all," she says.
"I've worked at other hospitals in Boston, and I can tell the difference," says Kaissa. "BMC gives the opportunity for everyone to be treated – everyone can get the care that they want. This made me love BMC even more."
Colleagues often come to Kaissa when they are struggling to communicate with a patient, and it is very exciting for her to be able to help them.
Medical assistants are one of the backbones of a practice, says Kaissa.
"Without us, I don't think anything would work as efficiently. We build strong relationships with our doctors. The doctors in the Endocrinology clinic are the best. At the end of the day when I go home I know that my role is extremely important. It makes me happy to make others happy. I love my job. I am happy every morning, I know that I make a difference, and I'm pretty sure that my coworkers feel the same way."
Awards and Accolades
BMC Dentists Named to Top Dentists List
Six full-time and eight part-time BMC dentists have been named as "tops" in their respective fields on Boston Magazine's first Top Dentists list.
News of Note
Faster Paths to Treatment Celebrates One Year Anniversary
Faster Paths to Treatment, BMC's substance use disorder urgent care center, recently celebrated its first anniversary. The center has served 1,404 patients during that time.
One in 12 Doctors Accepts Payment from Pharmaceutical Companies Related to Opioids
December 31, 1969
For More Information, Contact:
Elissa Snook
Office of Communications
617.638.6823
[email protected]
One in 12 Doctors Accepts Payment from Pharmaceutical Companies Related to Opioids
(Boston) – Aug. 9, 2017 – One in twelve physicians – and nearly one in five family medicine physicians – accepted payments from pharmaceutical companies related to opioids, according to a new study out of Boston Medical Center's Grayken Center for Addiction Medicine. This is the first large-scale, national study of industry payments involving opioids and suggests that pharmaceutical companies may have a stronger hold than previously known on how doctors prescribe the powerful drugs. The study results are published online ahead of print in the American Journal of Public Health.
Using Centers for Medicare and Medicaid Services data, researchers identified 375,255 non-research, opioid-related payments to 68,177 physicians between August 2013 and December 2015 totaling over $46 million. Payments are defined as "transfers of value"—which could be direct money to physicians, a reimbursement for travel, speaking or consulting fees, education or meals. The average payment to physicians was $15, with most receiving one payment per year. However, the top one percent of doctors collectively received more than $38 million (82 percent of the total) and averaged more than $2,600 in yearly payments during the study period.
The Physician Payment Sunshine Act, passed under the Affordable Care Act in 2010, requires drug companies to report all payments to physicians in the United States. Previous research suggests that payments from drug companies may lead to increased prescribing by doctors for marketed medications, even when payments are of low monetary value such as for meals.
"Even though most payments were small, they add up to a shocking number and may have a wide-reaching influence on physician behaviors. We need to take a hard look at how the pharmaceutical industry may be influencing care and prescribing at the ground level," said Scott Hadland, MD, MPH, pediatrician and adolescent addiction specialist who led the study.
Speaking fees accounted for the largest amount of payments and food/beverage payments were the most frequent. Anesthesiologists received the most in total annual payments, but the largest number of payments went to family medicine physicians.
"There's no denying that we have a widespread and systematic problem," said Michael Botticelli, executive director of the Grayken Center for Addiction Medicine and former director of the White House Office of National Drug Control Policy under President Obama. "Pharmaceutical companies should take responsibility for how these payments are contributing to the growing epidemic. Physicians also have a role to play by prescribing judiciously and advancing safe opioid prescribing education on the front lines."
Study authors note that payments related to marketing opioids may run counter to national efforts to reduce excess opioid prescribing. They suggest policymakers consider whether caps should be imposed on certain payments as one possible solution and encourage future research to examine whether payments are related to opioid misuse and overdose.
"The opioid epidemic, which is responsible for thousands of deaths every year, is a national tragedy that we must work at every level to combat. It's our hope that this study sparks a bigger conversation about the role of pharmaceutical companies in the over-prescribing of opioid medications, and prompts a more thorough investigation about what we need to do to tackle this problem," said Brandon Marshall, PhD, associate professor of epidemiology at the Brown University School of Public Health, who served as the study's senior author.
Funding was supported by the National Institutes of Health/National Institute on Drug Abuse (L40 DA042434).
# # #
Help for children struggling with gender identity
---
Is your child or teen struggling with their gender identity? Perhaps they don't feel "in-sync" with who they really are, or are expressing themselves in a new or different way. Whether the terms transgender or gender non-conforming are familiar or new, BMC has an open door for treatment and support.
The Child and Adolescent Trans/Gender Center for Health, otherwise known as CATCH, was established this spring and serves as a medical home for children, teens, and their parents, offering compassionate, specialized support and care.
"Our clinic offers support across the entire spectrum," says Mandy Coles, MD, MPH, clinic director and adolescent medicine specialist. "Some patients and families are looking for education around gender identity and development, or come in for therapeutic support. In other cases we take treatment a step further and offer gender-affirming medication therapy, like hormones or hormone blockers."
CATCH is dually part of the Pediatrics Department and the Center for Transgender Medicine and Surgery at BMC. Visits for first time patients are thorough, often lasting about 90 minutes, and include a full mental health evaluation with Dr. Coles and her social work colleague Erin Peterson, LICSW. All treatment plans are individualized based on the specific goals of each patient and their family.
For more information, visit our website or call 617.414.4841 to schedule an appointment.
Caring for Women who are Immigrants and Refugees
---
For women who are immigrants, refugees, or asylum seekers, leaving their countries is only half the battle. Real challenges continue upon arrival to the USA, including having to start a new life in a foreign country and beginning to address the physical and mental stress that arose from their displacement.
The Refugee Women's Health Clinic provides culturally sensitive, trauma-informed OB/GYN services to these women. Clinic providers offer pregnancy and postpartum care, annual check-ups, gynecologic care, contraception counseling, and surgical consultations. Staff also provide care specific to the needs of this unique population, such as medical affidavit writing for women seeking asylum and consultation for those who underwent female genital cutting.
Many of the patients seen at the clinic are victims of rape, violence, or torture in their home countries. "One of my patients was from East Africa and was pregnant as a result of rape" says Courtney Massaro, CNM, MPH, one of the clinic's providers. "I saw her for her pregnancy and postpartum care and during that time referred her to a mental health provider and a PCP who understood the unique stresses involved with her situation. Our holistic approach to her healthcare—both during and after pregnancy—were important to providing her the best care possible."
Patients who visit the clinic have direct access to the Boston Center for Refugee Health and Human Rights, which provides mental health care, career development, and social services, as well as the Immigrant and Refugee Health Program and select providers within the Family Medicine Department, where patients can receive primary care and medical affidavit services.
"A patient came to see me after experiencing significant sexual trauma in her country and a real fear of having a physical exam," said Sheela Maru, MD, MPH, the clinic's gynecologist. "We worked with her and her mental health team at the Boston Center for Refugee Health, and were able to complete important tests and an exam. Addressing her gynecologic issues alongside her mental health issues, were crucial first steps in her recovery."
In addition to obstetrics and gynecologic health care, the clinic also provides social and case management services, including helping patients with their housing, legal support, food access, and transportation needs. The team speaks Spanish and French and has access to in-person and phone interpreter services in over 30 languages. All patients are seen regardless of their ability to pay. Access to financial services and health insurance guidance is also available for all patients.
Visit BMC.org/refugee-womens-health to learn more.
Urban oasis high atop a hospital Power Plant
December 31, 1969
Happen to be on the fifth floor or higher of the Shapiro building? Take a minute to look past the glass façade towards the Albany St. power plant. No, the power plant of a hospital is not generally interesting, but in BMC's case the view of this urban oasis high atop a power plant might just surprise you.
This past June close to 1,800 pounds of crops were harvested from this most unlikely place. The Rooftop Farm supports not only BMC's cafeterias and inpatient population, but also the Food Pantry and the Demonstration Kitchen. This farm is just another one of the innovative ways in which BMC is going green.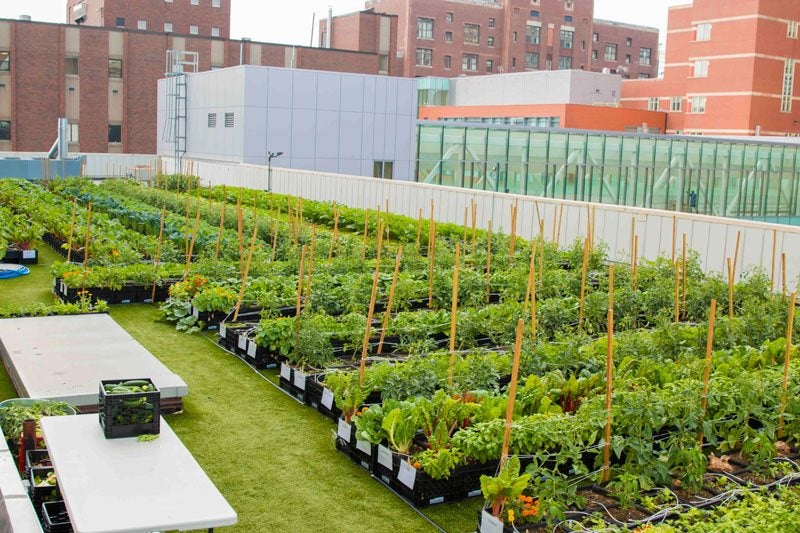 The power plant fauna is not alone though, there is also a distinct buzz from the farm, bees!
Two brightly colored urban beehives, painted by BMC's pediatric patients, were installed in early June which will help the farm flourish through pollination while providing access to local honey.
In addition to reducing the hospital's carbon footprint, increasing green space, and reducing energy use, the farm also cuts the energy required to transport food. BMC also maintains a strong commitment to supporting local companies by partnering with the Gloucester Fisherman's Wives association so that fresh seafood is brought to you straight from the bay; sustainable and local.
This growing season, approximately 15,000 pounds of food are expected to be harvested. So if you happen to be dining here at BMC and you come across some green leafy vegetables, carrots or even radishes, it was probably grown here at BMC's Rooftop Farm.
So eat up and enjoy as we strive to make you and Boston healthier for the long term.
If you would like to learn more about the Rooftop Farm please check out the links below.
Podcast: A Rooftop Garden at a Medical Center?
Article: Boston Medical Center Grows First Hospital-Based Rooftop Farm in Massachusetts
Tonsils and adenoids
Tonsils and adenoids are the body's first line of defense as part of the immune system. They "sample" bacteria and viruses that enter the body through the mouth or nose, but they sometimes become infected. At times, they become more of a liability than an asset and may even cause airway obstruction or repeated bacterial infections. Your ear, nose, and throat (ENT) specialist can suggest the best treatment options.
< Return to
Tonsillitis
Tonsillitis refers to inflammation of the pharyngeal tonsils (glands at the back of the throat, visible through the mouth). The inflammation may involve other areas of the back of the throat, including the adenoids and the lingual tonsils (tonsil tissue at the back of the tongue). There are several variations of tonsillitis: acute, recurrent, and chronic tonsillitis, and peritonsillar abscess.
< Return to
Salivary Glands
The glands are found in and around your mouth and throat. The major salivary glands are called the parotid, submandibular, and sublingual glands. They all secrete saliva into the mouth, the parotid through tubes that drain saliva, called salivary ducts, near the upper teeth, submandibular under the tongue, and the sublingual through many ducts in the floor of the mouth.
< Return to
Pages