Heel and Arch Pain, Plantar Fasciitis, Achilles Tendinitis
Heel pain, sometimes disabling, can occur in the front, back, or bottom of the heel (arch).Causes of Heel Pain include Heel Spurs, Plantar Fasciitis, or Achilles Tendinitis
< Return to
Hammer Toe
A hammer toe is a bent smaller toe, sometimes swollen and painful. There are two different types.Flexible Hammer Toes are less serious because they can be diagnosed and treated while still in the developmental stage. They are called flexible hammer toes because they are still moveable at the joint. Rigid Hammer Toes This variety is more developed and more serious than the flexible condition. Rigid hammer toes can be seen in patients with severe arthritis, for example, or in patients who wait too long to seek professional treatment. The tendons in a rigid hammer toe have become tight, and the joint misaligned and immobile.
< Return to
Foot Deformities
Most foot deformities involve an unusually flat or high arched feet with or without pain. Some patients are born with this condition or it may have been caused by an injury. Foot deformities include flat foot and high arched foot.
< Return to
Diabetic Foot Infections
Diabetic foot infections (DFI) are one of the most common diabetes-related causes of hospitalization in the United States. Conditions of wound infection, poor circulation, nerve disease, and kidney disease frequently complicate this condition.
< Return to
Diabetic Foot Ulcers
A diabetic foot ulcer is an open sore or wound that can occur in patients with diabetes and is commonly located on the bottom of the foot. Ulcers that become infected, result in most patients having to be hospitalized, increase the risk of potential lower extremity amputation and in extreme cases, may cause death. More than 25 million people in the United States are estimated to have diabetes mellitus (DM). Of those 25 million, 15–25% will develop a diabetic foot ulcer during their lifetime.
< Return to
Bunions
A bunion is a "bump" on the joint at the base of the big toe that forms when the bone or tissue at the big toe joint moves out of place. The toe is forced to bend toward the others, causing an often painful lump of bone on the foot. Because this joint carries a lot of the body's weight while walking, bunions can cause extreme pain if left untreated and even making wearing shoes difficult or impossible.
< Return to
Arthritis of the Foot
Arthritic feet can result in loss of mobility and independence, but early diagnosis and proper medical care can help significantly. Arthritis is inflammation and swelling of the cartilage and lining of the joints, generally accompanied by an increase in the fluid in the joints. Arthritis has multiple causes and is associated with many different illnesses.
< Return to
Marketing to Physicians by Opioid Pharma Companies Leads to More Opioid Prescriptions
December 31, 1969
For More Information, Contact:
Jenny Eriksen Leary
Office of Communications
617-638-6841
[email protected]
Marketing to Physicians by Opioid Pharma Companies Leads to More Opioid Prescriptions
(Boston) – A new study shows the significant impact that even a meal or two paid for by a pharmaceutical company can have on prescribing rates, despite a national decline of opioid prescribing rates. Researchers from Boston Medical Center's Grayken Center for Addiction examined pharmaceutical payments from 2014, ranging from consulting fees to meals, and found that doctors who received any opioid pharmaceutical marketing increased their prescribing in 2015, writing nine percent more opioid prescriptions than doctors who received no marketing. Published in JAMA Internal Medicine, the study authors recommend that opioid pharmaceutical manufacturers consider voluntarily decreasing or ceasing marketing to physicians and that federal and state governments should also consider setting legal limits on the number and amount of payments that can be made to physicians.
The researchers looked at pharmaceutical marketing in 2014 using the Open Payments database, where they compiled information on all opioid-related payments to physicians. This includes industry-sponsored meals, speaking fees/honoraria, education, travel, consulting fees, and education. They also gathered data from Medicare Part D claims, where they studied physicians who wrote opioid prescriptions (new and refill) for Medicare beneficiaries in 2015.
The authors identified 369,139 physicians who prescribed opioids under Medicare Part D in 2015, a sample representing 43 percent of actively practicing physicians in the US. In 2014, seven percent of these physicians (25,767) received a total of 105,368 opioid-related pharmaceutical company payments amounting to $9,071,976. The three companies with the highest payment totals were INSYS Therapeutics ($4,538,286), Teva Pharmaceuticals USA ($869,155) and Janssen Pharmaceuticals ($854,251).
Receipt of any opioid marketing in 2014 was associated with 9.3 percent more opioid claims in 2015. The vast majority of opioid marketing was meals, which comprised 92 percent of the number of payments and had a median value of $13. For each additional meal that physicians received, the number of opioids they prescribed increased. Only a small group of 436 physicians, or 1.7 percent of physicians receiving marketing, received payments totaling more than $1,000.
"These results indicate that while payments from opioid pharmaceutical companies to individual physicians are typically small in value, the impact on prescribing habits is quite large when considered across the entire workforce," said Scott Hadland, MD, MPH, lead author and addiction expert at BMC's Grayken Center.
Consistent with national trends, the overall number of Medicare opioid claims decreased slightly between 2014 and 2015 (60,055,242 in 2014 to 59,822,155 in 2015), and physicians who received no opioid-related marketing had fewer opioid claims in 2015 compared to 2014. However, physicians who did receive such payments had more opioid claims in 2015 compared to 2014.
"As we continue to confront this pressing public health issue, every avenue must be explored, including marketing practices by pharmaceutical companies," added Hadland, who is an assistant professor of pediatrics at BU School of Medicine. "Our data suggest that the influence of marketing on physicians' prescribing is subtle yet widespread, and the pharmaceutical industry must look beyond their bottom lines and make changes to their marketing strategies in order to play a role in helping curb opioid overdose deaths."
"State and federal authorities should improve regulation and oversight of direct to physician marketing of opioid-related products," said Brandon Marshall, PhD, associate professor of epidemiology at Brown University School of Public Health, who served as the study's senior author. "In light of our findings that even free meals influence opioid prescribing, legal limits should be placed on both the number of payments and amount of money spent on pharmaceutical opioid marketing."
This study was funded in part by the Thrasher Research Fund Early Career Award, the Academic Pediatric Association Young Investigator Award, and the Loan Repayment Program Award from the National Institutes of Health's National Institute on Drug Abuse. Magdalena Cerdá, DrPH, MPH, from University of California at Davis, Yu Li, PhD and Maxwell S. Krieger, BS, from Brown University School of Public Health served as the study's co-authors.
###
Congratulations Patti Whynot, RN!
December 31, 1969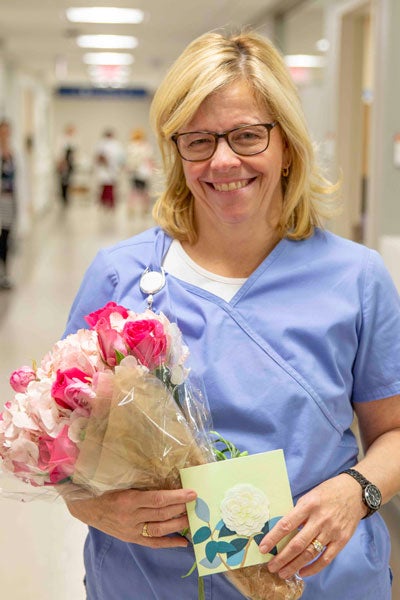 BMC is proud to celebrate the role our nurses play in delivering the highest level of quality care to our patients. Our nursing staff provides care for countless patients and families, offering the highest levels of comfort during their time here at BMC. This year, we received a variety of nominations submitted by BMC patients and staff, explaining why their favorite nurse should be chosen. This year, we are proud to recognize Patti.
---
The fiancé of Robert, a former BMC patient, submitted a wonderful nomination detailing her appreciation for Patti Whynot, RN during a very difficult time. Here is her story:
"My fiancé, Robert, stayed at Boston Medical Center for about a month, from mid-January to mid-February this year. He was in SICU with a severe disease. I visited him as often as I could. On February 3rd, we were told that his condition had suddenly gotten worse and that he might not make it through the night. His family and I rushed to his bedside and spent the night there. We were deeply heartbroken. We were shocked. He was only 55, and up to that point had been quite healthy. We took turns, saying our goodbyes, reasserting our love to him. It was a very straining night, everything felt surreal. We had been trying to sleep on the chairs, but it was too difficult to find any sleep. We quickly learned that it was only a matter of time. There was almost no possible way for my fiancé to pull through. At 6am, Patti came in and took care of Bobby and us. She made sure to order a cart with muffins, coffee, orange juice, and water. She answered our questions, the medical ones, and the more delicate ones.
Her kindness, understanding, and accessibility felt reassuring to me. She was supportive on the psychological level while being honest as to Bobby's condition.
That Sunday, I stayed at the hospital all day. I could see Patti had a lot on her plate, she was running around taking care of many patients. But Bobby received all the care and attention he needed. Most importantly, she kept smiling. I stayed over one more night at the hospital. At the time, all I wanted was to be able to be by my fiancé's side no matter what happened. I barely slept, barely ate. It was Patti who told me and convinced me that it was okay for me to take a break. On February 13th, Bobby passed away. I would like to point out that, even though I nominated Patti, the entire staff was extremely kind and helpful throughout Bobby's stay.
If it were possible, I would nominate the whole SICU staff for their professionalism. I chose Patti because I saw her the most and she handled difficult situations with a tremendous amount of tact and stayed professional at all times. To me, this story highlights the comforting, positive impact that accessible, kind, trustworthy nurses like Patti can have on grief-stricken visitors."
~ Clotilde
---
Patti was surprised with flowers and a card containing Clotide's nomination, in honor of National Nurses Week. Each year, Nurses Week recognizes the incredible contributions made by nurses. Nurses Week takes place from May 6 through May 12, which is also the birthday of Florence Nightingale, who is considered the founder of modern nursing.
Thanks to all who participated in this year's contest, and congratulations again to Patti!
---
Congratulations to our other nominees:
Lourdnie Cherishol – Nurse Practitioner
Kathy Curtin – Emergency Department
Courtney Faiella – Critical Care Unit
Nancy Garner – Oncology
Patricia Harrison – Trauma
Betsy Henderson – Emergency Department
Pam Kuzia – Pediatric Anethisology
Doreen Kwakumey – Greater Roslindale Medical & Dental Center
Julie Mancina – E. Newton SICU
Courtney Massaro – OB-GYN
Kathy McGinn – Emergency Department
Kartin Rallo – Emergency Department
Kate Schoch – Dermatology
Pages