The hospitalist medical team is a group of clinicians dedicated to providing exceptional care on the general medical inpatient services at Boston Medical Center. Our team is made up of physicians, nurse practitioners, and physician assistants who work alongside nurses, case managers, social workers, and other inpatient providers to deliver the best care possible for each patient we treat. Over the last few years, our group has grown substantially and has expanded into new roles throughout the hospital and teaching services.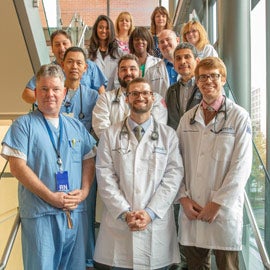 As hospitalists, we treat patients on the general wards and in the Observation Unit, and we assist specialty services in the care of a broad range of diseases ranging from congestive heart failure to advanced kidney disease to orthopedic injuries. Members of our team also help with procedure services and palliative care consultation. Our job is to treat hospital patients with holistic, evidence-based care, and to work closely with primary care providers to ensure a safe transition for each patient back to their outpatient primary care provider.
Medical Education is an integral aspect of our team --- many of our providers serve as clinician educators working closely with BMC's Internal Medicine Residency program and the Boston University School of Medicine teaching residents, medical students, and physician assistant students. Additionally, members of our team work closely with hospital administration to advance quality improvement projects and develop hospital-wide strategic organizational initiatives that help BMC better serve its patients.
We believe fully in the larger mission statement of Boston Medical Center: Exceptional care, without Exception.
The Division of Vascular and Endovascular Surgery provides state-of-the-art surgical services and medical care for patients with vascular disease. Our vascular surgeons deliver high-quality care with a combination of medical therapies, cutting edge minimally-invasive techniques and complex open surgery.
The Division of Vascular and Endovascular Surgery is part of the Vascular Center, a multi-disciplinary group of vascular care providers who are experts in their fields. As a result of this collaboration, patients undergoing treatment for vascular disease benefit from individualized care, focusing on preoperative assessment, advanced procedures and successful recovery. The team will work with patients to ensure the best possible outcomes.
Environmentally Friendly Campus
---
At BMC, we are dedicated to reducing our carbon footprint because we know that healthier hospitals mean healthier communities. BMC is widely known as the 'greenest' hospital in the city and is transforming our clinical campus to prepare the hospital to thrive well into the future.
Nearing completion of a 6 year, $350 million campus modernization, energy efficiency and greenhouse gas emissions reduction were among the cornerstones of our plan.
BMC is on target to reduce emissions by 50 percent through the campus redesign. In addition to renovating or building over 600,000 square feet of space. Upgrades to heating, cooling and ventilation systems, energy efficient lighting, and a new biodigester to compost food waste have all been completed. Further, an innovative solar energy partnership and the installation of a heating and power plant on the Yawkey roof, BMC has reduced energy use by 19.4 percent in seven years and is expected to be carbon neutral by 2020.
This heating and power plan is significant because now, BMC generates much of its own electricity and heat which will save the hospital approximately $1.5 million annually and further enhances BMC's standing as the greenest hospital in Boston. The hospital is also a member of the Boston Green Ribbon Commission, a groundbreaking effort created to catalyze the fight against climate change on a broad scale. We are proud that BMC President and CEO Kate Walsh chairs the healthcare sector of this Commission.
In addition to these changes for the environment, this work has reduced BMC's utility bill from $17.2 million in 2011 to a budget of under $10 million in 2019. Those savings are able to be put into providing care for our patients.
When an Aspiring Doctor Becomes the Patient
---
Maria Narvaez is a busy 26-year-old. She recently earned her master's degree in Medical Sciences from Boston University to fulfill her dream of becoming a physician, she works full time as a research assistant for the section of pediatric infectious diseases at Boston Medical Center, and she's a breast cancer survivor.
When a lump was found in Maria's breast, she was not too concerned. She was young and did not have a family history of breast cancer. In July 2018, a mammogram and biopsy revealed unexpected news; Maria had invasive ductal carcinoma, a type of breast cancer.
Things moved quickly after her diagnosis. She was introduced to Michael Cassidy, MD, a surgical oncologist at BMC, who explained her surgical options, and to Naomi Ko, MD, a medical oncologist. And she met with Claire Hacking, a genetic counselor, who after some genetic testing, revealed to Maria that she had an ATM mutation, which is a gene mutation that made her more likely to get breast cancer.
All of this was very overwhelming and as most patients newly diagnosed with cancer do, Maria sought a second opinion at another hospital. She left that appointment feeling more confident than ever with the care she would receive at BMC.
"I felt like everyone I met at BMC truly cared about me as a person, not just a patient," says Maria. "They were very thorough in their explanations and answered my many questions. It put my mind at ease knowing that they would be taking care of me. I felt like we were all on the same team and that I truly had input in my care."
What followed next were a lot of appointments and scans so her providers could decide on the best course of action. Dr. Cassidy explained that there were options: she could have a lumpectomy, where only the cancer and the tissue that surrounds it is removed, preserving the breast; a total mastectomy, which is when the surgeon removes the entire breast; or a double mastectomy, which is when both breasts are removed. They decided together on the total mastectomy in the one affected breast.
After this decision, Maria met with Nilton Medina, MD, FACS a plastic surgeon at BMC who, along with his physician assistant (PA), Jillian Strassner, would reconstruct Maria's breast after her initial surgery. On August 21, Dr. Cassidy performed a total mastectomy on Maria and Dr. Medina performed the immediate first stage of reconstruction surgery. There was some pain afterwards, but she was comforted by her mom who came up from Florida to stay with her for many weeks, and by an in-hospital visit from Drs. Cassidy, Ko, and Medina. "It is a privilege to be a part of the team caring for Maria. She has shown remarkable resilience at such a young age," says Dr. Cassidy. "Maria was engaged in her care and was able to make complex decisions that fit her personal priorities. Working closely with Drs. Ko and Medina, and with Maria's input, I think that as a team we were able to tailor her treatment specifically to her cancer and her life."
After examining the results performed on the tissue removed during surgery, Drs. Ko and Cassidy worked with Maria to decide on her ongoing treatment to prevent the cancer from spreading or returning. They decided that her option would be hormone therapy for the next several years. Hormone therapy slows or stops the growth of hormone-sensitive cancer by preventing the body from producing hormones or by interfering with effects of hormones on breast cancer cells. This also means that Maria is entering early menopause, which can come with its own set of challenges. Dr. Ko provided options for managing these symptoms, like acupuncture treatment at BMC. Today, Maria is back at work and feeling better. She has ongoing appointments with Dr. Medina and Jillian in preparation for her implant surgery in a few months. "It's been a pleasure working with Maria," says Jillian. "She is a lovely person and I look forward to seeing her weekly for her appointments that are preparing her for her second surgery."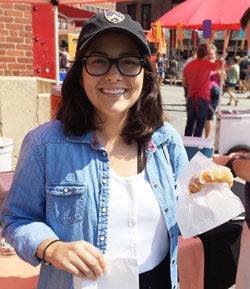 While she needed to put her dreams of going to medical school on pause, she has since hit the play button again and began working on her applications two weeks after her surgery. "I think this experience will help me be a better doctor, given my unique perspective of having been a patient," says Maria. "I want to be a provider like the ones on my care team at BMC, and make patients feel like they are an important member of their care team."
"Maria is a lovely person and I think she will be a great clinician having gone through this unique experience," says Dr. Medina "It will help her to relate to her patients that much more." Dr. Ko agrees, "Maria is a remarkable woman and has tackled her diagnosis with such poise and strength. This will help her to become a uniquely empathetic physician."
As far as being a young breast cancer survivor goes, Maria has this message to relay, "If you feel something abnormal, get it checked out and follow up routinely. This can happen to anyone and I feel lucky to have caught it when I did."
Pages