Press Releases
Boston Medical Center Announces Devastating Impacts of Ballot Question One
September 12, 2018
For More Information, Contact:
Jessica Lyons
Office of Communications
617-638-6838
[email protected]
Government mandated nurse staffing ratios would cost the hospital $28M
(Boston) – Boston Medical Center (BMC) today announced the negative impacts mandated nurse staffing ratios would have on its viability and their capability to provide safe, quality care to patients across the region. The rigid staffing ratios that will become law if Question 1 passes this November will devastate community hospitals and behavioral health facilities across Massachusetts.
"Question 1 is fraught with unintended consequences that would significantly threaten patient care here at BMC," said Nancy Gaden, DNP, RN, chief nursing officer at BMC. "Mandated staffing ratios will take autonomy away from our most experienced nurses, which will negatively impact both patient safety and the ability of our hospital to offer live-saving care to people across the region."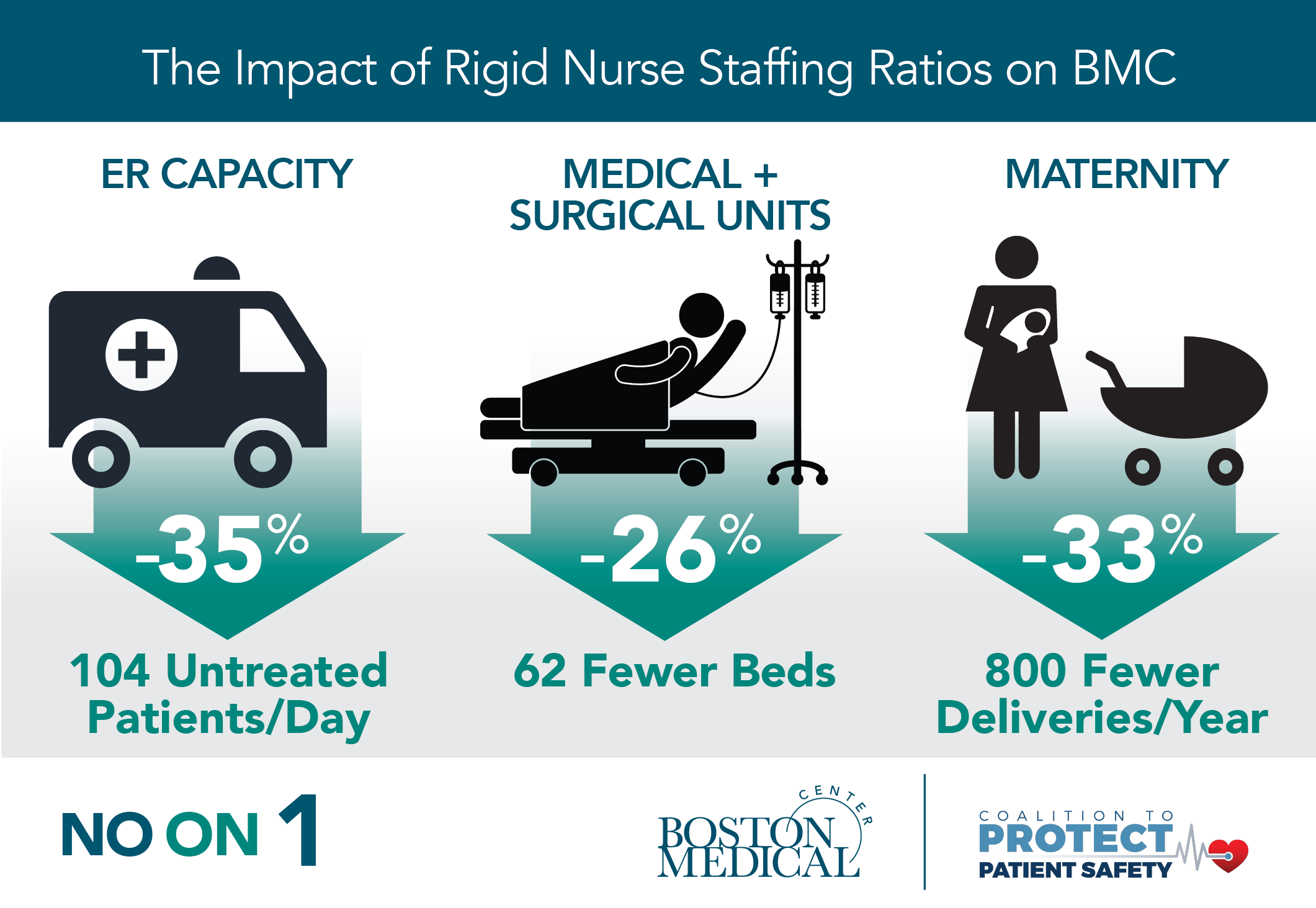 BMC is concerned that increased demand for nurses will result in as many as 62 medical-surgery bed closures, 800 fewer childbirths at BMC each year, and a decrease in emergency department capacity of more than 100 patients every day. The costs associated with the mandate will also lead to major cuts to community health programs and services, such as cancer screenings, treatment for opioid use disorders, mental health services, domestic violence programs and pre- and post-natal care.
According to an independent study by MassInsight and BW Research Partners, Question 1 will cost Massachusetts' health care system $1.3 billion in the first year, and $900 million every year thereafter. This cost will impact access to care in every hospital across the Commonwealth, but will hit community hospitals especially hard.
"As a staff nurse at Boston Medical Center for 36 years, I know staffing decisions are best made by nurses, not one-size-fits all government mandates," said Susan Anwaye, RN. "Question 1 will not only impact our ability to make critical and timely decisions during emergencies, but I worry that the services many of our patients and their families rely on will be cut off because of the financial impact of the law."
The ballot question is opposed by the American Nurses Association - Massachusetts, Emergency Nurses Association - Massachusetts Chapter, Organization of Nurse Leaders, Infusion Nurses Society, Massachusetts Association of Colleges of Nursing, Academy of Medical-Surgical Nurses' Greater Boston Chapter, the Western Massachusetts Nursing Collaborative, the Massachusetts College of Emergency Physicians, the Massachusetts Medical Society, the Massachusetts Health and Hospital Association, the Massachusetts Council of Community Hospitals, the Conference of Boston Teaching Hospitals, and other healthcare and business leaders across the state.
"There are no scientific studies or reports that demonstrate the effectiveness of government mandated, one-size-fits-all nurse staffing ratio for improving quality of care, patient outcomes or professional nursing practice." said Donna Glynn, President of the American Nurses Association and a Nurse Scientist for the VA Boston Healthcare System. "In fact, no studies evaluating nurse staffing ratios reported a magic number as the single factor to affect patient outcomes or job satisfaction. This ballot question is ignoring scientific fact around what is best for nursing practice, decision making and quality patient care."
# # #
See also:

Questions and Answers
Nurse Staffing Ratios: What You Need to Know About Question 1

Download Questions and Answers