Nursing Newsletter Archives

Fall 2017 Issue
Table of Contents
---
A Message from Diane Hanley, MS, RN-BC, EJD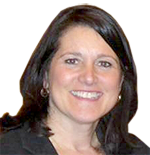 Transformation, growth and change. As part of our own campus consolidation and growth, we're excited to launch our inaugural Nursing Newsletter, which is specifically designed to help communicate the exciting developments and activities within our nursing department.
Change can come in many forms in our lives. With each passing year, healthcare continues to change, countries rise and fall, children age and grow, and our BMC world...sees perhaps the most change of all.
We hope that you will find great value in its content and that it will aid you in your own goals to grow and thrive in your professional practice at BMC.
---
Congratulations to our Daisy Award Winners!
Sheila Murphy
BSN, BA, RN
8E ICU

Katie Christopher
BSN, RN
Critical Care

Carol McCarthy
MSN, MPA, RN, CCRN
Nursing Education

Lisa Brennan
RN
6W Medical Surgical
The DAISY Foundation was established in 1999 by the family of Patrick Barnes, who died at the age of 33 from complication of Idiopathic Thrombocytopenia Purpura (ITP). As a way to turn their grief into something positive, the Barnes Family came up with the DAISY Award, an acronym for Diseases Attacking the Immune System. The Barnes family believes nurses are the unsung heroes of our society who deserve far more recognition and honor for the compassionate care they provide to patients everyday.
What started out as a thank you from their family to the nurses who took care of Patrick, the DAISY Award has grown into a meaningful international recognition program embraced by healthcare organizations around the world. The DAISY Award nurse is presented a certificate recognizing "all that you do, who you are, and the incredibly meaningful difference you make in the lives of so many people." In addition, they receive a Daisy Award pin and the Healer's Touch sculpture, hand carved and crafted by a community of artists in Zimbabwe, who are able to support their families and community through this program.
---
A Report on the 7th Annual Integrative Nursing Conference
On May 12, 2017, Florence Nightingale's birthday, Boston Medical Center celebrated the culmination of Nurses' Week with the 7th Annual Integrative Nursing Conference: Weaving Integrative Therapies into Our Tapestry of Caring.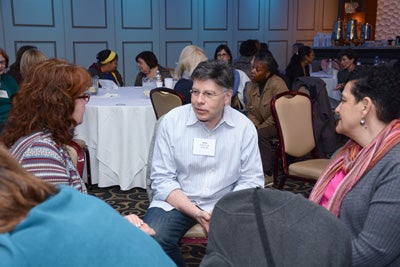 Over 240 nurses gathered at Lombardo's conference center in Randolph, Massachusetts, to hear nationally and internationally recognized speakers, Lourdes Lorenz, DHA(c), MSN-IH, NEA-BC, AHN-BC and Brian Luke Seaward, PhD. They presented on a variety of topics that support integrative self-care of the nurse as well as care of the patient.
Lorenz started the program by discussing integrative approaches for treating pain. The methods she shared addressed potential interventions for both acute and chronic pain, including a variety of modalities: acupuncture, massage, herbs, aromatherapy, healing touch, and guided imagery.
Seaward, a renowned expert in stress management and health promotion, followed with a presentation about coping with change. A timely topic for BMC staff, Luke reviewed ways to manage stress and anger as well as offer strategies for managing change in the workplace.
The day-long conference also hosted many activities for participants which included an exhibit of Florence Nightingale's writings provided by the Boston University Archives, holistic raffle prizes that were solicited by members of the Integrative Nursing Council as well as educational and commercial vendors. To celebrate Florence Nightingale's birthday, a moment of silence was held at noon in her memory, followed by a group recital of the Nightingale pledge.
In the afternoon, Seaward discussed the topic of "No Rain, No Rainbows". He said that, "No matter how difficult things might seem, there is always the promise that things will get better. We must remember that stress is an opportunity for spiritual growth."
In closing, Lorenz presented thoughts on a heart-centered approach to cultivating wellness. She examined the impact of stress on wellness and provided strategies to build stress hardiness, while examining the healthcare professionals' presence and our influence on healing outcomes for the patient and self.
Participants voiced enthusiastic praise for the day's events and departed from the program renewed and refreshed. Many thanks to the conference sponsors, the Anna Ross Committee of the Massachusetts Memorial Hospitals Nurses' Alumnae Association, Inc. and the Boston Medical Center Nursing Department for their generous support.
Listen to the conference podcasts.
Integrative Approaches for Managing Pain
Lourdes Lorenz, DHA(c), MSN-IH, NEA-BC, AHN-BC
Coping with Change at the Worksite
Brian Luke Seaward, PhD
No Rain, No Rainbows
Brian Luke Seaward, PhD
A Heart-Centered Approach to Cultivating Wellness
Lourdes Lorenz, DHA(c), MSN-IH, NEA-BC, AHN-BC
---
New Faces: Meet Lisa Zani, MS, BSN, RN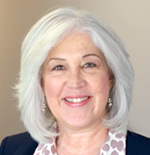 Lisa Zani joins BMC as the Associate Chief Nursing Officer for Maternal Child Health. Prior to joining BMC, Lisa served as the Chief Nursing Officer at Good Samaritan Medical Center. She has held various nursing leadership positions in Massachusetts such as St Luke's Hospital, Sturdy Memorial Medical Center, Metro West Medical Center and BIDMC Plymouth. Lisa earned her BSN at Simmons College and MA in Nursing Administration at Regis College. Her clinical background has been in Labor and Delivery and Lactation Care.
---
Ten Finalists Pitch their Nurse Tank Ideas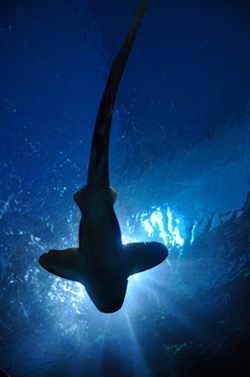 In the spring, the Nursing department hosted the first ever Nurse Tank where nursing staff submitted over 55 innovative ideas for projects that would improve patient care and safety. Ten finalists were selected to pitch their ideas to senior leadership and the trustees. In their pitch, finalists used prototypes to demonstrate the implementation of their ideas.
Impressed by the projects submitted by the finalists, the trustees and leadership voted to fund all 10 Nurse Tank finalists, totaling $24,760. The projects will receive advisory support from Nursing Education.
Congratulations to all the finalists and staff who submitted their ideas!
Patient Safety
QR Codes
Jennifer Bragdon, Nursing Education
An innovative approach to nursing education where staff will be able to scan QR codes on a piece of equipment and receive education on the spot in real time including off shifts
Call Bell Adaptation
Barbara Thompson-Lewis, 6 West Menino
For patients who are visually impaired, modify the call bell to include a permanent raised dot over the nurse call button
Baby Safe Development Equipment
Christine Scarbro, Pediatrics
Acquire equipment for pediatric patients who are often in danger of missing developmental milestones when hospitalized frequently for chronic diseases or lengthy acute illnesses
Patient Care
Aromatherapy
Stephanie Curran, Emergency Department
Deborah Silva and Susan Buttiglieri, Perioperative Services
Lisa Mitchell, Hannah Simons and Michelle Sullivan, Maternal Child Health
Aromatherapy will be offered to patients in the ED, post-partum and perioperative areas to promote relaxation and treat nausea
Bereavement Project
Katherine Christopher and Tammy Minard, Critical Care Resource Nurses
Nurses will have a resource on each unit to support families and adult patients who are at the end of life. Families will be sent home with a memory bag when they experience the loss of a loved one.
Graduated Drinking Carafes
Amanda Bernatchy and Erin Lawless, 6 West Family Medicine Unit Based Council
Encourage and engage patients in the intake and output process with the provision of graduated drinking carafes for measuring.
Sibling Activity Carts
Lauren Fiori, Maternal Child Health
Newborn areas at BMC will provide sibling activity carts. These carts will have books, and art supplies with activities welcoming their new sibling such as making a birthday card.
Music Therapy
Andrea Nicholson, Julie Swain and Maureen McCarthy, 6 West Menino; Donna Amado, Perioperative Services
To decrease anxiety, promote relaxation, sleep, and prevent delirium, music therapy will be offered in perioperative waiting areas and on the geriatric floor
Renewal Suites
Debbie Canavan and Monica Mannion, Endoscopy; Marcia Merten, IV Team; Christine Naoum-Heffernan, Pediatrics
To support health, fitness, self- care and resiliency, renewal Suites for nurses will be created.
Baby Boxes
Hannah Simons and Barbara Magill, Maternal Child Health
Given routinely in Finland for over 75 years, baby boxes will help level the playing field and promote safety. The box is used like a bassinet and prevents co-sleeping practices. These boxes will be distributed to families who would benefit in our mother baby postpartum units upon discharge home.
---
Nursing Holds its First Council Congress
On March 29, Boston Medical Center (BMC) held the first Council Congress event for nursing professional development. Close to 100 staff nurses and leaders attended this ground breaking event. Unit based council members and co-chairs from the Nurse Practice Council, Nursing Informatics Council, Integrative Nursing Council all came together to share ideas and information about the great work that is taking place all over BMC. Nancy Gaden VP/CNO shared the strategic plan for nursing.

The goals are for nursing are to decrease the Patient Harm Index for nurse sensitive harm measures to <1.0 for Catheter Associated Urinary Tract Infections (CAUTI's), Central Line Associated Blood Stream Infections (CLABSI's), Clostridium-Difficile (C-DIFF), Surgical Site Infections, Pressure Ulcers, Falls with Injury, and Post-operative Deep Vein Thrombosis (DVT). Nursing will also work to impact Hospital Consumer Assessment of Healthcare Providers (HCAHPS) scores in patient satisfaction to at least 73% of our patients rating the hospital a 9 or a 10 on the Top Box Question which measures the "Overall rating of the hospital." Nancy Gaden stressed the importance of teamwork, being a steward of our resources, bringing your best self to work and to remain optimistic.
We are facing exciting opportunities to unify and strengthen BMC nursing during campus redesign. Nursing will leverage the coming months to ensure a path that lays the foundation for professional growth, unity, and improvement in patient care. Leaders will support the creation of a healthy work environment that fosters resiliency and engagement.
Diane Hanley ACNO in Nursing Education and Professional Development shared the key components of a Professional Practice Model (PPM) in nursing and why it is important to define us and support practice. A PPM establishes a shared vision of nursing practice for an organization, providing an overarching framework for interdisciplinary care and professionalism, creates partnership between leaders and bedside clinicians, includes a patient care delivery model and aligns nursing with the organizational mission, vision and values.
The enthusiastic group celebrated all of the accomplishments of the nursing department in the past 3 years including major improvements in nursing communication scores in patient experience HCAHPS scores, a reduction in preventable harm and mortality, and organization of many new councils including the Nursing Informatics Council (NIC), the Integrative Nursing Council and many Unit Based Councils (UBCs).
There was a panel of staff nurses from the Unit Based Councils (UBCs) who discussed the activities of the councils and strategies they have used to be successful. Recent activities included projects aimed at improving the Certified Nursing Assistant (CNA) role, a patient education and empowerment project and creating a video to remind staff of key actions that can improve patient communication outcomes called "Say my name".
Carol Conley ACNO of campus redesign and Nicole Lincoln shared practical strategies to start and maintain a successful council including communicating project plans and outcomes regularly with staff, utilizing resources available for support and establishing regular meetings that have structured agendas, by-laws, and reporting mechanisms in place.
The Nurse Practice Council, Falls Committee, Nursing Informatics Council and Integrative Nursing Council shared the work and accomplishments of the groups including many improvements to products offered to nursing including chair alarm roll-out, updates to important policy and procedures, improving workflows in EPIC and publishing a newsletter for staff on Integrative Nursing topics and events.
The highlight of the day was realized when over 70 frontline nursing staff came together to vote on the components of our unique BMC Professional Practice Model.
We looked at feedback from a survey sent out to staff asking what it means to be a BMC nurse. We completed the voting and decided on 13 key components to be included in our PPM.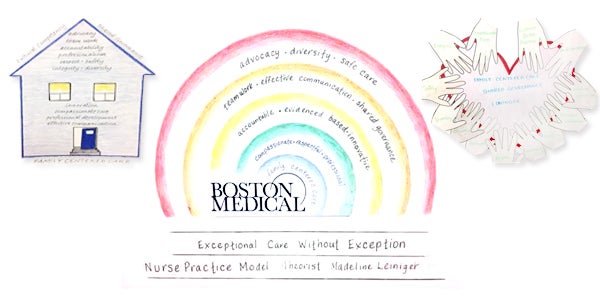 The components include:
Accountability
Advocacy
Compassionate Care
Diversity
Effective Communication
Evidence-based Practice
Innovation
Professional Development
Respect
Safety
Shared Governance
Teamwork
Patient and Family Centered Care (Patient care delivery model)
Staff then broke into small groups and drew the schematic that was best aligned with our mission and vision in BMC nursing. This picture would then become the visual to represent nursing professional practice at BMC. Staff voted and narrowed it down to 3 finalist drawings. At the conclusion of the day, there was great excitement in the work that was accomplished to define and raise our professional practice in nursing at BMC. Going forward we have incredible opportunities to unite the nurses at BMC to improve patient care, embrace our diversity and greatness and ultimately move mountains together.
During Nurses' Week, staff voted on the final schematic to represent BMC Nursing. The PPM schematic that was chosen by well over 500 votes depicts a rainbow embracing the diversity that defines BMC and representing the many faces that create our greatness both staff and patients. In the coming weeks, we will have a PPM model drawn professionally that illustrates clearly and explains the true vision, mission and professional character of BMC Nurses.
---
Upcoming Professional Development Programs

A New Partnership with NICHE: Nurses Improving Care of Healthsystem Elders

We are excited to announce that our Boston Medical Center nursing department has partnered with Nurses Improving Care of Healthsystem Elders (NICHE). NICHE is the premier national geriatric nursing program that addresses the needs of hospitalized older adults. NICHE works to ensure that adults age 65 and over receive care that promotes function, autonomy and dignity. They are the leading nurse-driven program designed to address the complex needs of older adults (www.nicheprogram.org). Thank you to the team of nurse managers, educators and staff that worked on obtaining NICHE designation for Boston Medical Center. By becoming a NICHE organization, we now have access to state-of-the-art training, tools & resources, including an interactive 24/7 eLearning center.
Interested BMC nurses can become Geriatric Resources Nurses through the NICHE organization. This series of online materials is designed by NICHE to educate nurses in best practices for older adults across the healthcare continuum. Becoming a Geriatric Resource Nurse will allow you to advance your nursing practice, improve the care provided to elders, and become a resource for those you work alongside. This is a great professional development opportunity for nurses passionate about geriatrics, and you will receive 21 CEUs. If you have interest in caring for elders and this education, please reach out to Ann Carey at [email protected] or Nicole Lincoln at [email protected] for more information and access to the website.
Register for BESTT: BMC Emergency Situation Team Training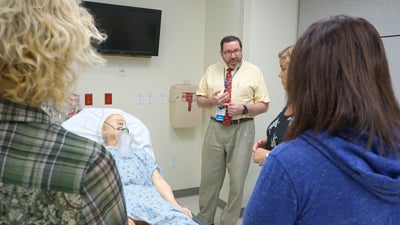 BESTT is a team based simulation program for the entire clinical care team to learn together on how to respond to an adult decompensating patient. All inpatient nurses are encouraged to attend this program.
Schedule:
Tuesday 10/10/17 7a-9a
Tuesday 11/14/17 2p-4p
Tuesday 11/28/17 7a-9a
Tuesday 12/5/17 7a-9a
Tuesday 12/19/17 5p-7p
The team trainings take place in the Solomont Simulation Center located in the basement of the Moakley addition. Please use the side door entrance off the Shapiro driveway. To pre-register for the program, email [email protected] with the session you want to join. Nursing staff who come in from home will be paid the regular hourly rate as education time and receive 2 continuing nursing education hours.
Boston Medical Center grants 2 nursing contact hours to nurses who complete this program. You must stay for the entire program, participate in the activity, and complete the evaluation form. This program has no commercial support. Faculty and planners have no vested interests, and there are no conflicts of interest. There will be no discussion of off label uses of drugs. Boston Medical Center is an approved provider of continuing nursing education by American Nurses Association, Massachusetts, an accredited approver by the American Nurses Credentialing Center's Commission on Accreditation.

Back to top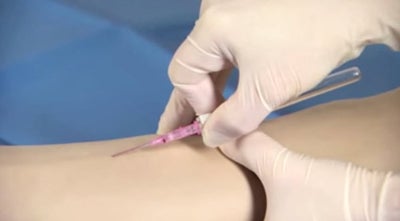 The IV Insertion Class has been re-designed into a Healthstream course which includes the class, post test, skills session and hands-on work in a unit to obtain 5 successful insertions. Classes are limited to 10 people and will be held on:
9/7/2017
10/12/2017
11/3/2017
12/28/2017
Please contact your Nurse Manager if you would like to take the class. Once you have their approval, login to Healthstream to register for the date you would like to attend. The two-hour skills sessions will be held in the Solomont Simulation Center located in the basement of the Moakley addition from 7:30 AM - 9:30 AM.
Sign up for Doctors and Nurses Communicating Effectively (DANCE)
Come DANCE with us to enhance patient safety! DANCE is a collaborative simulation communication program in the Solomont Simulation Center funded through a patient safety grant.
Participants will:
1. Learn to work effectively together as an interdisciplinary team to maximize success
2. Practice communicating as a team in common patient simulated situations
3. Help to create interdisciplinary communication guidelines for the larger BMC Community
Schedule:
Tuesday 9/12 10a-12p
Tuesday 9/19 2p-4p
Tuesday 10/10 10a-12p
Tuesday 10/17 2p-4p
Tuesday 11/14 10a-12p
Tuesday 11/21 2p-4p
Tuesday 12/12 10a-12p
Tuesday 12/19 2p-4p
Physicians will receive a one-time payment and nurses will be paid education time when they attend. Nursing contact hours will also be provided. Please email [email protected] to register for the program, include which date you want to attend.
Boston Medical Center grants 2 nursing contact hours to nurses who complete this program. You must stay for the entire program, participate in the activity, and complete the evaluation form. This program has no commercial support. Faculty and planners have no vested interests, and there are no conflicts of interest. There will be no discussion of off label uses of drugs. Boston Medical Center is an approved provider of continuing nursing education by American Nurses Association, Massachusetts, an accredited approver by the American Nurses Credentialing Center's Commission on Accreditation.
---
Do you have a story or article idea for the Nursing Newsletter?
The Nursing Newsletter is published quarterly. Please contact the editor if you have any story ideas.