Integrative Nursing Newsletter

Summer 2018 Issue (PDF version - coming soon)
Table of Contents
---
Caring for Ourselves and Each Other Through Campus Integration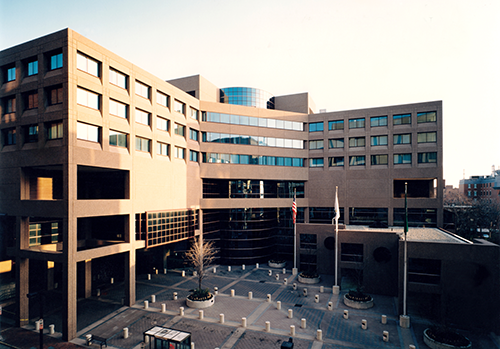 We are rapidly approaching the closure of the ENP campus. Whether you are moving to Menino, leaving the organization or getting ready for an influx of new colleagues, change is coming. It is only natural that we have a variety of reactions to the upcoming change ranging from anger, anxiety, depression and sadness to eager anticipation. Taking extra care of yourself during this stressful time is a must! Here are some helpful suggestions to
build personal resilience through this transition
.
Start the workday with some protein and spread it throughout the day (amino acids are the building blocks of neurotransmitters)

Create self-care strategies that work for you

Enjoy a walk and appreciate nature
Listen to some calming music
Appreciate the warm feeling you get from holding a puppy, cat or a baby!


Change the channel in your brain off the history channel

Create a bedtime routine that reduces or eliminates technology

Infuse laughter into your day

Spend more time around optimistic people


Learning to "manage the process of change" is a skill worth cultivating.
In an article entitled "Embracing Change," Marston offers this advice: "It is futile to fight against compelling changes, far more productive to make them work for you. Change works best when it is well balanced. In order to truly benefit from change, there must be part of you that remains steady. As strange as it might seem at first, to effectively embrace change, it helps immeasurably to be rooted. Change involves letting go. That takes faith, courage and confidence. In order to let go, you must have something substantial that you can hold onto firmly" (Marston, 2005). One way to stay "rooted' is to practice gratitude each day. Think about those things for which you are thankful. Tell people you appreciate them!
Giving yourself the opportunity to grieve for what is being lost is also important. William Shakespeare wrote, "He that lacks the time to mourn, lacks the time to mend." A number of your colleagues have come up with some wonderful ways to celebrate and honor our nursing legacies. Take the time to remember by coming to one of the events and connecting with old friends or checking out the "Friends of University Hospital" Facebook page to share a memory. These are all ways to work through the emotions you may be feeling.
Finally, choose kindness! Remember we are all feeling many emotions at this time and need to support one another. Especially when interacting with new colleagues, assume positive intent when you are not sure what someone might mean by a comment or gesture. Getting settled into the new normal will take some time, a kind word goes a long way —we need to support each other!
Thank you for all you do to care for each other and our patients!
Respectfully,
Carol A. Conley RN, DNP, NEA-BC,CENP
Director of Campus Integration
References
Bridges, William. Transitions: Making sense of life's changes. Da Capo Lifelong Books, 2004.
Marston, R. (2005) Embracing change.
Seaward, Brian Luke. Managing stress. Jones & Bartlett Learning, 2017.
---
Putting the "Patient" in Patient Care: Spirituality in Nursing
By Marilyn Vachon, BSN, RN
Nursing has become more task-oriented and less patient-oriented. Nurses are so focused on the tasks we perform, that we have little time to give thought to our patients as individuals. At the same time, our healthcare culture is so preoccupied with physical health that we forget about the spiritual needs of our patients.
I have noticed that when I spend a few seconds caring for a patient as a person, and not just as a part of my job, they respond with things like, "Thank you for caring," or "Thank you for listening." These demonstrations of gratitude inspire me to incorporate more spiritual care with my patients.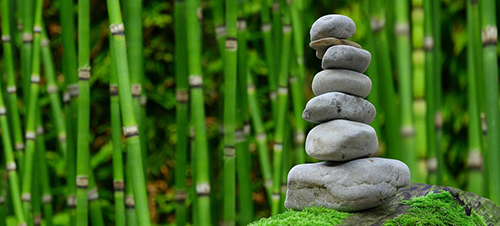 I began asking my colleagues about their thoughts around spiritual care. I asked them, "What does spiritual care mean to you?" "How do you provide spiritual care?" Some tied it with religion, a belief in God or a higher power. Others answered "feeling close to your inner soul," or "being patient, humble and kind," or "a search for meaning in life." Others stated they were afraid to provide spiritual care because they felt ill-equipped and didn't want to offend the patient. I realized that the lack of a clear definition of spiritual care may hinder nurses from feeling comfortable providing such care.
I began researching nursing journal articles from the American Holistic Nursing Association (AHNA). I discovered that nursing is a Holistic science and by nature we do provide spiritual care. Studies have shown that a loving, caring, spiritual environment enables healing. Providing spiritual care is a nurse's imperative. Spiritual care is a recognized element of holistic practice.
Spirituality is developing a caring environment. Being aware of a patient's religious faith is as important as is simple heartfelt listening and emotional support. Spiritual care is listening to patients' sufferings with no judgment or blame or trying to answer the inevitable "why me?" question that has no answer. Spiritual care is caring about the impact that their illness has on their whole life. This can differ based on their life experience, religious tradition, beliefs, or culture.
Spirituality means something different to everyone. For some, it's going to church, synagogue, a mosque, and so on. For those not involved in organized religion, spirituality may mean prayer, meditation, yoga, quiet reflection or long walks. Spirituality is the essence of our being. It permeates our souls and all of our relationships. It shapes our life's journey.

In order for nurses to provide spiritual care, they must tend to their own spiritual health and growth. A nurse must connect and nurture her own inner spiritual needs, and be loving and compassionate to herself in order to be able to provide for others.
Here are six ways to be more spiritual:

Meditate: You will reap the benefits in just 10 minutes a day.

Read spiritual teachings: Find works or authors that speak to you. It can just be a page, a paragraph, or even just a sentence. Read each morning before you start your day.

Practice gratitude: Remember what is good in your life, for example simply being alive, the sunshine, a meal, your loved ones or something that makes you smile.

Spend time in nature: This can be a hike up a mountain or as simple as sitting on a park bench listening to the birds, watching children play, or even just looking out a window.

Be open to signs in the universe: When things just work out or sudden "coincidences", you know you are on the right path. It is the universe conspiring with you for great things to happen. Conversely, if you are struggling, this is an opportunity to explore some self-care and self-compassion – how can you make your life less stressful?

Practice mindful breathing: This can be done anytime anywhere. Each time you feel a tug at your heart center, just pause, breathe, and let it go. Become less reactive and more proactive.

"We are all just spiritual beings having a human experience." -- Pierre Teilhard Chardin
---
10 Ways to Eat Healthier On the Go
By Tracey Burg, RD, LDN, BMC Teaching Kitchen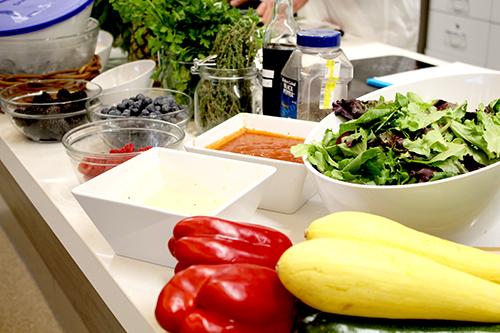 Whether at work on at home we are all busy and sometimes this fast pace gets in the way of our health. Poor nutrition can leave us feeling sluggish, overwhelmed and overweight. Here are some simple tips to make healthy eating little easier.

Eat more mindfully
Take your time. When you sit down for a meal (or even a snack) savor every bite. Chew your food slowly. It usually takes your brain up to 20 minutes to realize your stomach is full.

Eat whole foods
Try to eat natural, nutrient dense foods like whole fruit and vegetables, lean meats and dairy, nuts and seeds. Avoid processed foods that are loaded with salt and sugar and lacking in nutrients. Pre-packaged foods might seem convenient but they pay a price when it comes to health (and your wallet!)

Check the Nutrition label
The more ingredients, the more likely it was processed. The first ingredient is the highest in content by weight, so for bread it should be whole grain.

Cook more at home
For a healthy meal you need to invest in a few minutes slicing, dicing and roasting. When you prepare you own meals you are in control of the ingredients, not the restaurant. Home cooking can save you time and money with reduced shopping trips, shorten meal prep time, less food waste, and lower food cost.

Turn one meal into many
Think about planning meal for the week.Make a large batch of whole grains like barley pilaf, brown rice, or quinoa. Roast a veggie or make a salad that will last up to 5 days like a three bean salad or marinated beets. Plan for leftovers, make enough servings for 2 or 3 meals like casseroles, roasted chicken or soup. You can always freeze them!

Drink more water
Staying well hydrated helps your body to function properly and helps to decrease overeating. Sometimes you may think you feel hungry when you're actually thirsty. Stay away from added sugars. Try flavored seltzer water with a little 100% fruit juice for a refreshing afternoon pick-me-up.

Don't skip meals
Eating regularly throughout the day helps you to stay alert and focused. Studies have shown that those that skip breakfast have a higher BMI than those that "break" the overnight "fast". Try having a little protein (eggs, yogurt) with whole grains (oatmeal, whole grain toast) and a fruit or veg to start your day charged and ready to go.

Healthy snacking
Make your own pre-packaged snacks. Pack a bag of trail mix with whole grain cereal, dried fruit and nuts. Invest in reusable containers. Eating snacks that are high in fiber, protein, and complex carbs (and low in refined carbs) will give you energy throughout the day and keep you satisfied until the next meal.

Remove temptation
Telling yourself you never again eat sweets can set you up for depravation and failure, but keep those high calorie treat out of sight so they may stay out of mind. Leave them on the highest shelf in the cupboard or tucked away in the basement. Leave a bowl of fresh fruit on your kitchen counter -and eat it!

Give yourself a break!
You don't have to be perfect. All foods can fit in moderation. It's OK to treat yourself to a slice of pizza or an ice cream cone on a hot summer day. Enjoy eating! It's one of the most wonderful pleasure in life!
---
Update: Integrative Interventions Now Appear under 'Integrative Care" on Daily Care Flow Sheet
In our last newsletter it was noted that in the ClinDoc version of Epic, integrative interventions were added under 'comfort care.' You may remember that integrative Council members felt that because the title 'comfort care measures' triggers thoughts of 'end of life' care, the category would be appropriately changed to 'integrative care.' This has occurred, so please check out the revised list of integrative interventions under this category.
There are a few additional integrative interventions now included as options which are highlighted in blue below: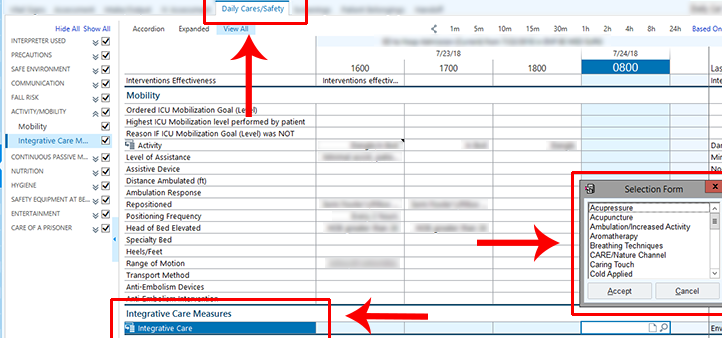 Just a reminder that if any integrative interventions are provided, please select which one and indicate this under the "integrative care" flow sheet section. Again, if special training to provide the intervention is required, it should be documented who provided the care in the drop down 'performed by' that appears. These interventions include: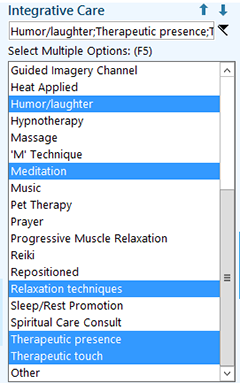 Acupuncture

Acupressure

Aromatherapy

Reiki

"M" Technique
A SOAP note should also be documented by whoever provides the integrative care, acknowledging patient consent, care provided, patient response, assessment and plan.
Stay tuned for the addition of integrative care interventions in the pain management flow sheet!
---
Integrative Council Highlights: What are We Up To?

Change in Council Leadership
Annie Massed, CNM, MPH, Nurse Midwife and Assistant Professor of Obstetrics and Gynecology at the Boston University School of Medicine, was elected co-chair of the Integrative Nursing Council. This occurred as part of the leadership transition since Charlotte Cuneo has retired. Annie has been a long standing contributor to and supporter of Integrative Nursing initiatives at BMC and is a Certified Clinical Aromatherapy Practitioner.

Update on Aromatherapy Nurse Tank Project
The draft of our policy and procedure for aromatherapy at BMC was reviewed by the Infection Control Committee and was conditionally accepted pending a few revisions. Once this is resolved, next step is to submit it to the hospital wide policy and procedure committee. When passed, tentative plans are to offer an Introduction to Clinical Aromatherapy contact hour program. Stay tuned!

Reiki Classes

Reiki is an ancient, hands on healing practice. Illness or disease results from a disruption in the body's energy. Reiki supports the individual's energy to become balanced and receptive to healing. It can be used for patient or self-care. Because of campus moving, we have not scheduled upcoming Reiki classes at present. Again, stay tuned!

If you are a Reiki Master Teacher interested in teaching Reiki classes, please contact [email protected]

The council is currently submitting a draft of a policy and procedure for Reiki practice at BMC.


Documentation of Integrative Care in Epic - see separate article in this issue about this topic.

Information about the Quarterly Integrative Nursing Newsletter, including How to Access, Print and Submit Articles

The Newsletter is published quarterly in the following months: February, May, August, and November.

Submissions to the Newsletter are welcome! Do you have a patient story about how you cared for someone, addressing their needs, mind-body-spirit? Do you have any unit-based projects about holistic/integrative nursing? Please contact [email protected] or [email protected] to get more information about how to submit an article. This is a newsletter for nurses, authored by nurses!

The Newsletter is sent to all BMC Nurses; you may also access the newsletter by following these steps:
1. Go to the BMC Intranet webpage
2. Go the Departments tab and click on the Nursing Department
3. Look on the left hand side of the page for the section labeled: 'Shared Governance/Councils' and click on the "Integrative Nursing" label
4. Click on the 'Newsletters' section
5. Select the newsletter you are interested in reading.

To Print the Newsletter:
1. Click on the URL link underneath the main header of the newsletter. This brings you to the newsletter in its entirety.
2. Go to "File" tab in upper left hand corner and
3. Select "print" In the drop down box. Then click on "print" within that box and your newsletter will be printed.


Are you interested in joining the Integrative Nursing Council?
Not all nursing units are currently represented on the council yet! Membership responsibilities include:

Attending a monthly 3 hour paid time meeting on the first Thursday of the month from 7:30-10:30a. (NO meetings in July and August)
Communicating council activities to the nursing staff on your unit
Bringing your staff's concerns, ideas and suggestions to the council about integrative care for self and patient.
---
8th Annual Integrative Nursing Conference: Nourish the Heart, Rejuvenate the Soul
By Charlotte Cuneo, MSN, RN, CCAP
On May 11, 2018, the Integrative Nursing Council was pleased to present the 8th Annual Integrative Nursing Conference: Nourish the Heart, Rejuvenate the Soul at Lombardo's in Randolph, Ma. This program was funded by the generous support of the Anna Ross Committee of the Massachusetts Memorial Hospital Nurses' Alumnae, Inc. and the BMC Nursing Department who we thank for their ongoing generosity to support this conference! Those who attended were treated to a variety of dynamic speakers addressing heart-centered behaviors, 'movement' sessions led by members of the BMC nursing staff, an array of holistic vendors, and raffles for holistic prizes and a 50/50 drawing. One lucky winner walked away with over $400!
After an enthusiastic welcome by Nancy Gaden, DNP, RN, NEA-BC, CNO, Billy Rosa, MS, AGPCNP-BC, ACHPN, AHN-BC, CCRN-CMC, our keynote speaker brought the crowd to its feet with a participative movement exercise. He then addressed the topic of "Compassion in a Time of Change: Spirituality in Action." Acknowledging that BMC is in a time of many transitions, he emphasized the importance of compassion for ourselves and each other always, but especially in these unique circumstances. One of BMC's own, Lisa Furdon, RN, CYT, then led the group in a brief yoga movement exercise which refreshed everyone and provided a moment for self-care before the morning break.
Next, Teresa M. Buchanan, MBA, RN and Patricia M. Reilly, MSN, RN presented the topic of HeartMath, discussing the topic of "Crash Course: Opening Your Heart." Teresa and Pat presented the HeartMath technique, examples of its uses and provided a demonstration of its effects using biofeedback.
After lunch, Nina Manolson, MA, NBCHWC, spoke about "Shifting Into Body-Love: Learn the Body-Love Map." Nina presented an overview of steps to achieving body-love/body ease and its importance for our own well-being. Positive self-talk is affirming! Next, to energize the post lunch group, BMC's Nneka Nwokeji, BSN, RN, explained the technique and led the group in Nigerian Dance!
Billy Rosa brought a fitting close to the day, discussing the topic of Universal Compassion: From Self to Planet. He spoke about the need to have compassion for ourselves and be self-accepting. In turn, we are better able to show compassion for others and our planet, which is essential.
Many thanks go out to Erlyn Ordinario from the BMC Nursing Department who live streamed the conference on Facebook for the FIRST time! Stay tuned for podcasts from the conference to be released soon.
This was also our premier year for participants to complete their evaluations and obtain their contact hours on line. Results showed that 95 % of participants indicated the conference will affect their nursing practice! Some remarks included:

"It has helped me take time to deep breath step back and walk into a patient's room and be open and receptive to our communication…"

"Think about being compassionate instead of reactive. Self-forgiveness and acceptance."

"I must take care of myself in order to continue to take care of my patients in the best possible way."

"This educational experience definitely will impact my professional development."

"These lectures will help to bring out the empathy and compassion that is always needed in nursing."

"I think it gives nursing a better idea about how important it is to not only care for the patient medically but to take a step back and look at them as a person and take care of their basic needs. Nurses get caught up in taking vital signs and giving medications it is easy to miss a simple thing such as covering them up with a blanket."
Finally, thanks to all who contributed to making this conference a success, and most especially to the integrative nursing council members who planned and supported this program.
---
Upcoming Events
With the campus move in progress we don't have dates yet for our integrative nursing contact hour programs listed below. We will announce dates as soon as they are available for the following programs:

Supporting Nurse Resiliency in the Workplace, Parts 1 and 2
Reiki Classes
Introduction to Clinical Aromatherapy, all day contact hour program.


Boston AHNA (American Holistic Nurses Association) Chapter: The next meeting will take place on September 4, 2018, 5-7p. Topic: New Frontiers in Fascia: What is Fascia and Why is it SO Important? MGH Institute of Health Professions, Charlestown Navy Yard, 36 1st Avenue, Boston, Ma. 02129,-4557, Phone: 617-726-2947 Please send questions and RSVPs to Alison Shaw at:

[email protected]

or call: 781-646-0686. To contact Catherine Calder Calisi:

[email protected]

.
Holistic Stress Management Instructor Program, Part 2, November 1 and 2. Burlington, Vt. Speaker: Brian Luke Seaward, PhD (Note: It is not necessary to have completed Part 1 to attend Part 2.) For more information:
http://www.brianlukeseaward.com/downloads/Level2_And_FMT_Burlington_VT_2018.pdf

21st Annual Fall Mountain Retreat: Above the Frey: Hold the Light, Be the Light, Share the Light. Speaker: Brian Luke Seaward, PhD. November 2, 3, 4. For more information:
http://www.brianlukeseaward.com/downloads/2018_FallMtRetreatBurlingon.pdf

Self-Care Options in Moakley Building Basement:

Tuesdays, 6-7:15pm & Thursdays, 4:30-5:45pm, Yoga Classes, Instructor: Betsy Simmons, MPH, RYT
Wednesdays, 4-5p: Tai Chi/QiGong-Stretching and movement class for patients and staff, Instructor: Ramel Rones. Call 617-638-7540 for more information
Wednesday, 5-6p: Mindfulness/Meditation for patients and staff, Instructor: Bob David. Call 617-638-7540 for more information
---
Remember a Valuable Resource for Patients and Staff: The Guided Imagery Channel 74

Please remember that our guided imagery channel (channel 74 on BMC televisions) is available to patients and staff. The channel's 30-minute guided imagery videos are narrated in English or Spanish and will help ease anxiety and stress, while promoting rest and sleep.
In addition to being available on the patient televisions, the guided imagery channel can be accessed on your computer at any time at BMC or at home. To access the Guided Imagery Channel, visit the Quick Links section on the Nursing Intranet website to access the site and get the BMC password. Note: if you need the information in Spanish, look on the page for the word, "English" located on top of the main photo near 'Logout' and click on it. This converts the programming to Spanish. Click on "Espanol" and it will revert to "English." If you would like to watch this at home, copy the link in your browser into an email, and email it to yourself. At home, click on the link and when it asks for your password, use bmc7789.

Also, the C.A.R.E channel (channel 3 on patient televisions) features stunning nature imagery with soothing instrumental music and is also available via the website above.
Signs have been/are being posted in each patient room pointing out the availability of the C.A.R.E. and the Guided Imagery channels in the four most commonly used languages here at BMC: English, Spanish, Haitian Creole and Portuguese. Please point these resources out to your patients! They will be posted soon in all Menino patient rooms-watch for them!