Junior Summer Volunteer Program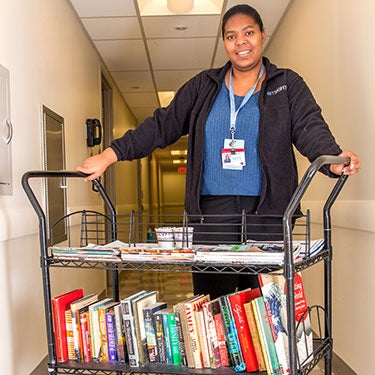 Boston Medical Center is excited to be offering a Junior Summer Volunteer Program for the summer of 2019.
Summer Volunteers must commit to a minimum of 8 weeks. Volunteer shifts are three hours in length once a week. To allow everyone an opportunity to participate in the program volunteers cannot assist in more than two shifts a week.
The Junior Summer Volunteer Program is a great opportunity for volunteers who are 16 or 17 years of age and unable to volunteer during the year due to school scheduling conflicts. The program offers our Summer Volunteers exposure to the healthcare field and opportunities to build patient experience skills.
All inquiries about the Summer Program and correspondence with Volunteer Services in regards to application status should be made by the candidate themselves.
The 2019 Junior Summer Volunteer Program is full and Volunteer Services is no longer accepting applications. Please check back in spring of 2020 for information regarding the 2020 junior summer program.
Process
Have two reference letters submitted to

[email protected]

. One reference letter must be from a teacher, guidance counselor, or another adult who knows you well from school. The second reference letter can be from anyone other than a relative. Both letters should be no more than a paragraph in length and speak to your interest in the program as well as your volunteering abilities. Reference letters must be in PDF format if submitted by the applicant.
Have a parent or guardian complete with signature the permission form and email to

[email protected]

.
Submit immunizations, including documentation of a TB test in 2019 to

[email protected]

. You can find more information about immunization requirements here.
All three steps in the application process are due May 31st, 2019
Step 2: Interview
Junior Summer Volunteer Program interviews will be conducted in June. Interviews are typically 30 minutes long and are to learn more about yourself and your interest in volunteering at Boston Medical Center.
During the in-person interview a placement and regular shift time will be finalized.
Step 3: On-Boarding
Junior summer volunteers may only complete the onboarding process 1-2 weeks before the volunteer's anticipated start date.
On-boarding includes receiving health clearance from the Working Well Clinic and attending volunteer orientation with Volunteer Services.
Opportunities
Our Summer Program Volunteers assist in the following roles:
Outpatient Entertainment Cart
BMC Ambassador
Preventative Food Pantry
Pediatric Playspace: Primary Care
Pediatric Playspace: ENT Clinic
Pediatric Neurology Playspace
Pediatric Radiology Playspace
---
---
FAQ
Can I participate in the Summer Program if I am not 16 or 17 years of age?
The Summer Program is designed for our Junior Volunteers. If you are 18 years of age or older and are interested in volunteering over the summer we encourage you to apply through our regular volunteer application process. We ask all volunteers over the summer, whether in the regular or summer program, to commit to eight weeks of volunteering.
I'm going to be away for part of the summer, can I still participate in the program?
We ask that you volunteer for eight weeks by the end of August. If a vacation or trip is planned you must note on your application the dates and times you will be away. Please keep in mind that the onboarding process can take 2-4 weeks and does not count towards the required eight weeks of volunteering.
I turn 16 during the summer, can I be a part of the Summer Program?
All Summer Program volunteers must be 16 years of age by June 1st to participate in the Summer Program for that year. If you turn 16 over the summer we encourage you to apply to the Summer Program the following year.
I have a particular area of interest that I do not see listed above as a volunteer role. Can I volunteer somewhere else?
All Summer Program volunteers assist in outpatient areas only. Given the duration of the program and age requirements of the positions, participants in the Summer Program will be placed in the roles listed above. While you can note on your application an interest in a particular role, volunteer placement is based on the needs of the hospital.
---
---