Integrative Nursing Conference
Overview
Join us for the 11th Annual Integrative Nursing Conference in honor of Nurses Week!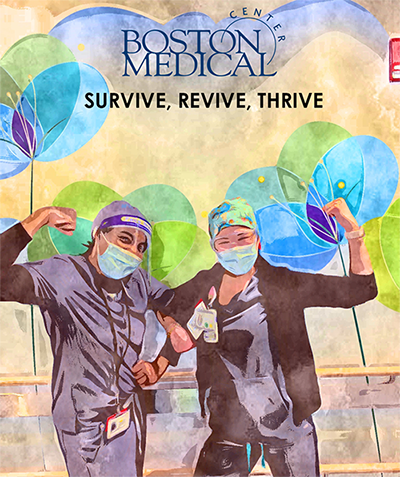 Survive, Revive, Thrive!
Tuesday, May 11, 2021
7:30 a.m. - 4:00 p.m.
Cost: Free | Online via Zoom
Presented by:
Boston Medical Center Integrative Nursing Council
Sponsored by:
The Anna Ross Committee of the Massachusetts Memorial Hospital Nurses' Alumnae, Inc. and the Boston Medical Center Nursing Department
Agenda and Speakers
7:00 am – 7:30 am
Zoom Log In/Registration
 
7:30 am – 7:45 am
Welcome Remarks
Nancy W. Gaden, DNP, RN, NEA-BC
Senior Vice President and Chief Nursing Officer, Boston Medical Center
 
7:45 am – 9:00 am
KEYNOTE: Thriving through Uncertainty - Moving Beyond Fear of the Unknown & Making Change Work for You
Tama J. Kieves, J.D.
 
9:00 am – 9:10 am
Break
 
9:10 am – 10:10 am
Coming Back to Yourself
Karen Paolino Correia
 
10:10 am – 11:10 am
COVID Relief: Acupressure Techniques
Eileen Kelly Vallatini, BSN, RN
 
11:10 am – 11:20 am
Break
 
11:20 am – 12:35 pm
KEYNOTE: Finding Calm within the Chaos
Tonya Leigh, RN
 
12:35 pm – 1:25 pm
Lunch
 
1:25 pm – 2:25 pm
Revitalize Your Spirit with Latin Dances
Michelle Rubiera, Fitness Educator
 
2:25 pm – 2:35 pm
Break
 
2:35 pm – 3:50 pm
Exploring Grief, Loss, Hope & Healing During the COVID-19 Pandemic
Mary Jo Kreitzer, PhD, RN, FAAN
 
3:50 pm – 4:00 pm
Wrap-Up & Adjourn
 
---
Speakers
Tama J. Kieves, J.D.
For over 30 years, reknowned speaker Tama Kieves has helped coach thousands of people worldwide to discover, launch and thrive in their work, calling, business, and life. She is a bestselling author of "This Time I Dance! Creating the Work You Love"; "Inspired & Unstoppable: Wildly Succeeding in Your Life's Work!"; "A Year without Fear: 365 Days of Magnificence" and "Thriving through Uncertainty: Moving Beyond Fear of the Unknown and Making Change Work for You."­­ Tama has been featured in USA Today, ABC News, Success Magazine, Forbes, Oprah Radio, and has also been a notable speaker for TEDx, numerous conferences, and led national and international retreats. 
Karen Paolino Correia
For over two decades, Karen Correia has been a gifted guide known for her authenticity and passion in helping others awaken to their own truth and connect with and experience their divine potential. She helped thousands of people around the world heal, connect and rediscover their divine essence through her books, workshops, certification programs, and private sessions.  An entertaining, deeply compassionate and a highly gifted intuitive, Karen offers her audience and her clients the opportunity for experiential play, deep healing and radical awakenings.
Eileen Kelly Vallatini, BSN, RN
Eileen Vallatini is a certified practitioner of Tong Ren therapy, Reiki, Reconnective healing and Eden Energy medicine.
Tonya Leigh, RN
Tonya Leigh is a former critical care nurse and now life coach and founder of the life coaching program, the School of Self-Image, a program that helps woman around the world transform their life by focusing and uplifting their mindset, style, surroundings, and transforming them from ordinary to extraordinary.
Michelle Rubiera
A zumba instructor and fitness instructor since 2009, Michelle Rubiera teaches zumba at the YMCAs at Roxbury, Huntington Ave, Dorchester and at the Curley Community Center in South Boston. She is currently co-owner of 1 More Athletic GYM located in Roxbury, MA.
Mary Jo Kreitzer, PhD, RN, FAAN
Mary Jo Kreitzer is the founder and director of the Earl E. Bakken Center for Spirituality & Healing at the University of Minnesota where she also serves as a tenured professor in the School of Nursing. Within the School of Nursing, Dr. Kreitzer is the coordinator of the doctorate of nursing practice (DNP) specialty in integrative health and healing. She has served as the principal investigator or co-principal investigator of numerous clinical trials focusing on mindfulness meditation with persons with chronic disease including studies focusing on solid organ transplant, cardiovascular disease, chronic insomnia, diabetes, and caregivers of people with Alzheimer's disease. Recent studies include the use of social technology to enhance healing and wellbeing and the impact of mindfulness on brain-computer interface performance. 

Dr. Kreitzer  has authored over 150 publications and is the co-editor of the text Integrative Nursing 2nd Edition published in 2018 by Oxford University Press. She earned her doctoral degree in public health focused on health services research, policy and administration, and her master's and bachelor's degrees in nursing. In 2020, Dr. Kreitzer was named as one of the 100 most influential health care leaders in Minnesota by MN Physician, became as a distinguished policy fellow in the National Academies of Practice and was inducted as a Fellow Ad Eundem of the Faculty of Nursing and Midwifery in the Royal College of Surgeons in Ireland.
---
Accreditation Information
The application to award contact hours has been submitted to Boston Medical Center. Boston Medical Center is approved as a provider of nursing continuing professional development by American Nurses Association, Massachusetts, an accredited approver by the American Nurses Credentialing Center's Commission on Accreditation.
This program is supported by the Anna Ross Committee of the Massachusetts Memorial Hospital Nurses' Alumnae, Inc.
Faculty Disclosure
All planners, speakers, authors, and reviewers involved with content development for continuing education activities provided by Boston Medical Center are expected to disclose any real or perceived conflict of interest related to the content of the activity. Detailed disclosures will be included in participant materials or given prior to the start of the activity.