Immigrant and Refugee Primary Care
The Immigrant & Refugee Health Program provides comprehensive primary care services to immigrant and refugee health patients through our practice at the Shapiro Center at Boston Medical Center. Our team of clinicians takes care of general healthcare needs through regular check-ups, immunizations and screenings, as well as providing care for illnesses and injuries. Also, we will coordinate patient care if a patient needs to see a specialist for a more serious health issue. Our practice provides on-site interpreters and over the phone interpreters for more than 250 languages. We also offer access to psychiatric and case management support to provide support and care for the wide range of needs of our patients.
 In addition to ongoing primary care, our team of healthcare providers can provide specialized services to our patients with complex medical, psychological and legal needs, such as: medical affidavits in support of asylum applications, infectious disease screening, treatment of complex refugee or war trauma, and evaluations for waivers for the US citizenship exam due to a medical or cognitive disability.
Become a New Patient
There are several important steps to become a new patient in the Immigrant and Refugee Health Program at Boston Medical Center.
1) BMC Registration
For patients who are new to Boston Medical Center, please register as a BMC patient by calling the BMC patient registration team at 617-414-6060.
2) Apply for Health Insurance Coverage
Everyone in Massachusetts can access some health insurance coverage regardless of immigration status.
For patients who do not have health insurance coverage, call BMC Patient Financial Counseling at 617-414-5155 to make an appointment to apply for health insurance.
3) Schedule an Appointment
Email us at [email protected] with your contact information and one of our team members will reach out to you to schedule an appointment.
Refugee Health Assessment Program
Up to 75,000 refugees arrive each year in the United States, and about 5% of them have settled in Massachusetts in recent years. All refugees are entitled to a health assessment within three months of arrival in the U.S.
 
The goals of the refugee health assessment are:
General health assessment, including vision, hearing, and dental screening
Identification and treatment of immediate health needs
Diagnosis and treatment of communicable diseases
Immunization
Orientation to the health system in the United States
Transition to a primary care provider
Once this initial assessment has been done, we are happy to continue to follow patients in our primary care practice or to refer them to centers closer to their homes. 
 
The Refugee Health Assessment Program sees patients that are referred from specific resettlement agencies; thus we do not make appointments for these patients outside this system. New immigrants to the U.S. should have their appointments made with primary care professionals with whom they plan to establish long-term care.
For referrals to RHAP, please fax referral to the RHAP coordinator at 617.414.7230.
Forensic Medical Evaluation Group
Also, embedded in IRHP is the unique Forensic Medical Evaluation Group (FMEG), which offers evaluation and documentation of physical and psychological trauma and abuse for asylum seekers and others who are in need of documentation of prior ill-treatment. FMEG provides a supportive and collaborative environment, while working closely with attorneys, providing guidance and teaching to students from a variety of academic backgrounds, medical residents, attorneys and judges. The members of this group have written over 500 affidavits and have served as expert witnesses in Immigration Courts, US Federal Court, US Military Commissions Court and international courts. 
For more information, please email [email protected]. 
Citizenship and Immigration Rights Navigator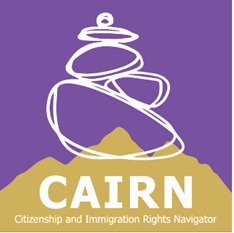 The Citizenship and Immigration Rights Navigator (CAIRN) works in the Immigrant and Refugee Health Program and helps patients hospital-wide with immigration legal services navigation. CAIRN helps connect these patients with legal resources in the community such as immigration clinics and immigration organizations. Some examples of immigration issues that CAIRN can assist with are asylum, green cards, visa extensions, TPS, family reunification, and Citizenship.
To refer a patient to CAIRN, please email [email protected] or call 617.414.9366.