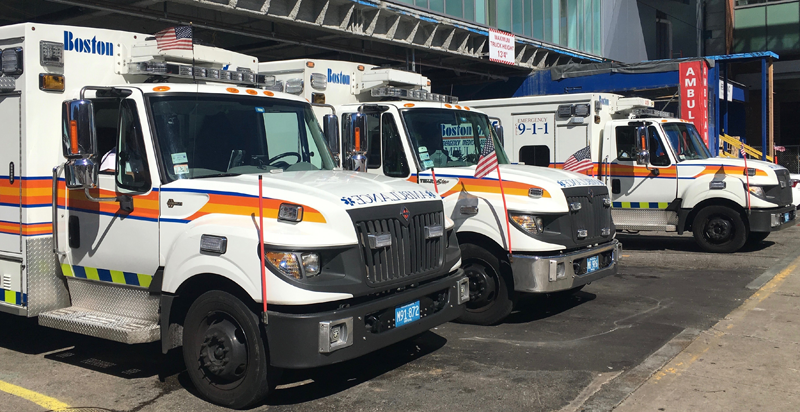 Fourth Year Clerkship
Requirements and Availability
Completion of all major third year core clerkships (Surgery, Medicine, Obstetrics-Gynecology, Psychiatry, and Pediatrics) is required. For more information please visit the Boston University Office of the Registrar website or call them at 617-638-4160.
Students not from BUSM must be currently enrolled in a U.S. medical school and can register for the course using the Visiting Student Application Service (VSAS). We also offer a Subsidized Visiting Elective Program for medical students from ethnicities that are underrepresented in medicine. Please email Justin McCummings ([email protected]) for more information.
Slots are assigned on a first come, first serve basis. Positions are limited so early application is recommended. Preference is given to medical students seriously considering a career in Emergency Medicine.
For rotation dates and availability, please contact:
Annemieke Atema, MD
Assistant Professor
4th-Year Student Clerkship Director
Residency: Boston Medical Center
Email: [email protected]
Lisa Stapleton
Medical Student Coordinator
Department of Emergency Medicine
Email: [email protected]
Boston Medical Center
Dowling 1, 818 Harrison Avenue
Boston, MA 02118
Phone: (617) 414-2801
Fax: (617) 414-7759
Inquiries and applications are accepted after April 1st for the following academic year.
Description
This is a one-month elective for senior medical students. Students are involved in all aspects of patient care, and are exposed to the fundamentals of Emergency Medicine through:
Clinical experience in the Emergency Department
Medical student lecture series and department didactic sessions/grand rounds
Pre-hospital paramedic/EMT observation
Independent reading
Formal case presentations
Participation in simulations and practical laboratories on intubation, airway management, splinting techniques, and suturing
Goals and Objectives
To understand the history and development of Emergency Medicine as a specialty
To learn the approach to patient management in the ED, including ABCs, triage, diagnosis, and disposition
To learn the principles and techniques of basic wound management
To learn the basic principles and rationale for the initial management of patients with trauma
To become familiar with the evaluation of patients presenting to the ED with common complaints, including but not limited to: chest pain, dyspnea, abdominal pain, headache, fever, and altered mental status
Clinical Experience in the ED
Students are supervised by attending physicians and senior emergency medicine residents. They see patients independently (unless the patient is critically ill), and are primarily responsible for their patients while in the ED. Students are expected to see between one and three patients at a time, depending on their own level of comfort, the relative complexity of their patients' problems, and the tempo of the Emergency Department. Students are encouraged to do all necessary procedures on their patients.
Independent Reading
Suggested readings include:
Mitchell E and Medzon R. Introduction to Emergency Medicine; New York: Lippincott Williams & Wilkins, 2005.
Tintinalli J, et al. Emergency Medicine – A Comprehensive Study Guide, 4th ed., McGraw-Hill Pub.
Rosen P, ed. Emergency Medicine – Concepts and Clinical Practice, 3rd ed., C.V. Mosby Co, St. Louis MO.
Harwood-Nuss A, et al. The Clinical Practice of Emergency Medicine, 2nd ed., J.B. Lipincott.
Rothenhaus, T. The ER Intern Pocket Survival Guide, International Medical Publishing.
Shifts
Students work approximately 14 eight-hour shifts per month in the Emergency Department. In addition, there is one required "procedure shift" during which students can refine their procedural skills under the supervision of a PGY2 resident.
Boston EMS Ride-Along
One eight-hour ride-along shift with Boston EMS is required. Comfortable, but neat attire is required (no ties, but no jeans or sneakers).
Lectures
Residency conference lectures are scheduled every Wednesday from 7:30 AM -12:30 PM. Breakfast and lunch are provided. Please wear scrubs or professional attire when attending conference.
In addition to the above resident conferences, 8-12 lectures specifically geared to students will be scheduled during the month; most lectures fall on Tuesday or Wednesday afternoon.
Conference schedule is linked under the "Internal Wiki" webpage. Medical student attendance is mandatory at the above lectures/conferences (unless you worked overnight the night before).
Morning teaching rounds occur everyday around 7:15 AM in Trauma 1 and last approximately 15 minutes, if you are working in the ED at 7:00 AM, you should attend
Case Presentation
10-15 minute presentation (no PowerPoint) at the end of the rotation
Case report of a patient that you managed during the rotation
Pertinent history, physical exam findings, stabilization, diagnosis, pathophysiology, treatment, and disposition for a specific topic should be discussed
Do not pick your topic too broadly – e.g. it's impossible to talk about AIDS or chest pain in such a short period of time
Please bring a good review article on your topic to hand out to your colleagues
Exam
30-35 multiple choice exam at end of rotation
Exam questions based on:
Online database (www.saemtests.org), ID/password will be e-mailed to you
Reading library topics
Student Lectures
Additional information can be found on the BUSM Fourth Year Course Catalog.