Pediatric Advanced Emergency Assessment, Recognition and Stabilization (PEARS)
Clinical Training Center
Department of Emergency Medicine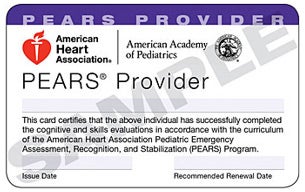 Pediatric Advanced Emergency Assessment, Recognition and Stabilization (PEARS)® is updated to reflect the 2010 AHA Guidelines for CPR and ECC, PEARS helps healthcare providers develop the knowledge and skills needed for emergency evaluation and treatment of seriously ill infants and children.
PEARS teaches providers how to recognize respiratory distress, shock and cardiac arrest, and provide appropriate lifesaving interventions within the initial minutes of response until the child is transferred to an advanced life support provider. The goal of PEARS is to improve the quality of care provided to seriously ill or injured infants and children, resulting in improved outcomes.
PEARS is for healthcare providers such as emergency medical technicians (EMTs), medical and surgical nurses, school nurses and any other healthcare provider who infrequently sees critically ill infants and children.
Features
Improves competency in pediatric basic life support
Learning stations and practice reinforce essential skills
Course video allows students actually see and hear critically ill children
Enhances skills in recognizing shock, respiratory failure and cardiopulmonary emergencies
Course Content
Pediatric assessment
Assessment and management of respiratory problems
Recognition and management of shock
Identification and management of cardiac arrest
Resuscitation team concept
Target Audience: MDs, PAs, RNs, NPs, EMTs, Paramedics, Respiratory Therapists etc... who do not have frequent exposure to pediatric emergencies.
Students certifying the first time - The Initial course is approximately 8 hours
Students that are recertifying - The update course is approximately 5 hours
Cost
Initial Certification program $275.00
Update Program $225.00
PEARS Provider Manual (Required) $40.00
Scheduling
The Clinical Training Center schedules PEARS classes as requested. Contact us and we will schedule a class to suit your practices needs and schedule.
Important Notes
PEARS Course Pretest
Students must complete the American Heart Association PEARS Pre Course Evaluation before taking the program. Access to this test is included with your textbook. If you have difficulty locating the code, please contact the CTC for assistance.
Pharmacology and ECG Recognition
Students entering the PEARS program are expected to have a basic understanding of ECG recognition, and basic pharmacology.by completing the Pre-Course Assessment, this will help you identify what areas you may review before class. (Consider taking the ECG and Pharmacology Prep Class prior to your PEARS class)
Textbooks
The American Heart Association requires all students to have a current provider manual available to them "before, during and after" the certification program. In our experience, students that have the book prior to class, and take the online pre-course assessment are able to participate more fully in the class, and score better in the practical and written exams.
Provider manuals are available for purchase with your online registration, can be purchased at our office, or are available the day of class.