Daily COVID-19 Update: April 22, 2020
UPDATED: Confirmed COVID-19 Cases as of April 22
COVID-19 Cases:

BMC Total Inpatients:

 222

BMC Inpatients Requiring Intensive Care:

 54

Cumulative COVID+ Patient Discharges:

448

BMC Employees/Providers Who Have Tested Positive:

 218

United States

802,583

Massachusetts

42,944
Click to see up-to-date city, state, and national numbers: Boston | Massachusetts  | United States
NEW: The Winning Song is……Don't Stop Believin'
Many employees asked if we could play a few bars of a song to celebrate our patients with COVID who are being discharged. We polled our clinical staff and Journey's Don't Stop Believin' topped the nearly 2,000 votes that were cast.  Starting this weekend, when you hear this song on the overhead speaker it means one of our COVID patients are heading home to their loved ones.  Thank you to everyone who never stops believing in our patients!
REMINDER: Infection Control Tips and Information
While we care for our patients, it is critical that we all take steps to keep ourselves and our colleagues safe. All staff must follow the guidelines below:
If you work in an area where you must be close to your colleagues, keep your mask on at all times.
Eat separately from your colleagues, more than 6 feet apart when possible.
Clean ALL of your work spaces (WOWs, desks, phones) constantly. For more information, see BMC policies and guidelines for:
If you are changing your scrubs, please do so in a designated area (e.g. a bathroom), and not a public space like a break room.
NEW: Congress Reaches Deal on Federal Relief Package
Yesterday, Congressional leaders reached a deal for another federal relief package, known as "COVID 3.5." The bill has been named 3.5 because the CARES act was #3. The Senate approved the bill yesterday and we expect the House to pass it tomorrow. 
The bill includes $25 billion for testing, including testing for both active infection and prior exposure. Of this, $11 billion will go to states. 
The bill includes another $75 billion in relief for health care providers.
As with the CARES Act money, this money will be distributed by HHS under guidelines that they set up, but can include reimbursement for lost revenue. We are advocating for disbursement of this funding to favor high Medicaid and high COVID providers.
The rest of bill is focused on small business relief.
Negotiations are ongoing for a fourth package, which we hope will include relief that is targeted to high-Medicaid and/or high COVID providers.
NEW: Centralized Shower Station for Employees
A shower station for employees is now open in the Dowling 6 men and women's showers. The showers will be open 7 a.m. to midnight daily. Shower bags containing soap, shampoo, and two towels are available on the blue linen cart labeled BMC Employee Centralized Shower.
Please see this document, located on the Emergency Management COVID-19 page on the Hub for more details, including how to access to shower station.
NEW: Refresh Station for Employees Thursday, April 23
In recognition of everyone's tireless efforts on behalf of our patients and each other, the "refresh station" will be available for employees on the balcony of the Menino lobby tomorrow, April 23, from 6:30 – 9:30 a.m. All staff are welcome to come through the station (which will be set up with appropriate social distancing) for a quick break and to grab a treat.
The station will also have gifts available for children, in honor of Take Our Children to Work Day 2020. Although children can't be onsite for this year's celebration, we'd like to recognize them on this day.
REMINDER: N95 Collection and Reprocessing with Battelle 
We are continuing to send our used N95s to Battelle for sterilization. Fit testing is not required when using the returned masks from Battelle, but a group of staff went through fit testing with the Battelle 3M reprocessed masks and all passed (see photo below).
You can find additional information on the Battelle process here.  We appreciate everyone's support and attention to following the below guidelines:
Return used N95s in designated collection bins. These are located in all N95 clinical areas (often in soiled utility). Please ONLY put N95s in these bins. 
Staff MUST refrain from using make-up/skincare products.  Collected N95s with make-up and skincare products will be rejected, which reduces our future supply.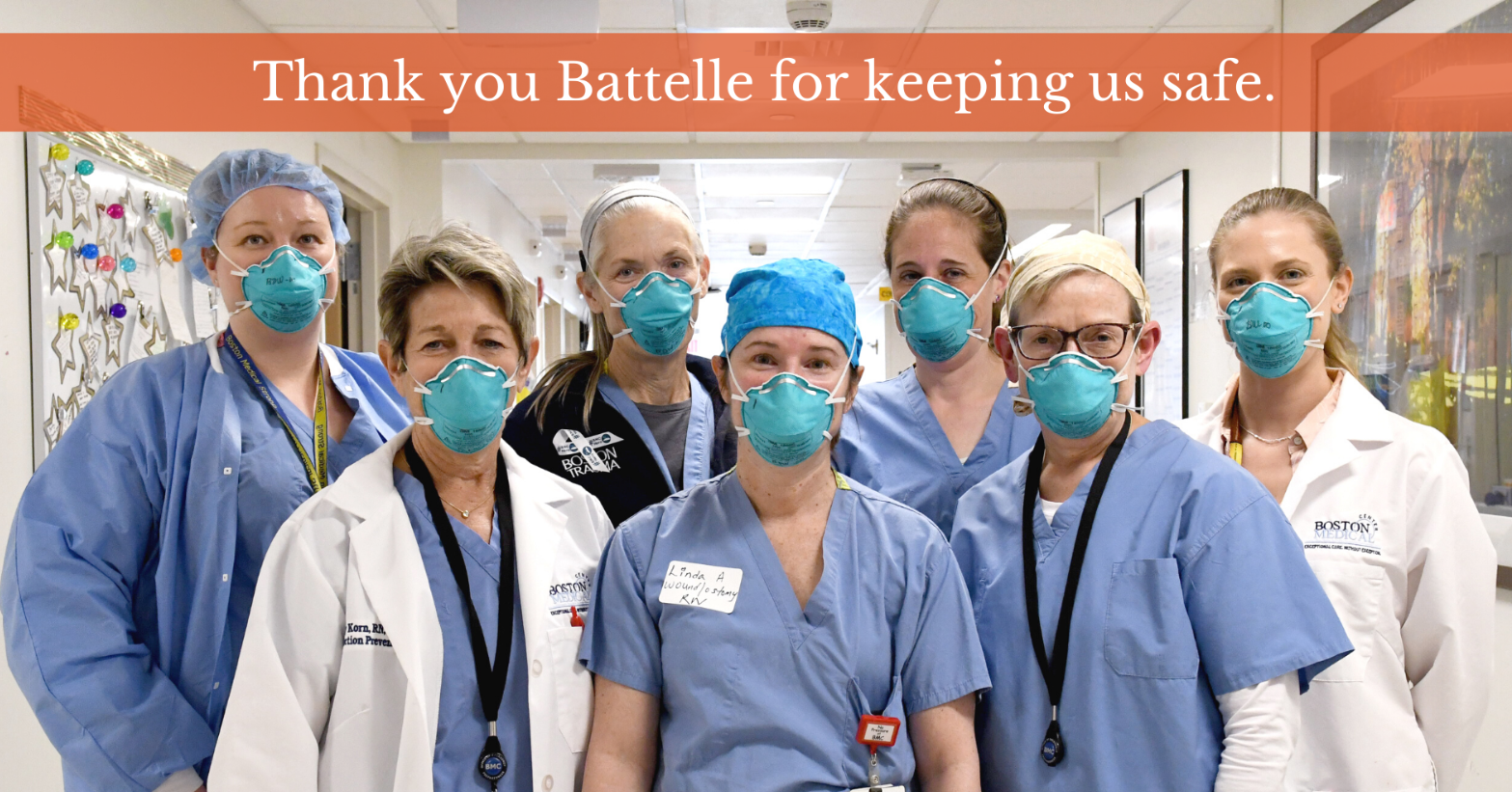 Colleagues wearing the 3M reprocessed respirators
---
These nurses hold their patients' hands and erect a critical bridge to loved ones now heartbreakingly out of reach
ICU nurses at Boston Medical Center collect images from home to buoy their coronavirus patients.
Evolving Responsibilities of Support Services
April 9: Kate Walsh, CEO, and Dave Maffeo, senior director of support services, discuss how his team has been adjusting their work in evolving cleaning and social distancing protocols, increased food donations, changing retail operations, and more.
Follow BMC on Twitter, Facebook, Instagram, and LinkedIn to stay informed and learn more about how work is changing and what we're doing together to protect patients, staff, and support each other.
---