Boston Medical Center Installs $15 Million Cogeneration Plant to Increase Energy Efficiency and Resiliency
Since the spring of 2017, Boston Medical Center has been generating much of its own electricity and heat through a natural gas-fired, 2 megawatt combined heat and power plant (CHP), further enhancing BMC's standing as the most resilient and greenest hospital in Boston.
The CHP, or cogen facility – about the size of a tractor trailer – will save BMC about $1.5 million in heat and energy costs annually, money that can put back into patient care. Traditional power plants, which release excess heat into the atmosphere, operate at about 35 percent efficiency. Cogen technology, which instead traps and reuses the heat, operates at 70 percent efficiency.
"Cogen gives us the ability to continue to care for the most vulnerable population in our city, even when the electric grid goes down."
Cogen also has "black start" capability, meaning that if the electric grid goes down, the hospital can restart the cogen plant and heat and power its inpatient units on an "island" for months at a time, as long as it has a supply of natural gas. The cogen plant, which became operational this spring, is located on the roof of the Yawkey building, high above any potential floodwaters.
 "We've learned lessons from Hurricane Katrina and Sandy, which devastated the health care infrastructure in their communities," said Bob Biggio, Senior Vice President for Facilities and Support Services. "Hospitals that had cogen were able to stay open and care for patients, while those without cogen were forced to evacuate. As the largest safety-net hospital and biggest trauma center in New England, we have an obligation to protect our patients in a natural disaster. Cogen gives us the ability to continue to care for the most vulnerable population in our city, even when the electric grid goes down."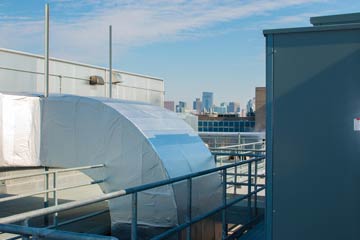 The cogen plant was made possible by a $3.7 million grant from the Massachusetts Department of Energy Resources' Community Clean Energy Resiliency Initiative. The Boston Public Health Commission partnered with BMC in securing the grant. In addition to powering and heating much of the hospital, the cogen facility will also serve as a backup power source for city and state emergency communications.
By reusing the trapped heat for hot water, humidification and room temperature, the hospital will lower costs by reducing its need for steam heat by an estimated 44,000 pounds annually. Cogen will also reduce electric grid consumption by more than 16 million kilowatt hours a year.
Eversource provided BMC with financial incentives to bring cogen to the hospital campus. The CHP plant, manufactured by Caterpillar and designed by Engineered Solutions, will supply more than 41 percent of the hospital's electricity and has the capacity to meet 25 percent of peak electricity demand at any given time.
In the News