Center Fellow Making Headlines with Innovative Program
Lucy Marcil, MD, MPH, is a pediatrician at Boston Medical Center and the Center for the Urban Child and Healthy Family's inaugural Urban Health and Innovation Fellow. Marcil, together with Michael Hole, MD, is the co-founder of StreetCred, an innovative program offering families the opportunity to complete their taxes and access anti-poverty programs while visiting their pediatrician's office. StreetCred originated at BMC, and is being offered to families at eight other sites in Boston, Connecticut, North Carolina and Texas. In its first three tax seasons, StreetCred served more than 1,700 families and returned more than $3.2 million to patients.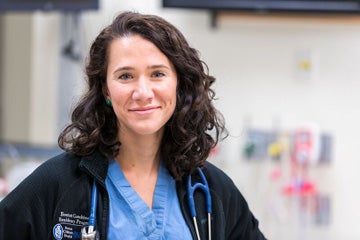 This year, Lucy was selected as a 2018 TED Fellow. She was invited to present at TED2018, along with 20 other young innovators from across the world, to spread the word about StreetCred. Additionally, Quartz recently published an article highlighting this novel program. In the article, Marcil states, "Doctors in every city could be doing this. Any clinic can register to be a tax preparation center and anyone from medical students to retirees can volunteer to help after passing an IRS exam. It's not as hard as it sounds, I promise. I certainly never thought I'd be doing other people's taxes, but here I am."
StreetCred has created a roadmap to allow this program to be implemented in doctors' offices around the country in order to put more money into the pockets of families who need it most and thus, help children thrive.