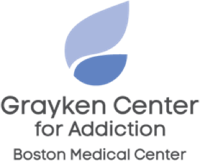 The Grayken Center for Addiction at Boston Medical Center is a national hub for substance use disorders resources. Through more than a dozen treatment and support programs for patients of all backgrounds, here at Grayken, we revolutionize addiction treatment and education, replicate best practices, and provide policy, advocacy, and thought leadership.
Episode 3 of "Behind the Evidence," the Grayken Center for Addiction's new podcast, is now available! Hosts Honora Englander, MD and Marc Larochelle, MD interview Christopher M. Jones, PharmD, DrPH on his recent research on the role of telehealth in increasing access to medications for opioid use disorder during COVID-19.
Patient Services
Our comprehensive treatment programs are tailored to meet the unique needs of patients of all ages and walks of life. Understanding that substance use can affect anyone, at any point in life, our substance use programs and services are available and accessible whenever needed, from pregnancy (Project RESPECT) to adolescence (CATALYST Clinic) and in times of crisis (Project ASSERT). By offering a wide array of programs, you can receive care that is suited to your specific needs and effective in ensuring the best possible outcomes. Download the Grayken Center's services.
Areas of Focus
Work at the Grayken Center encompasses a wide range of topics within substance use disorder treatment, research, and advocacy, including the below focus areas.
Stories of Recovery at Grayken
Stigma is most often the primary reason why people don't receive the addiction treatment they need. Grayken hopes to bring addiction out of the shadows by telling the stories of recovery and the research that goes behind what we do.
Our Experts
The Grayken Center for Addiction is a multidisciplinary team of physicians, social workers, patient navigators, nurse practitioners, project managers, researchers, nurses, recovery coaches, and more who all work together to support patients with substance use disorders.
OBAT Nursing Competencies
Nursing is a critical component of addiction treatment. Nurses are often the frontline provider for patients admitted to the hospital with addiction, and one of the first people a patient sees at an outpatient appointment. However, comprehensive addiction education is rarely provided in nursing schools, leaving a gap between what nurses are taught and who they treat. The OBAT TTA program at BMC is one program that leads the charge to educate nurses, and other treatment team members, about addiction and treatment. As part of this mission, members of THE OBAT team developed a toolkit called the Addiction Nursing Competencies to support nurses, as well as their managers, to provide and evaluate addiction treatment in their practice.
Residency and Fellowship Information
BMC has a number of unique opportunities for residents and fellows to train in caring for patients with addiction, including an addiction medicine fellowship program, addiction psychiatry fellowship program, and addiction training in the general psychiatry residency. These programs all train clinicians in different stages of their career in the recognition, diagnosis, and treatment of substance use disorders in a variety of settings.