Programs Support New Moms And Babies Struggling With Addiction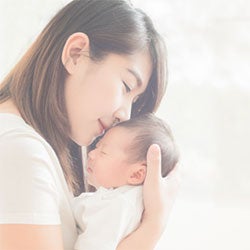 Pediatrician Eileen Costello and mom Ashlee Ryan, who is in recovery from substance use, have a common bond: they are both working hard to give 8 month-old Leila a fighting chance at a healthy life.
SOFAR Program
Through SOFAR (Supporting Our Families through Addiction and Recovery) mothers in recovery and their children have a medical home in Boston Medical Center's pediatric primary care clinic. SOFAR is staffed with physicians, social workers, patient navigators, and coordinators who provide medical and psychosocial care for families, helping mothers with Substance Use Disorder (SUD) navigate and succeed through the early stages of parenthood.
Evidence shows that post-partum mothers in recovery are at extremely high risk for relapse and overdose, particularly in the second half of a newborn's first year. According to the state's analysis of overdose deaths, nearly four in 10 deaths among women who gave birth between 2011 and 2015 were caused by opioid overdoses, compared with two in 10 among women who did not give birth.
SOFAR hopes to change those odds by keeping mothers healthy so they can care for and nurture their babies.
"The whole idea of the program is you can't take care of the baby if you're not taking care of the mother," said Costello who, along with Sara Stulac, MD, care for these patients. Sarah Bagley, MD, Director of BMC's CATALYST Program for young adults, provides primary care for many of the moms at the same time the babies are receiving primary care.
"We see these babies once a week for four weeks after they go home from the hospital. And then we see them every month for the first year of life which is about double the primary care for a typical well child." This gives the clinic staff and parents time to get to know each other, to build trust, and to work together to foster the best possible outcome for parents and children.
A major driver for the frequent support is the care coordination that takes place for the mother - whether it be mental health services, help with the Department of Child and Family Services, child care support or care for their addiction. Within the same BMC clinic where their babies are seen, mothers receive their primary medical care as well as medication for addiction treatment (MAT) and/or Hepatitis C care.
Mothers are often living in programs distant from the hospital and are required to keep numerous appointments over the first year to address their own physical and mental health as well as maintain their recovery. Infants born to mothers with opiate use disorder require special follow-up care for their growth, in utero Hepatitis C exposure, and ophthalmology care, as infants with prenatal exposure have higher rate of ophthalmologic anomalies. SOFAR provides all these services in one place to decrease the burden of travelling to multiple appointments while participating in a recovery program.
Ashlee Ryan was a participant in BMC's Project RESPECT, a program for pregnant women with SUD, after she relapsed and became pregnant with her third child.
"They just really helped me," said Ryan. "They got me into a program. They set me up with a doctor and a case worker who just helped me with everything. I stayed in my halfway house for 11 months and went to Project RESPECT every other week. I got reconnected with my networks I had before I had relapsed and really got my life together."
Ryan has stayed with it and is now with Project SOFAR where her baby has her appointments and where she gets treatment for her addiction as well as the emotional support she so clearly appreciates.
"Everyone (at the clinic) knows my situation," she said. "They are always asking about my recovery and what they can do to help. It's really good to have a program where I can be so open and honest about my life."
At the center of that support is Eileen Costello.
"Every time I go to see Dr. Costello, we have a great conversation. She tells me I'm doing a great job with Leila. She's helped me with everything."
In addition to their bond over Leila, Costello and Ryan share an understanding about the power of addiction as well as the triumph and promise of recovery. As a child, Costello lived with an alcoholic father who eventually recovered at the age of 50. "It was completely transformative for our family," she said. "I know how desperately hard it is to be successful at this but I also believe that people can do it."
Ryan's life had barely begun before she turned to drugs at 13. She was homeless at 16 when she began smoking crack and injecting heroine. Previously sober for five years, she is determined to remain so again. "You always hear people say 'I lost everything' but in my case, I never had anything to lose," she said. "When I got sober, I said to myself, 'I want to have a life.'"
Ashlee Ryan bravely tells her story so that other people, particularly moms, know that they are not alone and there is a circle of support out there to help.