Fritz Gorst: Living Life to the Fullest
---
Fritz Gorst had always lived a very healthy and active life, raising two daughters with his wife, Linda in a southern Massachusetts suburb. So, when he first noticed swelling in his ankles in the winter of 2013, he attributed it to getting older. The swelling got so bad however, that when spring rolled around, Fritz couldn't even take his shoes off, or partake in his favorite hobby: golf.
As time went on, the swelling grew worse, traveling from his feet to his thighs. Clearly uncomfortable, Fritz visited his primary care doctor to assess the issue. Fritz's PCP referred him to a specialist in Boston, who found too much protein in Fritz's urine. Soon thereafter, in August 2013, a nephrologist provided the unthinkable diagnosis: Fritz had Amyloidosis.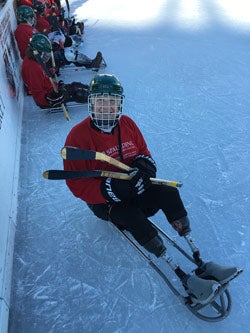 Amyloidosis is defined as a rare group of diseases caused by the abnormal accumulation of the protein amyloid deposits in various parts of the body (in Fritz' case, his kidneys). At 61 years old, Fritz was ready to attack the disease head on. He immediately visited with physicians at Boston Medical Center's Amyloidosis Center – one of the few centers in the country where Amyloidosis is treated with a multidisciplinary team approach. In October 2013, Fritz underwent high dose chemotherapy and autologous stem cell transplantation. Sadly, about one month into treatment, complications arose that ultimately led to both of Fritz's legs having to be amputated below the knee.
Fritz's family temporarily relocated to Boston to be at his side throughout his treatment. Immediately following surgery, he began intense rehabilitation at Spaulding Rehabilitation Hospital, where he was fitted for prosthetics, and practiced completing daily tasks. As he regained his strength, his motivation also increased. Amid another round of chemotherapy in spring 2014, Fritz maintained his energy by swimming, exercising, and staying active every chance he got.
It has been a long road for Fritz and his family, but today, he is doing wonderfully. October 2015 marked his two-year anniversary of completing stem-cell transplantation treatment, which doctors have deemed incredibly successful. "Mr. Gorst's incredible journey of fighting AL amyloidosis is inspiring to us all," says Vaishali Sanchorawala, MD and Clinical Director of the Stem Cell Transplant Program at BMC. "It is a remarkable story with all the best elements of – heroism, courage, and positive attitude towards life."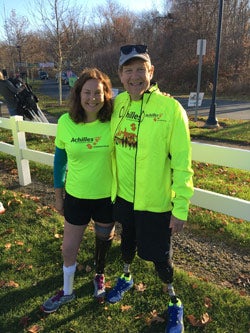 Fritz was able to return to his full-time job in October 2015, and – most importantly – he is back on the golf course! He attributes his exceptional recovery to those who were with him every step of the way at Boston Medical Center. "I was truly treated like a member of the family," Fritz told us. "Everyone – doctors, nurses, even administrative staff – were so compassionate and were really pulling for me throughout the process."
"I hate the phrase 'new normal'," Fritz says. "My situation is new, but it isn't normal". When asked how he has continued to stay so positive throughout this journey, he says that positivity was – and remains – the only option. "When you're faced with (a diagnosis like Amyloidosis), there's nothing left to do besides figure it out."