The CATALYST Clinic at BMC
---
In May 2016, Boston Medical Center launched the CATALYST Clinic, a program designed to treat young people aged 25 and under who are struggling with substance use, or who have experimented with drugs and alcohol and may be at risk for developing an addiction. According to the National Institute on Drug Abuse (NIDA), 35.3 percent of high school seniors in the U.S. have used alcohol in the past month, 21.3 percent have used marijuana, and 23.6 percent have used illicit drugs like heroin and other opioids.
The CATALYST Clinic (Center for Addiction Treatment for AdoLescent/Young adults who use SubsTances) was founded by Sarah Bagley, MD, who specializes in adolescent medicine. The CATALYST Clinic team works to provide interdisciplinary, team-based care that includes physicians, a nurse, a social worker, a community outreach navigator and a program manager. The CATALYST Clinic team works together to offer assessment, diagnosis, and treatment of various substance use disorders, as well as a transition from adolescent to adult care when appropriate.
"As we move toward decreasing the stigma for addiction treatment, it is more important than ever to increase access to care, including offering substance use treatment services in primary care and general health settings," Dr. Bagley says. "This way, patients are able to have medical care, pregnancy prevention, screening for sexually transmitted infections and substance use treatment all in one place."
Aside from the assessment and diagnosis of substance use disorders, other services offered include medication treatment for disorders where it's appropriate, one-on-one therapy with a licensed social worker, access to primary care, HIV/hepatitis screening and linkage to treatment, as well as harm reduction and overdose education.
Dr. Bagley does stress that the CATALYST Clinic is not a detox or an intensive inpatient/outpatient program. "We know that some patients will need other levels of care," she says. "Our goal is to be a home for patients to help navigate the complex treatment system, no matter where they are on the continuum of what care they need."
Currently, patients are referred to the clinic by BMC providers, either from the Adolescent Center or General Internal Medicine. However, Dr. Bagley hopes to expand the programs' reach outside of the BMC community in the future.
For more information about the CATALYST Clinic, visit the Catalyst Clinic or call 617.414.6655.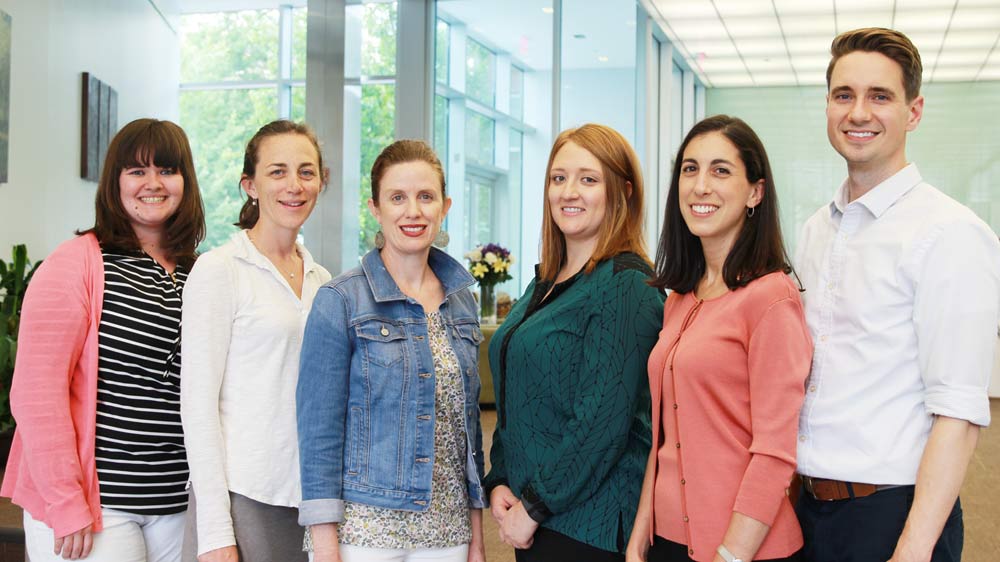 The CATALYST Clinic Team, pictured left to right: Britt Carney, MS; Sarah Bagley, MD; Kristen O'Connor, RN, BSN; Ellen Kreida, LICSW, MPH; Julia Potter, MD; Scott Hadland, MD