News Release Archives
Congratulations Keri McDonough, RN!
May 11, 2017
Congratulations to Keri McDonough, winner of Boston Medical Center's 3rd annual "Nominate a Nurse" contest!
"Case management usually goes unnoticed, but Keri deserves to be recognized," wrote Danielle Brandt, RN, Keri's colleague in Menino's Care Management department. "Keri will stay late, doesn't complain, and go the extra mile with families and patients to make sure that they are okay, safe, and that every issue has been addressed. She treats each patient as an opportunity to make a difference."
Keri was surprised with flowers and a card containing Danielle's nomination, in honor of National Nurses Week. Each year, Nurses Week recognizes the incredible contributions made by nurses. Nurses Week takes place from May 6 through May 12, which is also the birthday of Florence Nightingale, who is considered the founder of modern nursing.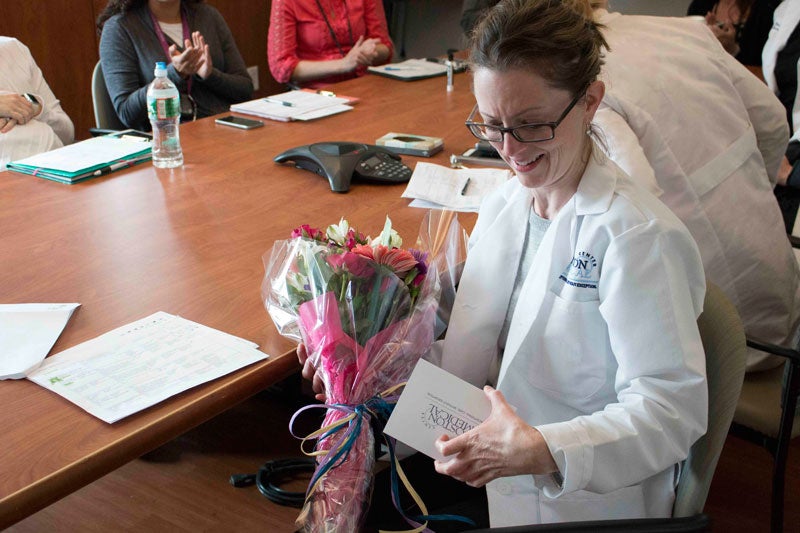 "Keri always wants the staff to remember what a powerful tool we all possess to make a difference in the lives of our patients and families each and every day," says Director of Care Management, Wanda Carlson. Keri has worked at BMC for three years.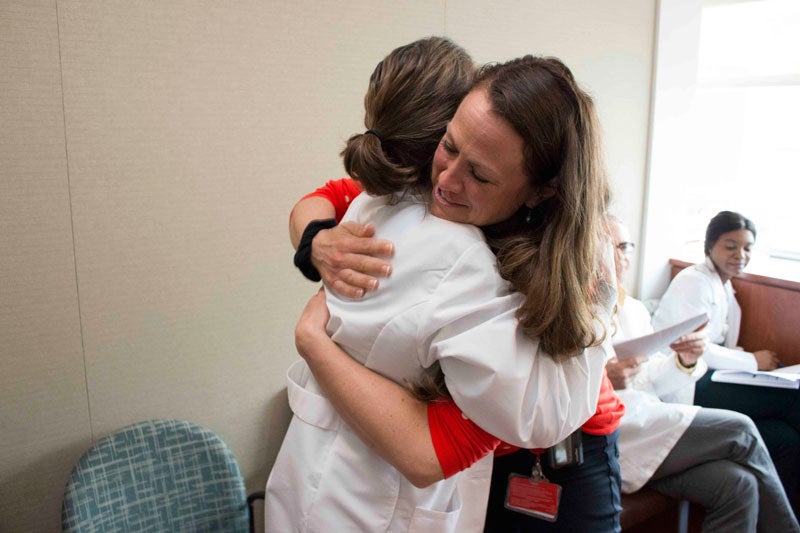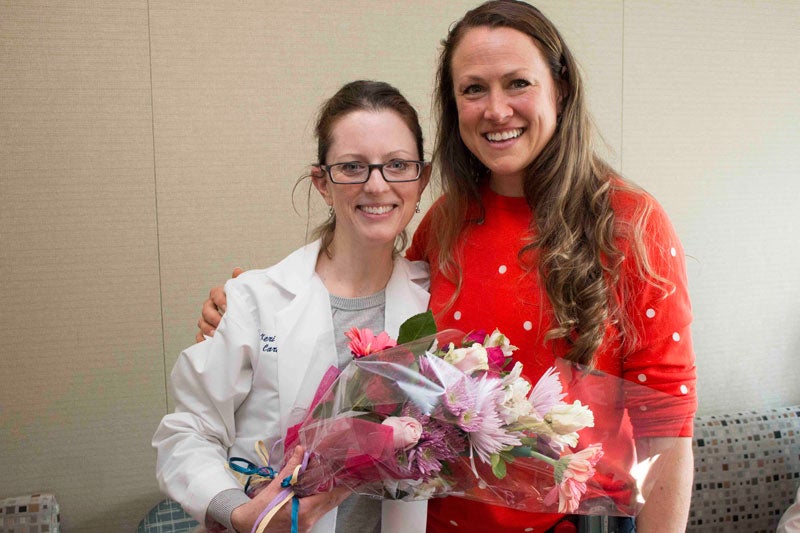 Boston Medical Center is proud to celebrate the role our nurses play in delivering the highest level of quality care to our patients. This year, we received a variety of nominations submitted by BMC patients and staff, explaining why their favorite nurse should be chosen! Each nominated nurse will receive a card letting them know that words of praise were submitted on their behalf. Our nursing staff provides care for countless patients and families, offering the highest levels of comfort during their time here at BMC.
Thanks to all who participated in this year's contest, and congratulations again to Keri!
Congratulations to our other nominees:
Mary Angelides – Pediatric Primary Care
Karitas Arnardottir – Labor & Delivery
Monica Bento – Emergency Department
Pauliene Brown – Emergency Department
Deborah Carey – Neonatal ICU
Hope Carlisle – Orthopedic Surgery
Lily Coelho – Menino OR
Kathleen Daly – Psych ED
Ana Dorego Karnesky – Labor & Delivery
Carole Harris – Pediatric ED
Maureen Hilchey-Masters – Oral Surgery
Megan Mawe – GIM
Ann McDonough – Geriatrics
Kelli-Ann Moran – 8NCCU
Laura Murphy – Float Pool
Christine Naoum-Heffernan – Pediatric Pain Clinic
Adrian O'Brien – Menino OR
Cindy O'Neil – Newton 8E
Hannah Simons – Mother Baby Unit
Julie Swain – 5 West IMCU
Katlyn Tofani – Menino 6W
Waltha Toussaint – GIM/Primary Care
Natalie VanEe – GIM/Primary Care