The BMC Brief
June 26, 2015 Volume 4, Issue 8
June 26, 2016
Town Hall Meetings Focus on Moving BMC Forward
Staff gathered on June 24 for the second Town Hall Meetings of the year to hear Kate Walsh, President and CEO, update the community on BMC's strategic plan "refresh," the clinical campus redesign, patient experience, and staff wellbeing.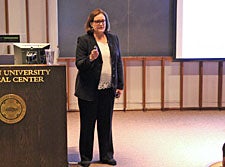 Kate Walsh, BMC President and CEO
Walsh opened the meeting by addressing the hospital's recent decision to conclude merger discussions with Tufts Medical Center. While BMC has made great strides over the years, new payment methods and a market trend toward declining inpatient utilization necessitate a new way of thinking about how and where to deliver care to patients, she told the audience. This changing landscape, happening both locally and nationally, led to BMC's discussions with Tufts. While the discussions were complex from the beginning due to the size and scope of both organizations, they were productive, focusing on key shared goals. As the discussions continued, however, the inherent differences between the two organizations became amplified, ultimately leading BMC to conclude a merger was not in its best interest. However, "we learned a lot about ourselves as an organization that will benefit BMC going forward and parted ways with great respect for Tufts Medical Center," Walsh said.
She continued by saying BMC is strong, with both the hospital and the health plan slightly ahead of budget this fiscal year. Other areas of strength include a new primary care marketing campaign, the clinical campus redesign, which is on schedule and budget, the hospital's partnership with 13 community health centers, and the recent conclusion of the two and a half year eMERGE electronic health record implementation.
"As we expected, teams are still working on some eMERGE issues, but I can't imagine this implementation going any better" said Walsh. "For the second time, we received a 4.75 out of 5 from Epic on our go-live. This is outstanding, and I thank you for your hard work throughout this entire journey."
Along with eMERGE, the clinical campus redesign is helping to create a fully modernized hospital. "When the redesign is finished in 2017, we will have the best facilities in Boston," said Walsh.
She then highlighted upcoming redesign activities:
3-6 months: The Moakley addition, renovated Yawkey lobby, and new Yawkey cafeteria will open and steel work will continue on the Menino addition.
6-12 months: Endoscopy suite opens in Moakley addition, Women and Infants' Center opens in Yawkey, the gift shop and café opens in Menino Pavilion, and the yellow tube over Albany Street comes down and will eventually be replaced with a glass bridge to transport patients from the hospital's helipad.
To further strengthen BMC, Walsh said the hospital will refresh its Be Exceptional strategic plan this summer, and look to grow through several key areas, including community health centers, subspecialties, and the health plan. Growth will also be fueled by the fact that BMC is a high quality, low cost care choice in the market, which will become increasingly important as consumers face paying a higher share of their health care costs.
Growth in all these areas will help BMC respond to market challenges, but will require a team effort, she said. Everyone can help improve access to services, whether by directing patients to their appointments or helping them over the phone. In addition, BMC will emphasize continued financial discipline and sharpen the focus on key priorities.
The first of these key priorities will be patient experience and satisfaction. While the respectful care staff provide for patients will be an asset as BMC grows, there is much work to be done in increasing patient satisfaction.
"We know we provide exceptional care," said Walsh, "but our patients tell us they experience that care in a different way than we think. We have at times met our QUEST goals in patient satisfaction, which tells us that we can increase patient satisfaction, but we have not met these goals consistently. We have to earn our patients' business by responding not just to their medical needs, but their emotional needs as well."
Many initiatives have been put in place or will be soon to improve in areas patients identify as key, including posting wait times for each provider in all ambulatory clinics, customer service training for front desk staff, and Nursing using the standardized IPASS process for bedside handoff. Walsh also suggested that everyone can help by introducing themselves to patients, including patients in decisions regarding their treatment, helping visitors navigate campus, and returning wheelchairs to lobbies.
"Nobody comes to work to not meet patient expectations," said Walsh. "This is a systemic issue, and we need to pick apart the processes that lead to low patient satisfaction scores. Moving our broken systems into new facilities space won't fix any issues. We need to fix them."
Next, Walsh moved on to employee wellbeing, which has been another focus at BMC this year. A new wellbeing benefit has been rolled out each month of 2015, including Care.com, Circles, college financing and homebuying support, and LearnVest. An upcoming benefit will be QuickCharge, which will allow employees to add money to their ID badges to pay for items in the cafeterias and gift shop.
Along with employee wellbeing, BMC is working on systems to help employees work more efficiently and move BMC into the future, said Walsh. With this in mind, Project Evolve, a new Human Resources information system, will launch later this year. The system will eliminate paper and many manual processes; for example, timesheets will be submitted electronically and it will be easier for employees to change personal information, such as name and address changes.
"The new system will help all of us get our work done more efficiently, which will leave more time for both our patients and ourselves," said Walsh. "We are working to implement Evolve quickly, so we will need each of you to participate in upcoming trainings and enrollment events, familiarize yourself with available resources, and be patient with the change process."
Walsh then ended the meeting by noting recent awards received by the hospital and staff members, and playing the video from the 2015 BMC Gala, which highlighted the Comprehensive Care Program, Birth Sisters, Project Respect, and Project ASSERT.
"We have a lot of change going on at BMC, and I thank you for your hard work," she said. "Thank you for everything you do every day."
To view a recording of the Town Hall Meeting, visit the homepage of the intranet.
Third Annual Be Exceptional Awards Celebrate the Best of BMC
On June 17, staff cheered for their colleagues as BMC gathered to celebrate the winners of the third annual Be Exceptional Awards. The 20 individual winners and eight team winners, who were selected from a pool of over 200 nominations, were chosen for their exceptional performance and dedication to fulfilling BMC's mission and the four QUEST goals: quality, efficiency, satisfaction, and total revenue.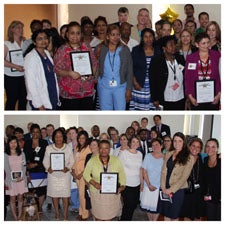 2015 Be Exceptional Award winners
"It's great that we can pause and recognize the exceptional work our winners do," said Kate Walsh, President and CEO, who opened the ceremony and handed out awards. "Our awardees come from all over the hospital, but what they have in common is the shared admiration of their colleagues and a commitment to the patients we have the privilege to serve. It's really incredible to see the critical mass of excellence in this room. Our winners represent what BMC is all about."
Lisa Kelly-Croswell, Vice President of Human Resources, was also on hand to help hand out team awards, saying, "the ways in which we care for patients may diverge, but we're all here for the same thing: to care for patients. These teams have figured out their 'how' and have done an exceptional job of it."
The following staff members were awarded individual Be Exceptional Awards:
Alex Akoumianakis, Liaison, Outpatient Pharmacy
As a liaison in the Outpatient Pharmacy, Akoumianakis helps patients with medication issues and "lives and breathes exceptional care without exception." She treats all her patients with dignity and respect, regardless of their clinical, cultural, or social background, and is willing to go above and beyond every day to ensure her patients get their correct prescriptions. Her colleagues say she is great at thinking outside the box for her patients and remaining persistent in the face of obstacles.
Marie Antoine, CNA, 6West
Antoine, in addition to her nursing duties on Menino 6West, has led orientation for many nursing assistants on 6West and other units, and specifically helps physicians with Haitian patients. Recently Antoine escorted a patient who was at BMC for over two years back to his home in Haiti, then immediately returned to BMC to continue her work. Her colleagues say she cares for her patients as if they are her own family, showing compassion, respect, and caring for all patients and working with enthusiasm and grace. According to the colleague who nominated her, Antoine "is truly an example of what BMC stands for."
Denise Catania, Polysomnographic Technologist, Sleep Lab
Catania has been at BMC for 26 years and is always willing to use her knowledge to answer patient questions and offer guidance and assistance to staff on any requests or technical issues they might have. This year she assumed a leadership role in the Sleep Lab and jumped right in to identify what needed to be accomplished.
Joseph Crimi, Radiology Lead Film Librarian, Radiology
As the lead film librarian in Radiology, Crimi can frequently be seen running across campus to deliver CDs or bring a surgeon a film in the OR, helping x-ray staff when film bins or shredders are full, and proactively taking on anything else that comes his way. According to his colleagues, there's nothing Crimi wouldn't do for BMC and he always puts his patients first. Comment calls are left regularly in Radiology praising Crimi for his helpfulness.
Sherri Dagger, Histotechnologist II, Pathology Lab
Dagger works in the Surgical Pathology Grossing Room, where her focus on quality patient care has improved the turnaround time for cases and decreased errors. In addition to her regular work, Dagger serves on the Pathology and Laboratory Medicine Safety committee, the Laboratory Ebola team, and the Quality Improvement team. She is admired by her peers for her determination and for interacting with everyone, from patients to clinicians to non-BMC staff with the utmost respect.
Patricia Dhooge, Nurse Practitioner, Orthopedics
Dhooge has been a nurse practitioner for 18 years and manages the preoperative care for a large number of complex patients. According to her colleagues, she sets the standard for patient-based care and is able to meet both patients' needs and the requirements for a quality and safe surgical practice, including facilitating clear communication between primary care physicians, specialty physicians, and anesthesiologists. She works exceptionally well with patients who do not speak English, utilizing translators, and has received countless compliments from patients about her compassionate, effective, and efficient care. She works hard to make sure nothing falls through the cracks and to address every possible issue with a clear plan to ensure patient safety.
Anna Fitzgerald, Medical Director, Psychiatry
Fitzgerald has worked tirelessly to champion a new emergency psychiatry space in the ED and form a true community for patients and staff within Psychiatry. One nominator says she works hard to promote a positive culture for both her team and patients, and has genuine compassion for the most psychiatrically ill population. She serves as a role model for the entire multidisciplinary Psychiatry team and cares deeply that patients have the best experience possible. According to another nominator, Fitzgerald is "a wonderful individual who is humble, caring, dedicated, and open to everyone she meets."
Andrea Forman, Supervisor, Respiratory Care
Forman has a long list of accomplishments within Respiratory Care, including creating a simulation program with Dr. Reardon on bronchoscopy procedures and becoming a certified facilitator for simulation-based education, leading quality improvement projects as a member of the Skin committee, and becoming credentialed as a neonatal pediatric specialist and adult critical care specialist. Forman's colleagues say that she is professional, conscientious, diligent, accountable, collaborative, ambitious, and makes a strong positive impact on those around her.
Rachael Greer, eMERGE Application Analyst, Information Technology Services
Greer was the lead configuration analyst on the eMERGE team who worked with Nursing to ensure the system was built to their needs. Greer spent many hours designing, building, and redesigning templates and flow sheets so that eMERGE would support the nursing workforce. Although she has a quiet demeanor, according to her colleagues, she is driven, hardworking, and very involved with her projects. She is not satisfied until her end users are satisfied.
Michael Hurley, Clinical Engineer, Clinical Engineering
Most BMC staff know that Dexter, the boxer dog in the Healing Pups program, is a superstar at BMC, but fewer people may know that his owner, Hurley, is one too. As Dexter's handler, Hurley brightens the day of patients and staff throughout the hospital, allowing them to take their minds off stress situations. He comes to BMC with Dexter on holidays to see staff who can't be with their families and during his off hours to see patients who need an extra boost. Hurley's positive impact is reflected in patient feedback; he has been approached on the street by homeless people who tell him that he and Dexter were the only visitors they had during their stay at BMC and how much it meant to them.
Terrance Hurley, Assistant Controller, Accounts Payable
Hurley is an assistant controller in Finance, where he has worked to streamline financial meetings, expand the scope of financial analyses, and conduct audits. Because of his team's work, BMC achieved a $25,000 savings audit goal for the past fiscal year. He is known as the "go-to person" for accounting issues, especially for non-accountants, and his colleagues say he always remains calm, and patient, even in stressful situations. He consistently exceeds expectations and empowers his team, while meeting aggressive timelines.
Susan Messer, RN, Labor and Delivery
Messer, is a staff nurse who works overnight in Labor and Delivery. Her colleagues say she has keen clinical judgment, compassion, and incredible respect for patients of all backgrounds. She consistently takes responsibility for her patients and their care, and has the ability to develop an excellent rapport with them. "Our unit feels happier, safer, and more controlled with Susie is on the roster," wrote a nominator, while others cited her positive attitude as uplifting for both staff and patients.
Vinh Nguyen, Pharmacy Liaison, Pharmacy
For the last year, Nguyenhas been directly involved in the outpatient management of high-risk HIV-positive patients in the Infectious Disease clinic. In this role, according to his colleagues, he is consistently patient, empathic, compassionate, and respectful, considering the unique needs of each patient. He works creatively to construct plans to ensure that patients consistently receive their antiretroviral therapy, whether it's arranging for home delivery or coordinating with outside pharmacies. He goes above and beyond to communicate with staff across the hospital to ensure patients get what they need, and has improved safety and clinical outcomes for his patients.
Neil O'Neil, Operations Manager, Laboratory Administration
O'Neil is operations manager in Phlebotomy Services and Central Receiving, and recently served as the lead for the eMERGE implementation in those areas. He is known as a natural problem solver who is quick to take action and is completely focused on patient and employee satisfaction. This past winter, he often brought in food and coffee to keep his staff's spirits up during the long winter. His colleagues say that he is always willing to go the extra mile to help out where needed and note that he is highly respected throughout BMC for this trait.
Sandhya Rao, MD, Medical Director, Palliative Care, GIM
Rao was recently appointed director of Palliative Care after years of tireless and altruistic work. She is always available to help when an employee needs to have a difficult conversation about a patient's care goals, end of life needs, or unbearable quality of life. Her colleagues say Rao exemplifies BMC's RESPECT values, and treats patients and families with empathy, focuses on patient dignity and comfort, provides practical solutions in difficult situations, and ensures that plans of care are implemented efficiently.
Shantall Robinson, ASR11, Dermatology
Robinson is known as an exceptionally productive member of the Dermatology department who exceeds many practice productivity targets through her creative problem solving. She works hard to ensure that patients feel welcome, and has developed a new workflow for engaging patients. Robinson has developed strong relationships with her patients, always remembering names and details about their lives, and makes an effort to speak to them in their primary language.
Patience Sampson, Social Worker, Grow Clinic
Sampson has been a social worker at the Grow Clinic for over 20 years, and is known for working with care, empathy, and concern for her patients. She listens to patients and is always willing to help her coworkers and patients with their problems and concerns. Sampson is able to quickly establish trusting relationships with parental guardians, which helps her gain necessarily information to ensure her patients get the best care possible.
Nathan Stanford, General Service Associate, Environmental Services
As a general services associate, Stanford spends most of his days at BMC organizing areas of each building. According to a coworker, Stanford always has a smile "so big it's contagious," and his positive attitude and genuine kindness make him an exceptional employee and colleague. According to his nominator, "If you're having a hard day, all you need is for Nate to come through the door and you are instantly in a better mood!"
Ashlyn Tate, Practice Manager, Adult Primary Care
As a practice manager in Adult Primary Care, Tate goes above and beyond to ensure that both her staff and patients are content and well-served. She makes patients feel special, greeting them as they pass and asking them about their lives. This kindness is evident in all interactions she has throughout her day, say her colleagues. Tate has made efforts to nurture relationships with other departments around the hospital and to learn department workflows to find a process that works for everyone.
Bridget Wagner, Manager, Analytics Infrastructure, Public Reporting
Wagner has been instrumental in the successful design and implementation of BMC's new Professional Analytics Reporting tool, which allows practice management and physicians to improve revenue cycle performance. Wagner managed the team of dedicated employees who worked on this project, and when the team lost the system they had been building, she dedicated substantial personal effort and rallied them to rebuild the system, while making additional improvements. Her "can-do" attitude, patience, and understanding make her a great employee and team leader.
BMC awarded Be Exceptional Team Awards to the following teams. Please visit the intranet to see a full list of team members.
Cardiology Clinic (Preston)
The Cardiology clinical team delivers high-quality, compassionate service to all their patients. They have designed a system, Transitions of Care Program, to help coordinate the transition from inpatient to outpatient care, with the goal of reducing the 30-day readmission rate – a QUEST goal for this year. The clinic's staff has grown this program by working closely with providers across the hospital to ensure patients' needs are met and medical concerns are addressed, which has involved flexible and "out-of-the-box" thinking.
Environmental Services
The Environmental Services team works tirelessly to ensure that BMC's hallways, patient rooms, and public spaces are clean and presentable. They are a critical part of BMC, making it possible for others throughout the hospital to accomplish their jobs. Thanks to their hard work in a partnership with Nursing, there has been a 10 percent reduction in bed turnaround time. The Environmental Services team's positive attitudes and compassion have also contributed enormously to BMC's two percent improvement in courtesy on the patient survey.
Menino 6West
Menino 6West proactively took steps to prevent falls in the high-risk geriatric population they serve, leading to a decrease in the rate of falls and to more efficient patient care on the unit. As a result of their work, a hospital-wide Fall Prevention committee was formed and their fall prevention solution – to cluster patient assignments geographically – has spread to other units throughout BMC. Menino 6West has also partnered with the Northeastern University School of Industrial Engineering to continue education, communication improvements, and post-fall evaluation.
Patient Financial Services Outreach Program
The Affordable Care Act has led to a flood of patients seeking health insurance, and the Patient Financial Services Outreach Program has helped patients kindly, respectfully, and without judgment. If there is a patient crisis, the team pulls together to figure out what will benefit patients the most, and they always put patients' needs first.
Health Safety Net Payment Collections: Accounts Receivable and Revenue Information Systems
By working collaboratively and creatively, the Health Safety Net Accounts Receivable team and Revenue Information Systems team were able to resubmit 65,000 account charges to the Health Safety Net for payment, on top of their daily operational responsibilities. This included 13,000 claims that had to be manually entered into the hospital billing system, and many on the team worked well beyond their normal working hours to ensure that BMC would be paid for outstanding claims. Their efforts brought in $11 million worth of payments to BMC, which was $2 million above expectations.
Pastoral Care
Reverend Jennie Gould and Chaplain Sam Lowe not only provide a comforting presence during crises, but also work with patients in everyday situations where a kind word, a listening ear, or a prayer makes a world of difference. Gould and Lowe are on call 24/7 and often get up in the middle of the night to help with difficult situations at the hospital. They are among the first people providers page when confronted by a highly-emotional situation and they understand the critical link between faith, comfort, and healing for patients, staff, and visitors. Their support for patients has consistently helped drive both patient and employee satisfaction throughout the hospital.
After Midnight Program Pilot
The After Midnight Program pilot ran this past winter and spring to provide services for patients who are victims of commercial sexual exploitation. The team – all of whom volunteered their time and expertise – conducted focus groups with victims and providers to determine, in a patient-centered way, what services are necessary, with this program as the result. They began providing a wide variety of services, including education for staff, 24/7 pager coverage, and collaboration with community stakeholders. During the pilot, 39 trafficked patients were identified and received services and many have openly praised the program and continue to receive services at BMC. The success of this approach was evident, and plans are being made to extend services.
SPARK, Early Care & Education, Mattapan
The Early Care and Education team at the SPARK Center provides the highest-quality therapeutic and education intervention to infants, toddlers, and preschoolers with complex and special needs. They not only provide care for complex health and psychiatric challenges, but also work to stabilize fragile, low-income families, and encourage parents in their parenting roles. Team members are resourceful, patient, compassionate, and relentlessly positive about their mission. They maintain an unflappable and respectful approach to the children they serve, to encourage, reassure, teach, and love them.
Congratulations to all the 2015 winners!
Patient Safety and Quality Improvement Initiatives Make Strides at BMC
Boston Medical Center has consistently offered safe, exceptional care to all patients, but most staff members know that there is always room for improvement. To that end, a variety of patient safety and quality improvement projects are happening every day, across the hospital, to ensure that patients receive the best possible care. Highlighted below are examples of successful projects recently implemented at BMC.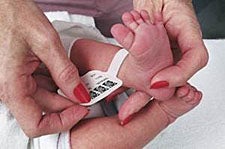 Finding the Right ID Bands for Babies
When BMC switched to eMERGE, a new system was put in place to ensure that patients were getting the correct medication. The process involved scanning the medication to make sure it correlated with the doctor's orders, then scanning the patient's hospital band to confirm everything was correct. However, while this process worked well for adults, BMC didn't have the correct bands for pediatric patients and infants, who needed smaller, softer, and more flexible bands. Representatives from Maternal Child Health and the eMERGE team worked together to ensure all Maternal Child Health patients have the bands they need, which has led to a 99 percent compliance rate with the Joint Commission medication administration goals.
When eMERGE was first implemented, nurses worked out a system to create bands for babies that could be scanned, which included making a chain of the mother's band and a baby band and putting that on the baby's foot. While this allowed nurses to scan both a mother and baby's medical record numbers for correct medication administration, larger babies were getting caught in the bands and skin breakdown was occurring in premature babies. After identifying a need for new bands, nurses and the eMERGE team collaborated to find the resources they needed, including new printers, software, and smaller, softer bands. ITS then trained nurses on each unit so they can print bands at the time of delivery or admittance.
"This is an excellent example of two different teams collaborating to benefit our patients," says Mary Jo Pedulla, RNC-MNN, BSN, MS, Director of Nursing in Maternal Child Health. "This inclusive group was able to ensure we could meet the needs of both nurses and patients using our new eMERGE system."
In addition to helping BMC meet national patient safety goals by reducing the risk of medication errors, the new bands help prevent adverse effects from the bands themselves and help make certain tasks easier for nurses. For example, the band is designed like a luggage tag, with a part that can stay outside the blanket, so nurses do not have to wake up babies to scan their tags and administer medication. Pedulla says that she is looking at further uses for the bands, such as being able to match mothers and babies through a coding system.
Preventing Central Line Infections in NICU
Infections in a central line – the thin tube used to deliver medications, fluids, and nutrients to the body – happen throughout hospitals, but they can be particularly devastating when they happen to babies in the Neonatal Intensive Care Unit (NICU). Because a central line allows providers to avoid using multiple IVs in the newborn's hand and feet, an infection means not only increased morbidity and longer length of stay, but also a further unpleasant and painful experience for the baby. To address this problem, the BMC NICU implemented a quality improvement project that has led to over two years without a central line infection, which makes BMC second in the state on this metric. In fact, there were no infections at all in the NICU in 2014.
Three years ago, the NICU, which has 22 beds and serves approximately 300 patients a year, began working together with the nine other NICUs in Massachusetts to come up with a protocol for reducing central line infections – at the time, BMC's were higher than the state average. The protocol they devised includes identifying that a provider is working with the right baby, going through a specific technique for both inserting and changing the central line, and having a dedicated central line team, which at BMC is two nurses and a physician who handle all insertions and dressing changes. When the NICU switched to eMERGE, this protocol was built into the system to ensure it spread throughout the unit. In addition, central lines and whether or not a particular baby still needs one are discussed in daily rounds.
"The NICU team was an integral part of making these changes," says Stacy Dow, RN, NICU Nurse Manager. "When you involve the whole team, everyone plays a part in making and sustaining change. Discussing the need for the central line every day in rounds is an example of best-practice and results in an awareness of exactly what the baby needs.
"Going over two years without a central line infection speaks to the vigilance of the nursing team in the NICU," says Mary Jo Pedulla, RNC-MNN, BSN, MS, Director of Nursing in Maternal Child Health. "They received substantial education, were focused on their practice, and took significant accountability for the care of central lines. This is phenomenal work."
Sending Care Transition Plans to Primary Care Physicians
BMC treats many patients who utilize MassHealth for their insurance and is also part of MassHealth's pay for performance program, in which the hospital receives payments for meeting certain quality measures – these payments are separate from what MassHealth pays for patient care. One set of measures is care coordination, which includes a measure that providers who will take care of a patient post-discharge from the hospital will receive transition records within two days of discharge. This timely communication helps prevent readmissions and leads to more positive outcomes for patients post-hospital. In March, after a steady increase in performance on this measure, BMC achieved a 100 percent rate of providers receiving care transition plans, which has the potential to earn BMC $350,000 in incentive payment.
"This is an extremely tricky measure to meet at a large teaching hospital," says Meg Waite, RN, BSN, MPH, a clinical data abstractor who worked with the Health Information Management department (HIM) to improve scores on this measure. "Our patients come from all over the state, which means we can't always rely on eMERGE to send transition records, and some patients might not have a primary care physician at all."
Because the measure involves transmitting patient information, HIM took on responsibility for sending the transition records. To do this, they set up a process where they receive a report of all MassHealth discharges from the previous day and assign a staff member to either email a BMC physician to inform them that the transition record is available or fax the appropriate information to an outside provider.
"The department has really taken ownership of this as their responsibility," says Rebecca Bratten, MSA, RHIT, Senior Director of HIM. "We've expanded the report to cast as wide a net as possible for MassHealth patients, and that has helped us achieve these numbers, but what's most important is how everyone has stepped up to ensure the work gets done. I'm very proud of what they've done to accomplish this goal."
Starting Operating Room Cases on Time
In a busy hospital like BMC, sticking to a schedule can lead to more efficient care and higher patient and employee satisfaction. A tight schedule is particularly important in the operating room, but an analysis found that only 50 percent of first cases (the first scheduled surgery of the day) were starting on time, which not only created backlogs at the end of the day, but also caused dissatisfaction and nervousness for patients. Many factors can delay start times in the operating room, from a doctor or patient getting stuck in traffic to not having all the necessary operating room tools at start time. Earlier this year, a working group was formed to pinpoint the causes of delayed start times and fix these issues. In the first five weeks of the initiative, their efforts have been successful in increasing the number of on-time first case starts to over 80 percent – and that percentage has even gone into the mid-90s.
"There's been a real sense of accomplishment in our success," says Janine Hardman, RN, BSN, Nurse Manager for the Newton Pavilion operating rooms. "Together we have a can-do attitude and team approach where everyone has owned a piece of this process and works together to ensure on-time starts. We are all invested in having clearer communication and more efficiency across operating rooms in all three buildings."
To achieve its goal, the working group started by thinking through all of the stakeholders involved and determining what deliverable was needed from each group. For example, the working group asked anesthesiologists to come in earlier to prepare patients before they get to the OR, nurses to meet the anesthesiologist in the pre-op area five minutes before the surgery is scheduled to help take the patient to the OR, and surgeons to come in at least half an hour before the scheduled start time and be in the OR at the start time. Case starts were also staggered in a way that made it possible for the anesthesiologists to optimize their ability to start the cases on time and for nurses to ensure they are where they need to be for each surgery. Nurses now also prepare the evening before each surgery, making sure all necessary equipment is accounted for and organizing the ORs as best as possible. To follow progress of the initiative, the working group is also keeping track of reasons cases don't start on time and provides feedback to staff if necessary.
The increase in on-time starts has led to improved patient care and a better work environment for staff, says Alik Farber, MD, Associate Chair for Clinical Operations, Surgery, and a member of the working group, but that's only the start of what the working group plans to do.
"The big issue in the OR is turnover times, which is the time is takes for the next case to come into the OR after one ends," says Farber. "Our turnover time is long right now, but we are working on a process to reduce those times, and I am extremely optimistic that we will be successful, given how successful we were in increasing first case on-time starts. Our success with the first case start initiative is a testament to the fact that BMC staff want to work together to be more efficient and provide the best care possible for their patients."
Have you recently implemented or completed a patient safety or quality improvement project? Email [email protected] and you could be featured in a future issue of the BMC Brief.
What do you do, Alexandra Wong?
Name: Alexandra Wong, MD
Title: Chief Medical Resident, General Internal Medicine (GIM)
Years at BMC: 3

What does a Chief Resident do?
In GIM, there are seven chief residents. We're responsible for various administrative and educational tasks. We plan and deliver many educational conferences for fellow residents, which includes the internal medicine morning reports and noon conferences, and we organize seminars and sometimes teach medical students. We also run some career development programs. In terms of administrative tasks, we do the schedule for all internal medicine residents and handle day-to-day scheduling issues such as someone calling out sick. We also deal with other personal or professional issues that may come up for residents. If they need help, someone to talk to, or advice, we are the sounding board for them.

We are also part of various hospital committees, such as eMERGE, to give a resident's perspective. GIM chief residents also serve as attending physicians on inpatient internal medicine teams for two-three weeks at a time, and can pick up extra shifts if necessary.
You sound busy! On average, how much sleep do you get?
My answer is probably a little atypical, because I have a three-month-old baby at home, but residents have to have 10 hours in between shifts, so hopefully everyone is getting at least six or so hours of sleep in there.
How is residency at BMC unique?
What's really unique is the patients that we see. We're exposed to many people from all kinds of backgrounds and all over the world, so we get to see a very interesting and broad spectrum of disease. Not only is it variable in what we see, but you see diseases across different stages, which you probably wouldn't get exposed to working somewhere else.
What's one thing about being a resident no one would guess?
Probably how much time we spend in front of computers, unfortunately. I think a lot of people think that as a doctor, you're not sitting at a desk as much as some other jobs, which is true, but there's a lot of paperwork and documentation that goes on behind the scenes. We do get to interact with people a lot more than in most other jobs, but you have to spend a lot of time in front of a screen.
What do you like most about working at BMC?
The patients and my colleagues. I think that a place like BMC, with the mission that we have and the patients that we serve, attracts a certain group of people to work here. People are really committed to serving the underserved and working with our particular patient population. And the patients here are amazing people with very interesting stories. It's humbling to get to work with them.
What do you do in your spare time?
I spend time with my family, especially my newborn. I take my dog to the park so he can get some exercise, and I try to stay active myself by exercising a couple of times a week. I also try to cook with some regularity. I also love to travel as much as I can, although residency doesn't leave much time for that!
Do you know a staff member who should be profiled? Send your suggestions to communications@bmc.org .
In Their Words
Patients share their BMC experience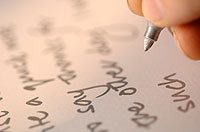 Dear Kate,
I am writing to tell you about my fantastic coworkers. I had the pleasure of being charge nurse in the ED on the overnight shift of Feb. 15-16. As you are well aware, we had a large internal disaster that impacted the upper floors after a water main broke. When I was notified about the situation, Tim Failla, RN, Christal Cholewinski, RN, Stephanie Rogers, RN, and Andrew Parent, RN, rushed to the aid of our patients and staff, climbing seven flights of stairs after the elevators were disabled. A lateral evacuation took place.
During the time my coworkers were upstairs evacuating patients, the remaining ED staff of Sarah O'Halloran, RN, Rachael Tanzilli, RN, Christopher Barrette, RN, Cheryl Melzar, RN, Steve Slaney, RN, Janet Waite, RN, Amy Bergtrom, RN, and Shannon Bush, RN, seamlessly continued to provide care for our remaining patients.
This is what the ED staff do every day! We adjust to situations as they occur. I like to call it "grace under pressure." And as always, our fantastic doctors helped keep the ED running.
Martin Gould, RN
News of Note
BMC's Catwalk for Cancer Care Celebrates Survivorship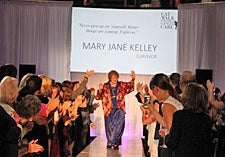 Catwalk for Cancer Care
On June 25, 14 cancer survivors and a BMC employee modeled in the fourth annual Catwalk for Cancer Care to help raise money for BMC's Cancer Care Center. The patient models, who ranged in age from 28-72 and come from all over the world, and Scharukh Jalisi, MD, Director of the Head and Neck Cancer Center of Excellence and the Division of Head and Neck Surgical Oncology and Skullbase Surgery, made this year's event into a record-breaking fundraiser. Seven local stylists/designers provided the fashions for the models, including speaker and model Olympic gold medalist Scott Hamilton, Jonathan Soroff of the Improper Bostonian, Jenny Johnson from NESN's Dining Playbook and Janet Wu from Channel 7. Kim Khazei of WHDH-TV 7 News served as the emcee for the evening.

"When you get a cancer diagnosis, your whole life changes," said Hamilton. "But BMC helps so many people with cancer and all the life issues that come with it. It's just magnificent."
The more than $275,000 raised will help the Cancer Center fund transportation services for patients otherwise unable to get to appointments, complementary therapies such as yoga and acupuncture, and patient navigation services, all of which further BMC's mission to provide full-service, comprehensive care.
BMC Community Mourns Loss of Beloved Patient Safety Risk Specialist
Maria Meklis, RN, JD, a patient safety risk specialist in Quality, Safety, and Patient Experience, passed away May 12 after suffering a devastating brain aneurysm a week earlier. Meklis, 45, joined BMC in 2013. Previously she was a nurse consultant at the CRICO Risk Management Foundation, worked at Union Hospital on the North Shore for 20 years as a registered nurse, and had her own law practice with a focus on mental health litigation.

"She was an exceptional colleague, friend, and most importantly, a part of our BMC family," says Jane Damata, RN, CPHRM, Manager of Patient Safety Risk. "She will be truly missed."

Donations in Meklis' memory can be made to the Maria Meklis Memorial Scholarship Fund c/o Eastern Bank, 156 Boston Street, Lynn, MA 01904.
BMC staff at the Boston Pride Parade
BMC Staff and Patients March in Boston Pride Parade
BMC had a strong showing at Boston's Pride Parade and Festival June 13, where employees from many departments, as well as patients, marched in the parade with "Stronger Together" T-shirts. In the crowds lining the parade route, chants of "Get your care at BMC" were heard.

At the festival in Government Center, BMC had an interactive and comprehensive collection of booths to provide information, testing, and fun for festival-goers. The Infectious Disease department provided confidential testing to hundreds. Festival-goers could participate in face painting, healthy eating games, and free acupuncture, and could gather information about BMC programs and services, including Primary Care, Integrative Medicine, the Safe Zone, and Project ASSERT. BMC's Marketing group also provided general information about the hospital to attendees. BMC's showing at the parade and festival were led by the Gay-Straight Alliance, who rallied staff members to demonstrate to the community that "diversity is in our DNA!"
Awards and Accolades
David Passafaro, Vice President of Business Development at Suffolk Construction Company and BMC's longest-serving trustee, has been awarded the Massachusetts Hospital Association Trustee Excellence in Leadership Award. The award honors significant contributions by a trustee leader whose professional achievements have been of exceptional value to health care. Passafaro was specifically recognized for ensuring BMC's dedication to serving the urban poor and for championing the way BMC's physicians, nurses, and other staff treat all patients with respect and compassion every day.