The BMC Brief
May 15, 2015 Volume 4, Issue 6
May 15, 2015
Pediatric Pain Program Offers Relief to Patients with Chronic Pain
According to the American Pain Society, chronic pain is estimated to affect up to 25-30 percent of children and adolescents globally. While chronic pain generally is poorly understood, chronic pain in children is believed to be the result of a complex interaction of biological processes, psychological factors, and sociocultural factors. At Boston Medical Center, the new Pediatric Pain Clinic works to address all these contributing factors and help patients and their families better manage acute, complex, and recurrent pain and its lasting effects.

The Pediatric Pain Clinic is an interdisciplinary pain program that runs a weekly clinic for children with chronic pain issues ranging from migraines to stomach pain to musculoskeletal pain. Children are referred to the clinic by their pediatricians or specialists and undergo an evaluation to determine a "pain plan." The plan includes comprehensive medical and behavioral interventions, as well as physical therapy, and integrative therapies, such as acupuncture if necessary. The Social Work department, which is affiliated with the program, also works with schools and families to design comprehensive pain management plans. Currently the program, which began in February, has approximately 15 patients and is growing.
"Our interdisciplinary model is the crux for helping children deal with the physical and psychosocial factors that contribute to chronic pain," says Laura Goldstein, PsyD, co-director of the pain clinic, who specializes in therapeutic interventions to improve medical coping and pain management and is trained in in biofeedback and hypnosis. "Their pain is real, and can be compounded by psychosocial issues, like anxiety, that need to be addressed in order to address pain. Children with chronic pain often withdraw from normal life, which creates a lot of stress, uncertainty, and social isolation. These all then make the pain worse, so we have to treat these factors as well."
The pain clinic was started by Caitlin Neri, MD, medical director of the Pediatric Pain Clinic who is a trained pediatric hematologist and oncologist. As a hematologist/oncologist Neri had done a significant amount of pain management for her patients and realized that other pediatric patients outside of this small population could benefit from pain management programs. To facilitate the program at BMC, she worked with leaders in Pediatrics, Psychiatry, Family Medicine, and the Center for Integrative Medicine and Healthcare Disparities to recruit providers and ensure children could get the comprehensive pain management care they needed.
"Our program is unique in several ways," says Neri. "First, BMC has a particularly large population of kids with sickle cell disease – approximately 200 – and most of them could benefit from the program. Sickle cell patients traditionally haven't had access to pain care and their pain is not easily addressed because of the medical complexity and socioeconomic barriers faced by many families. With our program, we're bringing pain management to kids who don't usually get it. Secondly, our collaboration with integrative medicine, and the range of services we can offer because of that, is a unique feature of this program."
As the program grows, Neri and Goldstein hope to expand those integrative medicine services. They are currently trying to expand acupuncture services, obtain funding for massage and reiki programs, and offer yoga classes to patients. They are also working to offer in-house physical therapy, as patients currently are sent to community partners for this service.
"The possibilities are endless," says Neri. "We can work with inpatient services to provide pain management for admitted patients. We can work on procedural pain management, such as quality initiatives to relieve needle stick pain. We can collaborate with aesthesia for more invasive regional pain management strategies. We're focused on success in the program we have now, but then the opportunities to expand are huge."
Clinicians and Computer Scientists Come Together to Predict Health Outcomes
Some things in life, like sunrises and sunsets, are predictable. Others, like traffic or the weather, are much harder to predict. Health outcomes tend to fall somewhere in the middle, but Bill Adams, MD, a Boston Medical Center pediatrician, and Yannis Paschalidis, PhD, a Boston University data scientist, are attempting to make more health outcomes predictable with an algorithm that utilizes electronic medical record data.
Their system, which is funded by a five-year grant from the National Science Foundation, utilizes anonymous data from BMC patients, which is stored in a database called I2B2. This data dates back to 2000 and includes diagnoses, procedures, admissions, length of stay, and basic demographic data. Adams had been using this data to study what works and what doesn't work in terms of health outcomes for urban patients and teamed up with Paschalidis and a team of graduate students to develop and test algorithms that can identify opportunities to alter health outcomes, some of which might be missed by researchers. Currently the team is working on an algorithm to predict whether individual patients with a history of heart disease will be hospitalized within a year. In testing this algorithm, they have been able to predict approximately 80 percent of hospitalizations.
"The health care system is not very efficient," says Paschalidis. "We spend lots of money on diseases that can be prevented. With an algorithm that can predict re-hospitalization of high-risk patients, doctors can pay more attention to those patients, and potentially prevent the predicted hospitalization. Hospitalization is very expensive, but other health care costs are modest, so predicting re-hospitalization and preventing it is better for both patients in terms of health and hospitals in terms of costs. In fact, the National Institutes of Health found that $30 billion is spent in the U.S. every year on preventable hospitalizations, so we have the opportunity to save huge amounts of money."
The goal is to have algorithms that will run in the background when providers see patients and alert providers when something in a patient's record suggests that he or she is at risk of a negative health outcome. It would prompt doctors to intervene during visits and case managers (if applicable) to intervene outside of doctor visits.
"While some risk factors, like smoking, are obvious to doctors, there are some, such as trends in laboratory data, that are harder to see," says Adams. "The challenge in medicine isn't to know that someone is high risk, but to know what type of risk they have and how to intervene. Our algorithm is a useful tool to help doctors intervene early before negative outcomes happen, instead of waiting for them to happen and then starting treatment."
The heart disease algorithm primarily uses outpatient data to make predictions, because most long-term health outcomes are treated in outpatient settings. Currently the algorithm pulls in data from Logician, and STK, the hospital's registration system, but soon will begin adding information from eMERGE now that the new electronic medical record system is live across the hospital. While the new system won't change the type of data that the algorithm uses, it will allow the researchers to share their work with people across the country who also use Epic electronic medical records. It will also allow researchers to better integrate inpatient and outpatient data.
The software built on the algorithm is not in use yet, but Adams and Paschalidis expect to finish testing by the end of the year and start running focus group tests with BMC doctors next year. These groups will allow Adams and Paschalidis to refine the type of information their algorithm uncovers and how the data is presented to providers, to create a valuable tool. They also plan to expand the use of the algorithm to include diabetes patients and are in talks with the Department of Surgery to predict re-hospitalization of patients who have undergone surgery – this is an important metric for Medicare quality measures. Eventually the goal is to create an algorithm that can provide recommendations for intervention, which will involve further partnerships between providers and computer scientists.
"This is a cutting-edge approach," says Adams. "There is general interest across the country in trying to use electronic data to predict health outcomes, but the BMC/BU team is special in that it combines the clinical expertise of the medical campus with expertise in engineering and computer science from BU. In addition, this type of project is not something generally undertaken in safety net hospitals, which makes our algorithm unique. Our goal is to make this data into something meaningful and useful for the direct care of our patients, and while we're not there yet, I believe we will be soon."
BMC Honors Nurses With Programs and Awards
BMC celebrated Nurses Week this year with a variety of events, including panel discussions, professional development programs, a tea, and the annual Nursing Awards, which took place before Nurses Week on April 27. The ceremony honored 10 nurses for their dedication to and passion for providing exceptional care for their patients.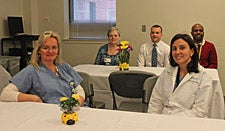 ​​​​​​​
Nancy Gaden, DNP, RN, NEA-BC, Senior Vice President and Chief Nursing Officer, welcomed the crowd by paying tribute to the work nurses do every day. "Today we cared for more than 1,000 patients," Gaden said, "and attended meetings about everything from integrative medicine to opioid abuse to insurance payments, and there were countless other large and small conversations about how to give the best care we can. Once a year we pause and take a moment to celebrate the nurses who have been nominated for and have won awards. If we could clone you and spread the energy you represent, we could push BMC forward in such an amazing way. You represent an unbelievable tier of care that we would love to keep replicating."
The Nursing Excellence Award winners are:
Candace Griffin, RN, Nursing Surgical ICU, Newton Pavilion
"Candace is always visible on the floor," wrote her nominator. "She always checks on her peers and answers light calls. Anything she can do to help out, she does. She always demonstrates a positive example and is very professional."
Doreen Edmunds, RN, 7North Nursing Med Telemetry, Newton Pavilion
"Doreen is an expert level staff nurse and excels in her specialty of cardiovascular nursing," said her nomination. "Staff on the unit see Doreen as a leader and she represents them on many fronts."
Jennifer Roberts, RN, Nursing Surgical ICU, Newton Pavilion
"Jennifer's communication with families is a priority and it is evidenced in the trust that the families place in her to give their loved ones the care they need," said her nomination. "She is an advocate for her patients and their needs and this is easily recognized not only by the medical staff, but by the patients and families themselves."
Adrienne Holding, RN, Hematology/Oncology Clinic
"Although I try my hardest to replace her for the day, it's not always good enough," wrote her nominator. "Adrienne's patients connect with her and she gives them exceptional care. They look forward to having her as a nurse since she puts them at ease during their treatment."
Mary Hazam, RN, OR Nursing, Newton Pavilion
"Mary is one of those nurses who we all want working with us," said her nominator. "She works well with all her peers and greets everyone with a positive attitude."
Elizabeth LeBlanc, RN, Critical Care Resource Nurse
"Liz has incredible critical thinking skills," read her nomination. "She constantly asks and wants to know how we can do it better. She asks questions, looks up answers, and finds expert sources, and then makes sure staff knows."
Mary Japowicz, RN, 5West Nursing ICU, Menino Pavilion
"She is the ultimate professional nurse," wrote her nominator. "Her direct, non-threatening communication style allows her to advocate for our patients and staff. She conveys her point of view and concerns using evidence and is viewed as a resource by doctors and nurses of all levels."
Theresa Golden, RN, Nursing Float Pool, Menino Pavilion
"When you work a shift with Theresa, you always know you can count on her," said her nomination. "Theresa values all members of the health care team. She will pitch in and help everyone when staff are having a bad day or a difficult assignment."
Lynne Lambert, RN, Medical Clinical Support, Menino Pavilion
"She mentors and supports new staff, consoles and supports old staff – all done with a bright smile, integrity-laced professionalism, and downright kindness," read her nomination. "Lynne is a hardworking, dependable, warm, loving, super smart, but humble lady."
Nancy Figueiredo, RN, Rheumatology Clinic Med Specialty
"Nancy is one of those unforgettable nurses with a very special touch," said her nominator. "As the primary nurse in the rheumatology clinic, Nancy delivers intensely focused and specialized care to patients with often complex diagnoses. And she does it with the smile and grace that only an experienced clinician can provide."
Numerous other events were held throughout the week to honor nurses. On May 7, the 16 nurses who have completed the Clinical Advancement Program were celebrated at a luncheon. The program, which is the first of its kind at BMC, is a way to honor nurses who have applied for and received recognition for expertise in clinical practice. On May 8, posters showcasing nursing innovation, research, and quality improvement projects were displayed in the Newton Pavilion lobby, where the nursing staff also held a tea honoring the hospital's certified registered nurses. On that day, BMC also hosted a lunch to honor the nurses who have served as preceptors in the BMC nurses' development program.
The final event of Nurses Week, a day-long conference entitled "Understanding the Science and Scope of Opioid Use Disorders: Guidance for Adopting Strategies and Best Practice," was held on May 11 and attended by more than 200 nurses. The event primarily featured presentations by BMC clinicians, and outside guests, including Monica Bharel, MD, MPH, the Commissioner of the Massachusetts Department of Public Health, and Donna White, PhD, RN, CS, CADAC, the addition specialist at Lemuel Shattuck Hospital in Boston.
"BMC has been ahead of the curve in treating addition as a medical disease that requires community-focused, culturally appropriate outreach," said Bharel. "I ask you to use your power as nurses to advocate and add your voice to this important discussion."
New Gift Shop Coming to Menino Pavilion in Early Fall
For many years, Outtakes, the popular gift and coffee shop in the Menino lobby, has provided food, flowers, and presents for patients, visitors, and employees. But starting in September, there will be an even wider selection to choose from when the new Menino gift shop opens.
The current Menino Pavilion gift shop
Construction has begun on the new gift shop, which will be located in the former bicycle rack storage space at the Menino Pavilion entrance. The enhanced, 914-square-foot Outtakes will offer a greater variety of products, including an assortment of flowers and plants, a full Starbucks drink menu, including lattes, espresso, and teas, a more extensive food selection including made-to-order sandwiches and grab-and-go items, and a wider selection of gifts and BMC products. The gift shop's modern design and location will also allow for easier pedestrian flow through the Menino Pavilion lobby.
"Moving Outtakes into a customized location will allow us to offer a more innovative and pleasing environment for everyone who walks through the space," says David Maffeo, Senior Director of Support Services. "A newer design and better product mix will allow the hospital to utilize the full potential of this type of store."
During construction, the current Outtakes gift shop will be dismantled and a temporary space will be built elsewhere in the Menino lobby. The temporary space will continue to offer gifts, snacks, and beverages, including Starbucks drinks.
The new Outtakes Gift Shop will open in September, from 6 a.m. to midnight Monday through Friday, and 9 a.m. to 5 p.m. Saturday and Sunday.
What do you do, Darah Langa?
Name: Darah Langa
Titles: Staff Nurse/Charge Nurse
Departments: Emergency Department
Time at BMC: 27 years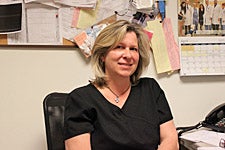 Darah Langa
What brought you to BMC?
I had been working at Lahey Clinic, and at the time, Boston City Hospital Emergency Department residents did rotations there. I was early in my career and really excited about ER nursing and met Andy Ulrich, MD, who was a BCH resident at Lahey. He said that if I like it at Lahey, I should come see what it's like to work at Boston City. So I came per diem, and I really loved the population that the hospital served and how much the hospital could do for its patients. I eventually took a permanent position here.
What do you do here?
As a charge nurse, I'm in charge of the entire unit – including nursing and clerical staff – when the manager isn't here. My primary responsibility is to keep the flow of the ED moving. When I'm on duty, the first thing I do is make up a staffing assignment sheet for the shift, which involves balancing skills and personalities. Then I deal with any issues as they come up, such as ensuring everyone has the tools and supplies they need, making sure patients' needs are met, staffing coverage, and making sure nurses aren't feeling overwhelmed. I also help facilitate getting patients where they need to go, whether it's inpatient units or Radiology, and prioritize which patients need to be placed first. I work very closely with Public Safety to ensure the safety of staff and patients. I also continually round throughout the department. While I'm only responsible for the adult ED, I round with the Psychiatry ED to coordinate with them.

I also do a lot of teaching for new staff and orientation for new charge nurses. We have a lot of different levels of staff, and we help teach residents based on our experience.
How is being an ED nurse different than nursing in other areas?
Except for about 10 months when I was a new graduate, I've only done ED nursing. My mother was an ER charge nurse, my father was an ER charge nurse, and my grandmother was a director of nurses, so it's in my genes.

But I think the main difference is that nurses work more independently in the ED. We work well with doctors and have protocols to follow together, but on the floor, nurses have more protocols and orders to follow. We have to prioritize and make decisions much more quickly and independently on a more regular basis.
What's one thing about being an ED nurse no one would guess?
ED nurses have a reputation as being very tough, especially here because of the nature of our ED. We show a tough exterior because we have to, but I think people in general would be surprised to see the tenderness that our nurses have toward patients and each other. Sometimes we might seem a little rough, but we really do care about our patients.
It's Nurses Week. Do you have any advice for new nurses?
The biggest thing in nursing is that you have to go with your gut instinct. If something just gives you the wrong feeling, your instinct is probably right. But also to realize that there's always a lot more you can learn. Things are constantly changing and you can always learn something new.

My other piece of advice is to be kind to each other.
What do you like most about working at BMC?
I really like working with an underserved patient population and how much BMC has to offer them. We have so many resources that a lot of other places do not have, such as Project ASSERT, in which health educators help ED patients with drug and alcohol issues get connected to the services and resources they need. Having resources like this under our roof makes things easier.

And I like the employees. If someone in the ED is down and out, people come out of the woodwork to help. Even with our tough exterior, we really do pull together as a family. I also really love the teaching atmosphere. Nurses are a big part of the ED team. We learn a lot from doctors and they learn a lot from us. I think we all have something to teach one another and BMC gives us the opportunity to do so.
What do you do for fun outside of work?
I have two daughters, who are 10 and 15, so I like to spend a lot of time with them and do whatever they need. For myself, I love to do jigsaw puzzles to relax. I also really love cooking and baking, and this weather is great for me, because I love to garden.
Do you know a staff member who should be profiled? Send your suggestions to communications@bmc.org .
News of Note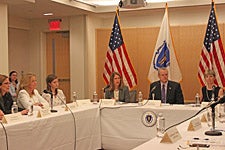 Political and Health Care Leaders Fighting Opioid Abuse Gather at BMC
On April 28, Boston Medical Center hosted a roundtable discussion featuring leaders in the prevention, treatment, and education of opioid abuse. Attendees includes U.S. Secretary of Human of Human Services Sylvia Burwell, Massachusetts Governor Charlie Baker, Massachusetts Secretary of Health and Human Services Marylou Sudders, representatives from other state government agencies, leaders of treatment and education programs, and providers from Boston hospitals, including Colleen Labelle, BSN, RN, CARN, and Alex Walley, MD, from BMC.

Kate Walsh, President and CEO, opened the discussion by noting that addiction affects all members of the community and highlighting the fact that BMC has been working hard over the years to help those in need. Some of BMC's programs, including the Office-Based Opioid Treatment program (OBOT) and narcan distribution, were singled out by other roundtable attendees as best practices that are being emulated across the state and country. Much of the roundtable focused on how providers can help lessen the epidemic, including using Massachusetts' prescription drug monitoring system, utilizing alternative therapies such as acupuncture and only prescribing necessary painkillers, and educating both themselves and patients about the risks associated with opioids.
BMC Gala Breaks Fundraising Record
The 19th annual BMC Gala, which was held on May 9, raised $3,075,000, breaking the record for the amount of money raised at this event, and putting the Gala in the top tier for fundraising events in Boston. Special guests and speakers at the event included Heather Unruh of WCVB Newscenter 5, BMC patient and winner of season 6 of "So You Think You Can Dance" Russell Ferguson and the Side Street Academy, Governor Charlie Baker, Jerod and Chantel Mayo, and Tom Curran of Comcast Sports Network.

The 1,000 attendees watched a video highlighting BMC's exceptional services and programs, including Birth Sisters, Project ASSERT, and the Comprehensive Care Program, before enjoying dancing and mingling for the rest of the night.
Team BMC Finishes Another Successful Marathon
Team BMC's 86 runners braved the cold, rain, and wind on April 20 to cross the historic finish line of the 119th Boston Marathon. The team included 15 BMC staff members, including four from Trauma who raised almost $40,000. To date, Team BMC has raised over $700,000 for BMC which will support the expansion and improvements of the new ED. If you would like to make a donation or would like more information on Team BMC for the 2016 Boston Marathon, please visit www.teambmc.org or contact Cristen at 638-6722. Donations will be accepted through the month of May.
Take Your Child to Work Day
On April 23, BMC participated in Take Your Child to Work Day. Approximately 45 children whose parents work at BMC participated in the day, which included tours of the Pharmacy, the Food Pantry, and Public Safety's Command Center, as well as interactive panel discussions and a visit with the Healing Pups therapy dogs.
BMC Teams with Chartwell Catering for Healthy Snacks and Music
On April 23, BMC partnered with the hospital's food vendors to host a food show for pediatric patients. Chartwell Catering's cartoon characters Sidney Learn the Turtle and Ava Live the Rabbit visited with patients while BMC chefs served up healthy snacks made with BMC's award-winning recipes. Patients were also treated to musical performances by students from Bridgewater and Raynham Public Schools, who played acoustic covers of popular songs by Katy Perry and Beyonce.
BMC Cancer Survivors Attend Stowe Weekend of Hope
On May 1, BMC cancer survivors and their families boarded buses to Stowe, Vermont to participate in the Stowe Weekend of Hope. The 220 participants were treated to a special dinner on Friday night and a weekend of workshops, speakers, and other activities. The weekend is sponsored by We Beat Cancer, a BMC partner in providing services and resources for cancer survivors.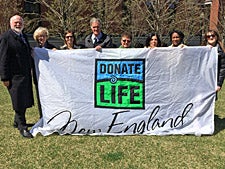 Pathology Honors Donate Life Month
April was Donate Life Month, which celebrates the gift of life through organ and tissue donation. To mark this event and raise awareness, the Pathology Department, along with the Steven Laramee Organ and Tissue Donation Committee at BMC, raised a Donate Life flag on the Moakley green. The flag was raised by Susan Mallard-Shea, a laboratory administrator and organ donor.
Family Medicine Presents Annual Lynne Stevens Lecture
On April 21, the Department of Family Medicine hosted the Sixth Annual Lynne Stevens Memorial Lecture, delivered by Juan Ramos from A Call to Men, a national advocacy organization working to engage men as active participants in ending men's violence against women. In his talk, Ramos reviewed several relevant statistics and other information about gender-based violence from his work with both victims and perpetrators, in order to provide participants with a broader understanding of how the attitudes and beliefs that lead some men to use violence against women negatively impact women, men, children and whole communities.
Awards and Accolades
BMC Wins Two Awards for Excellence in Sustainability
Practice Greenhealth, the nation's leading membership and networking organization for institutions in the health care community that have made a commitment to sustainable, eco-friendly practices, has honored BMC with two awards for sustainability, the Emerald Partner for Change Award and a Circle of Excellence Award. As a winner of the Emerald Partner for Change award, BMC was specifically selected as an Environmental Excellence Award winner, which recognizes the hospital's ongoing commitment to improving environmental performance and pride in realizing a top standard of excellence in sustainability.

BMC was also recognized with a Circle of Excellence Award in Climate. This award honors BMC as having shown outstanding performance in this area by pushing the envelope and driving innovation in sustainability performance.
BMC Honored for Excellence in City Building Award
BMC is the 2015 recipient of the Norman B. Leventhal Excellence in City Building Environment Award. The award recognizes leaders and innovators who have made significant contributions to Boston's built environment and will be presented to BMC in October
Bill Adams, MD, Named a CDC Childhood Immunization Champion
Bill Adams, MD, a BMC pediatrician, was named the Centers for Disease Control Childhood Immunization Champion in Massachusetts in honor of his outstanding efforts to ensure that children in the state are fully immunized against 14 preventable diseases before the age of two. Adams was specifically recognized for his dedication to improving how immunization data is used within electronic medical records and the development of a high-quality state-wide immunization registry.

Adams began this work in 1993 at BMC, where he spearheaded efforts to better capture and manage patients' immunization information, later working with the Massachusetts Department of Public Health to create the Immunization Information System, a statewide registry that is currently one of the most sophisticated immunization decision support systems in the country.
Jean Ramsey, MD, MPH, and James Feldman, MD, MPH, FACEP, Receive Committee Chair Service Award
Jean Ramsey, MD, a pediatric ophthalmologist, Vice Chair of Education and Residency Program Director for the BMC Department of Ophthalmology, and Associate Professor of Ophthalmology and Pediatrics and Associate Dean for Alumni Affairs at BUSM, and James Feldman, MD, MPH, FACEP, attending physician in the Emergency Department and Professor of Emergency Medicine and Vice Chair of Emergency Medicine Research at BUSM, have received the Committee Chair Service Award from the Massachusetts Medical Society. The award recognizes their exceptional leadership and service to the Society, the statewide professional association of physicians.

Ramsey is being honored for serving as the chair of the MMS Committee on Interspecialty, which facilitates communication, cooperation, and coordination between and among the medical specialty societies of Massachusetts, their members and the Massachusetts Medical Society, for the last 10 years. Feldman is being honored for his six years of chairing the Society's Committee on Quality of Medical Practice, which provides consultation to the Society's Board of Trustees and its House of Delegates on the improvement of the quality of health care provided by physicians. He also received the Grant V. Rodkey Award, an honor recognizing a Massachusetts physician for outstanding contributions to medical education and medical students, in 2014.
BMC Nurses Featured in Boston Globe Salute to Nurses
On May 4, the Boston Globe honored nurses throughout Boston with their annual Salute to Nurses. The article featured stories from readers who nominated their favorite nurses for the honor.

"These are the nurses who've touched our lives," said the Globe. "They are the best in the country, probably the best in the world. And it is with great pride that The Boston Globe recognizes their service to the community."

Seven BMC nurses, who were nominated by both coworkers and patients, were included in the feature, and two – Joe Foley and Diane Gauthier – were included in the accompanying pictures. The nurses are:
Odessa Boykin
Karen Carey
Joseph Foley
Dianne Gauthier
Donna Kenney
Carol McCarthy
Gyntette Rateau
Sophia Dyer, MD, Honored with BUSM Distinguished Alumna Award
Sophia Dyer, MD, Associate Professor of Emergency Medicine and Medical Director of Boston EMS, Police & Fire, is the 2015 recipient of the Boston University School of Medicine Alumni Association Distinguished Alumnus/Alumna Award. This award recognizes the distinguished clinical, teaching, and research careers of alumni. Dyer was honored for her "extraordinary career in emergency medicine."