Chronic Low Back Pain and Yoga
Q&A with Eric Roseen, DC, Family Medicine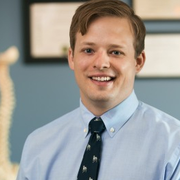 Eric Roseen, DC, is a postdoctoral research fellow working in Boston Medical Center's (BMC) Family Medicine Department. He was recently awarded the Ruth Kirchstein National Research Service Award from the National Institutes of Health's National Center for Complementary and Integrative Health.
The three year award will allow Dr. Roseen to explore the management of chronic low back pain (CLBP) in the primary care setting. Under the leadership of Dr. Robert Saper, director of integrative medicine at BMC, Dr. Roseen hopes to develop a clinical prediction rule that identifies CLBP patients who may benefit from yoga. 
Q. What is CLBP and how many people suffer from it?
A. Back pain is the leading cause of disability in the US and worldwide.  More than 80% of Americans will experience back pain at some point in their lives. Back pain is classified as "chronic" when it lasts for longer than 3 months – CLBP impacts around 10% of Americans. Like many chronic conditions, the impact of CLBP varies according to each individual. Those who experience CLBP may respond well to conventional treatments, while others require innovative approaches, like yoga, to treat debilitating pain.
Q. What role does yoga play in treating CLBP?
A. Yoga is a self-care strategy that has been shown to reduce pain and improve back-related function for patients with CLBP in multiple large randomized controlled trials. Yoga combines stretching, dynamic movement, rhythmic breathing, and meditation – all which individually may be beneficial to patients with CLBP. Furthermore, yoga is a non-pharmacologic approach to treating pain, and when effective, may reduce reliance on medications like opioids.
"Yoga is an attractive treatment option due to its popularity, effectiveness, accessibility and drug-free approach to treating pain."
Q. How will you identify patients who may be good candidates for yoga?
A. I am working closely with my mentor, Robert Saper, MD, MPH, who has performed four trials of yoga for CLBP and another mentor, Karen
Sherman, PhD, from the University of Washington, who has performed an additional two trials. Through additional analysis of data from these six trials, we will have a better sense of what characteristics may identify someone as likely to respond to yoga. .
Q. In what ways do you hope your project will empower physicians and improve treatment options for patients?
A. There is no single most-effective treatment for CLBP, which can be frustrating for both patients and providers. Yoga is an attractive treatment option due to its popularity, effectiveness, accessibility and drug-free approach to treating pain. Our study aims to provide solid guidance on who is most likely to respond favorably to yoga so primary care providers can help their patients make informed, back-related care decisions. 
Learn more about Family Medicine at BMC.